What Is The Carton Flow Rack Used For? Application Of Carton Flow Rack
What Is The Carton Flow Rack Used For? Application Of Carton Flow Rack
Carton Flow rack is a kind of automatic racking commonly used to store light goods in large quantities in the warehouse. If your business is in need of a light-weight smart rack, let's learn about the characteristics and applications of the Carton Flow rack in this article!
Things to know before buying Carton Flow rack
Carton Flow rack's load
Carton Flow rack has a light load, maximum capacity of 100kg/level. Therefore, this type of rack is very suitable for storing small, light, discrete and bulk goods. However, when using, you need to pay attention to the total weight of goods on the rack to avoid the case that the total weight is higher than the maximum load of the rack and causes damage to the rack.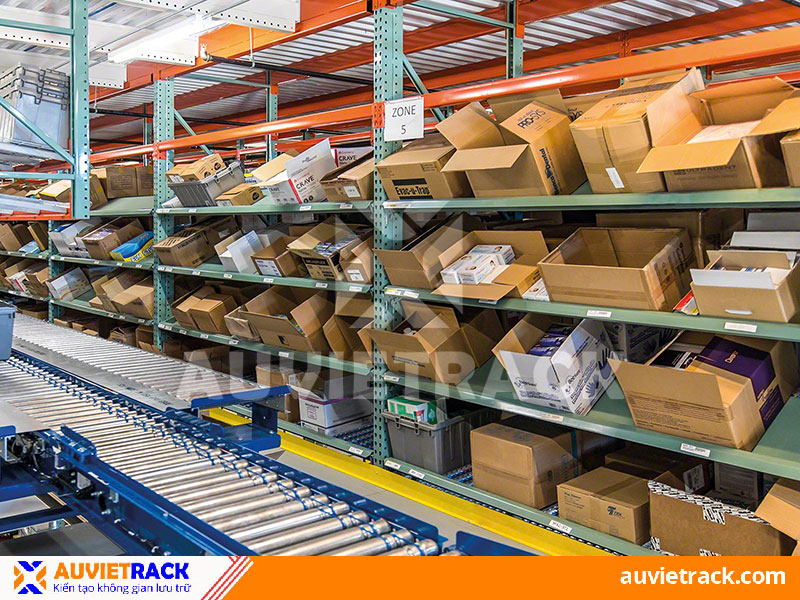 Carton Flow rack are used to store only light goods
Load and unload method when using Carton Flow rack
Carton Flow racks do not require the use of a forklift when loading and unloading. This process can be done completely manually (manual picking). For high levels that are out of reach, businesses will need to invest in more industrial mobile ladder or ladder picking trolley. The cost for either type of ladder is still a lot cheaper than using a forklift.
Carton Flow rack's maximum height
Since this is a lightweight racking and the picking is manual, the height will be more limited compared to medium and heavy duty racks. The maximum height of the Carton Flow rack is 3.5 meters. This is also an abundant height for businesses to comfortably use because the height of each rack is quite low.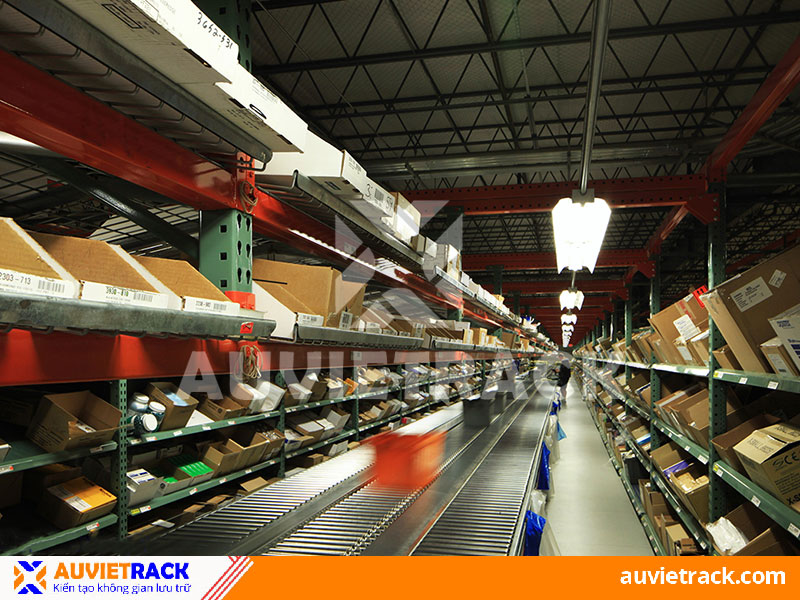 It is possible to combine industrial mobile ladder or ladder picking trolley when picking up goods on high levels

Principles of commodity management
Carton Flow racks are intelligently designed, the rack is tilted to one side (the pick-up side), so the goods are always pushed from the input side to the output side. This is completely suitable for businesses that apply the principle FIFO (First In First Out - goods placed on the rack first will be consumed first).
Advantages of Carton Flow rack
Businesses can combine Carton Flow racks with light goods below with other types of pallet racking at the top to form multi-functional storage racks.

Applying the laws of physics to push the goods towards the unloading side helps the business save the effort of arranging.

Although the goods automatically roll on the racks, the speed is still controlled thanks to the deceleration system on the rollers, which helps to keep the goods safe and prevent them from falling off the racks.

Because picking up goods is in the manual form, the loading and unloading speed is also faster and easier to observe.

When the goods are taken down, there will be empty spaces on the racks, just by observing will let us know the inventory level of each type of item.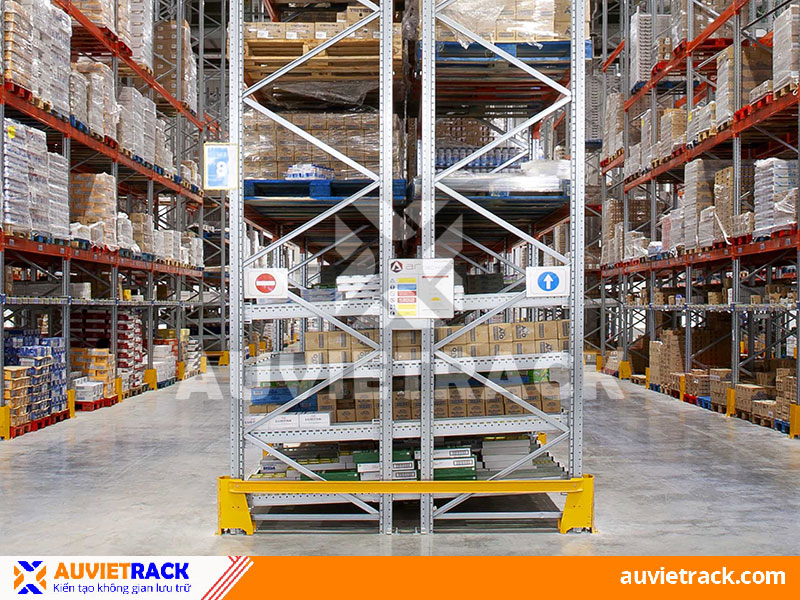 Easily control inventory with Carton Flow rack
>>> See more about technical specifications, drawings and operation of the Carton Roller racking right here
Disadvantages of Carton Flow rack
Carton Flow rack has a higher investment cost than pallet racks with the same load due to the need to install roller systems.

Each slide should contain only one category of goods.

These racks can only hold light and small items.

Rollers are difficult to clean, and regular maintenance is required to ensure smooth operation of the racks.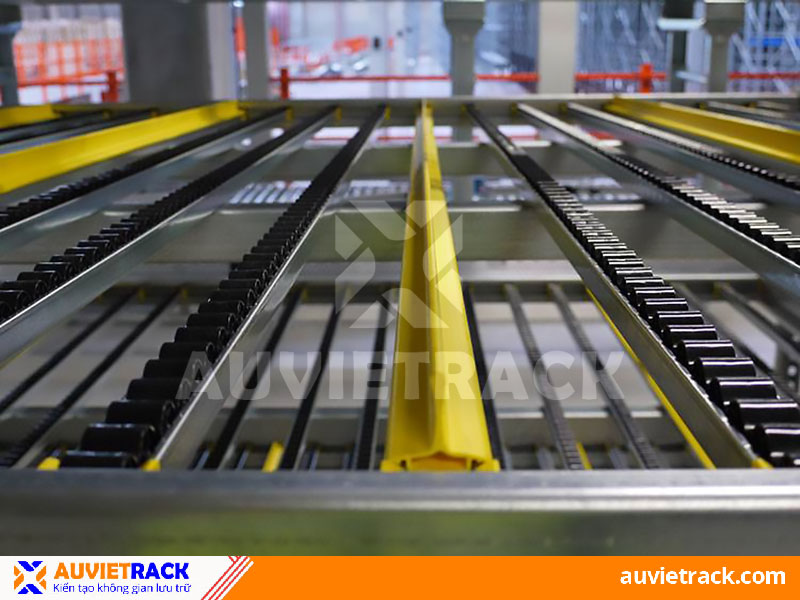 The roller on the rack is difficult to clean
In which warehouse is the Carton Flow rack used? Application of Carton Flow rack
Carton Flow rack is a great choice for light warehouses, dry warehouses, cool warehouses with product packaging in carton boxes, aluminum boxes, plastic boxes,...

Carton sliding racks well meet the requirements of warehouses with high density, multi-function, frequent import and export of goods and have automatic lines.

Carton Flow racks are commonly used in industrial warehouses, production workshops, general warehouses, multi-purpose storage centers… The fields of industry that prefer to use this type of rack can be mentioned as follows: food industry, beverage, pharmaceutical, manufacturing factory, warehouse for components, spare parts, automobile, logistics...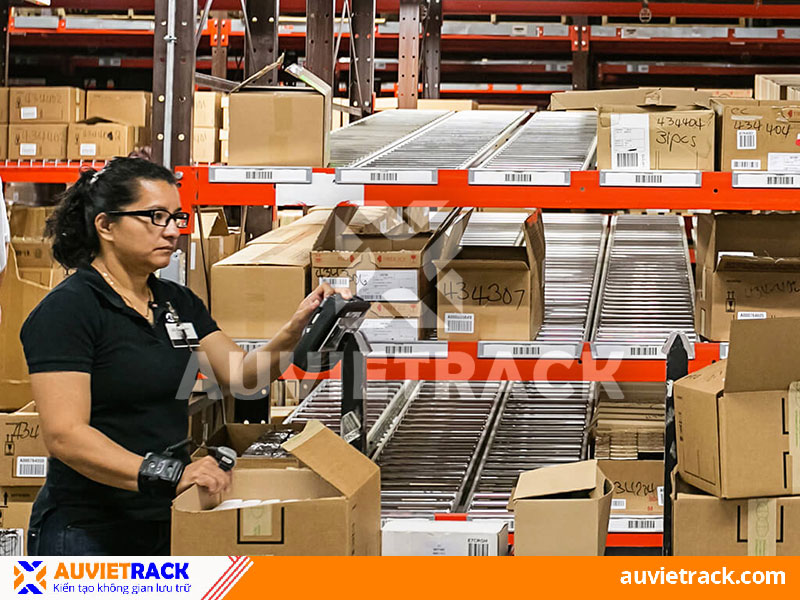 Carton Flow rack for electronic parts warehouse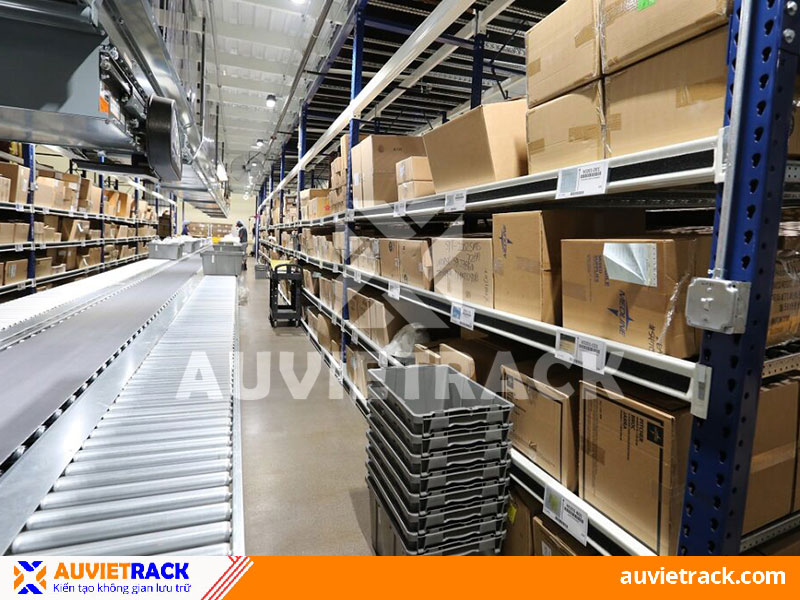 Carton Flow rack for factory warehouse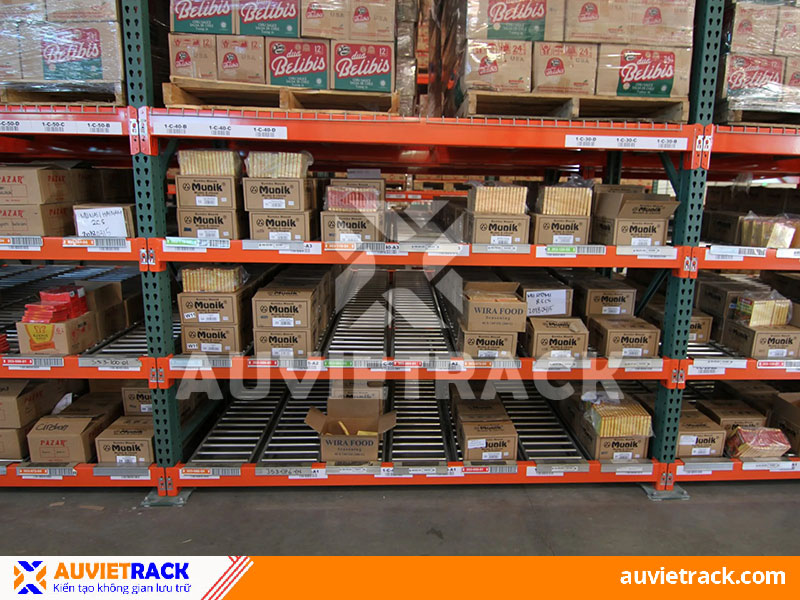 Carton Flow rack for food warehouse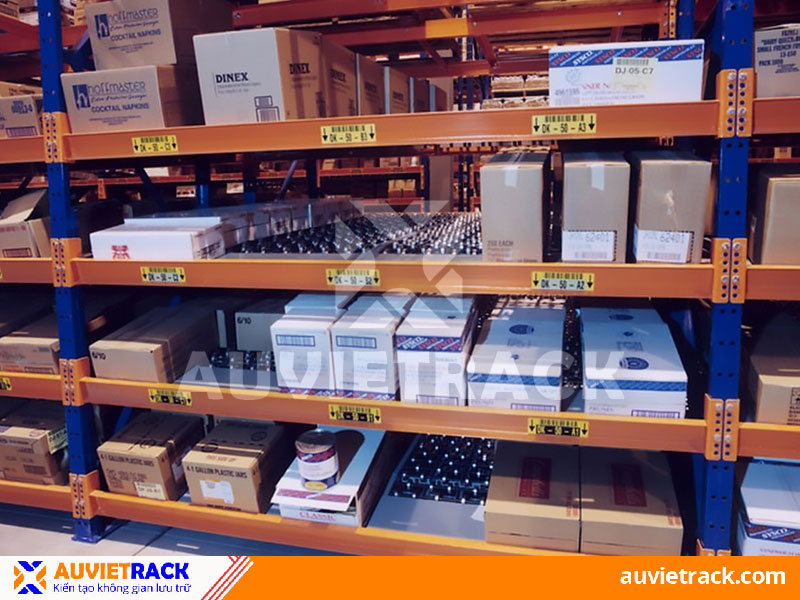 Carton Flow rack for pharmaceutical warehouse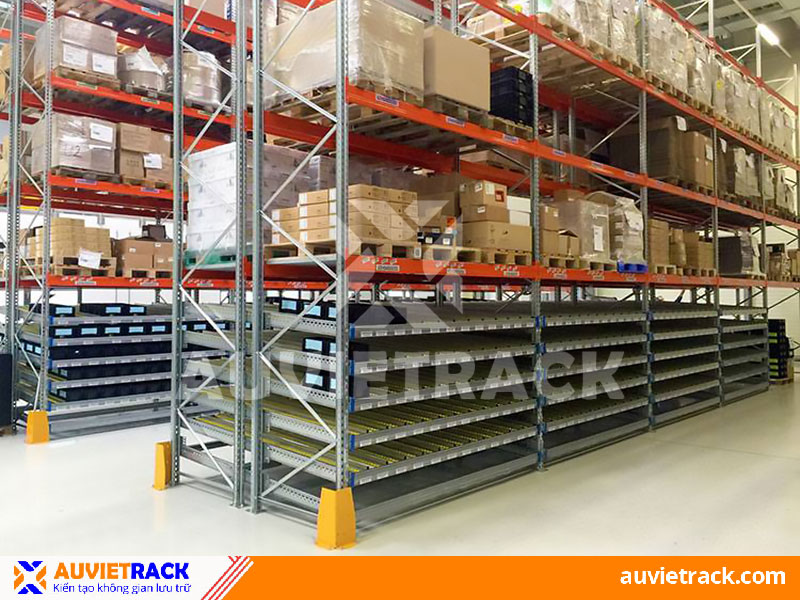 Carton Flow rack combined with pallet rack on the upper levels
Why should you buy Carton Flow racks for your warehouse?
Automating part of the warehouse operation process, saving a lot of time and effort.

Using Carton Flow racks reduces labor costs by 75% compared to conventional racks.

Carton Flow rack is made from SS400 steel, so it has high rigidity and is very durable for long-term use. If used properly, the rack can be used for more than 10 years.

The roller system meets high quality standards, tested by Au Viet Rack through many rigorous tests before being delivered to customers.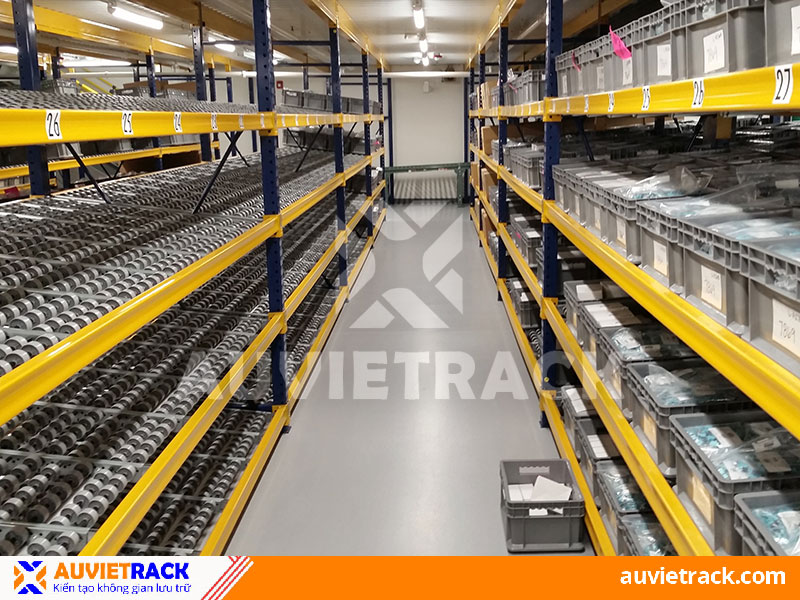 Above are the things to know when buying Carton Flow rack and the application of Carton Flow rack in the warehouse. If you still have questions about the suitability of this rack in stock, please contact us for the most specific advice or you can refer to the production price of Carton Flow rack. Au Viet Rack is always ready to serve you.