How Much Does Carton Flow Rack Cost?
How Much Does Carton Flow Rack Cost?
Carton flow rack is an intelligent storage solution, designed with an automatic sliding mechanism based on the operation of rollers. This type of rack facilitates quick retrieval of goods in warehouses and significantly reduces labor costs. In the following article, let's explore the price list of carton flow racks and their characteristics.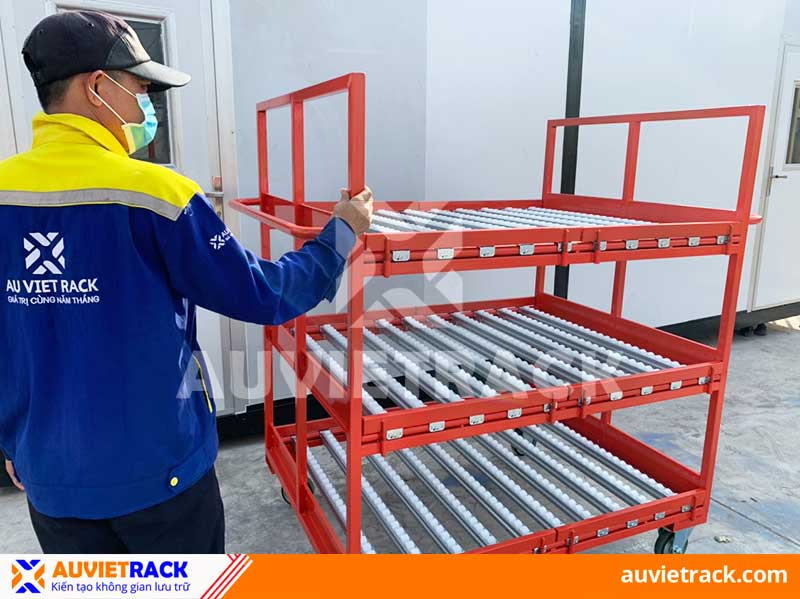 Au Viet Rack's carton flow rack
What is a carton flow racks?
A carton flow rack is used to store lightweight to medium-weight cartons and boxes in a warehouse. The rack system is designed with an inclined structure, consisting of steel frames and rollers along with a speed control device to regulate the sliding speed of the goods.
The operation of a carton flow rack is quite simple: Goods are loaded from the top and automatically slide down to a lower position. When retrieving items, once the outermost item is taken out, the following items will slide into place to fill the empty space.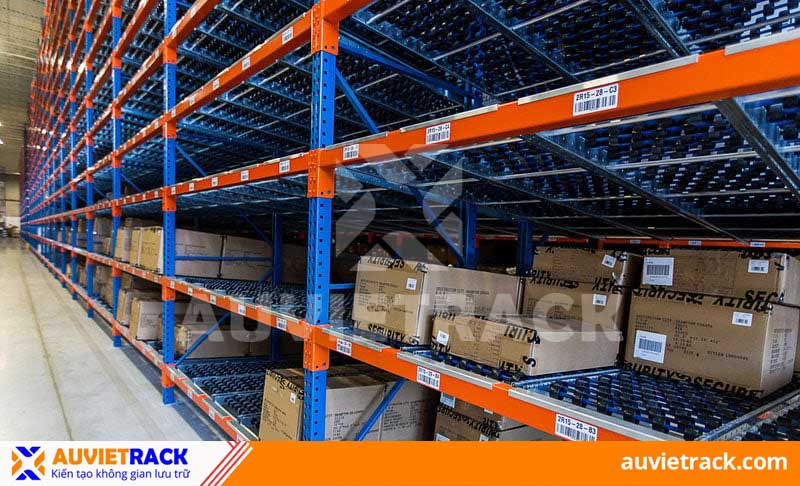 High-quality carton flow rack
Carton flow rack applies the FIFO (First-In-First-Out) principle, making it suitable for warehouses with a continuous flow of goods and short shelf life products.
Advantages and disadvantages of carton flow racks
Time and labor-saving: The roller system allows items to slide inside, reducing the need for operators to move between different aisles and saving time and effort.
Maximizing operational efficiency: Thanks to the automatic sliding mechanism, goods can be quickly retrieved and stored. The process of goods retrieval and storage can occur simultaneously without any obstacles, maximizing operational capacity.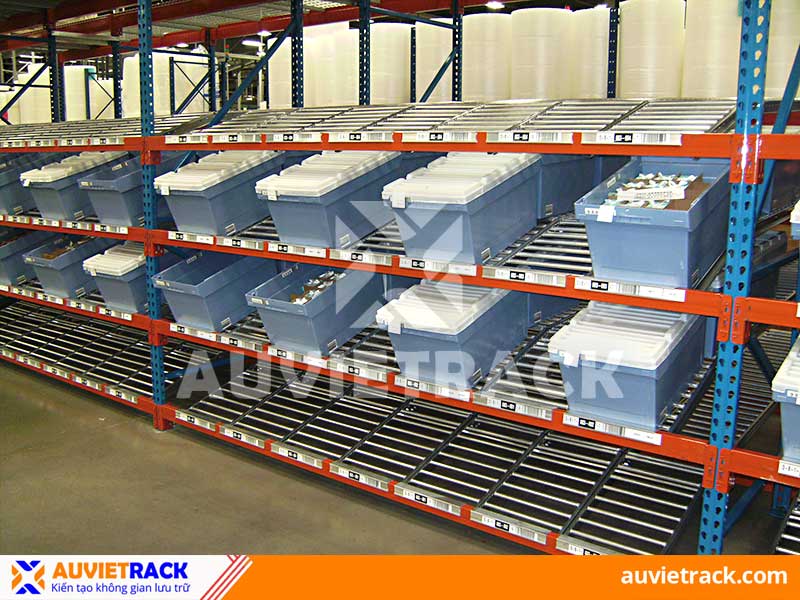 Carton flow rack maximizes operational efficiency
Enhanced safety: With the carton flow rack system, goods are loaded and unloaded from the outermost position without the need to go deep into each aisle, minimizing the risk of collision and ensuring safety for both personnel and goods.
Terrain requirements: The rack system has a specific incline, therefore, the warehouse floor needs to meet flatness and stability requirements to ensure safe installation and operation of the racks.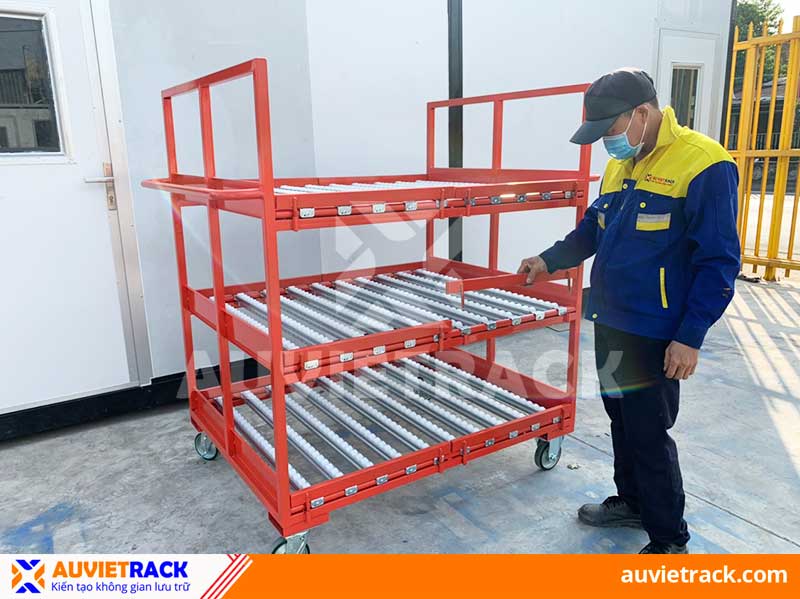 Carton flow rack facilitates fast and efficient goods circulation
High investment costs: Carton flow racks have higher costs compared to other conventional rack types due to the investment and periodic maintenance costs of the rollers.
Not suitable for heavy-duty goods: Carton flow racks are specifically designed for storing carton-packed items, making them suitable for small-scale warehouses and storing lightweight to medium-weight goods.


Where to buy quality carton flow racks?
Choosing a reliable place to buy quality carton flow racks is something that many businesses are concerned about nowadays. There are many suppliers on the market offering carton flow rack products at various price ranges, but it is advisable to choose reputable companies in order to receive high-quality products and services.
Au Viet Rack is a manufacturer and supplier of industrial heavy-duty storage racks, light-duty racks, and other warehouse equipment such as steel pallets, mobile ladders, and picking trolley.
All warehouse storage products at Au Viet Rack are made from premium stainless steel that is resistant to rust and oxidation, making them suitable for various environments. We provide efficient and tailored storage solutions for different types of warehouses, along with competitive pricing and long-term warranty policies.
If you are looking for a suitable storage solution for your warehouse, please contact Au Viet Rack. Our consulting team is always ready to provide prompt assistance.