Applications Of Medium Duty Rack And Things To Keep In Mind Before Buying
Applications Of Medium Duty Rack And Things To Keep In Mind Before Buying
Almost all businesses need a racking system to store goods in the warehouse, but not all warehouses need to use heavy duty racks. Therefore, medium duty racks were born to meet the storage needs of light goods for businesses. medium duty racking is the most popular type of light-duty rack with compact size and durability. However, before deciding to buy, businesses should also pay attention to the use of medium duty racks and some of the following things to make sure the racks are used effectively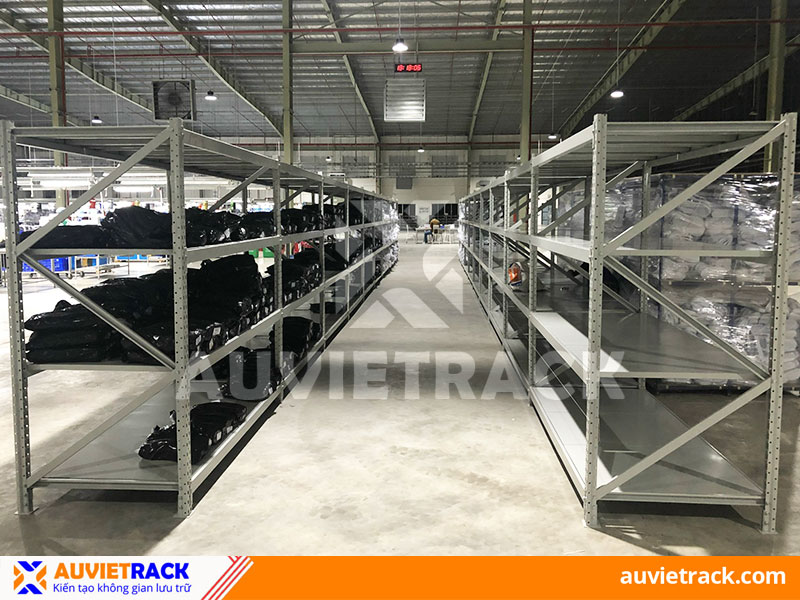 Things to keep in mind before choosing medium duty racks for warehouses
Things like determining where to put the racks, how many racks to put in stock, checking for rigidity, and choosing a good price are all so basic, so we won't talk about that. In this article, the experience of buying medium-duty racks that Au Viet Rack wants to guide you will focus on the elements of the application of medium duty rack so that customers can best understand their needs, thereby using the medium duty rack effectively.
Load of medium duty rack
Medium duty racking is an ideal solution for storing light goods. The permissible safe load is in the range of 100-700 kg/level. Therefore, if you store heavier goods than the maximum load of a medium duty rack, Au Viet Rack recommends using Selective racking to ensure the safety of goods and people.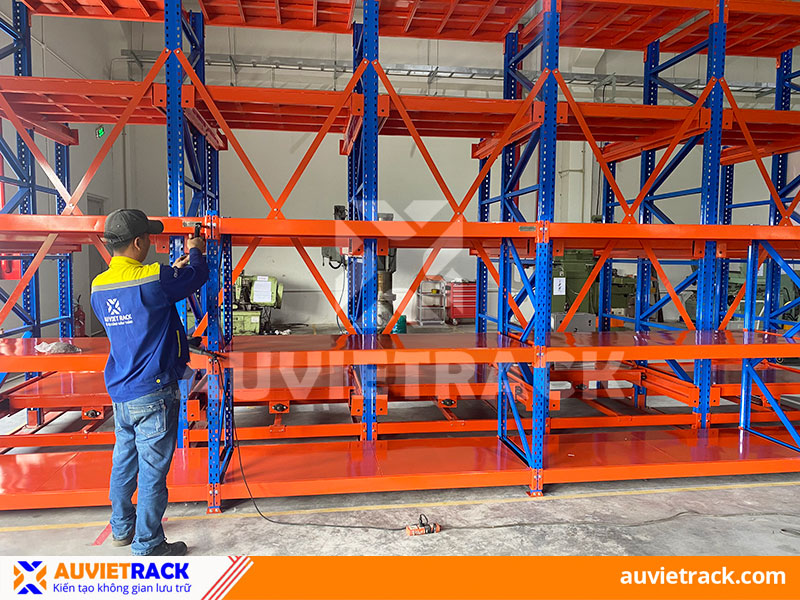 Medium duty rack can handle goods from 100-700 kg/level
The needs of load and unload goods
This type of medium rack has the form of manual picking, so the picking speed is also faster and easier. Because the rack has a maximum height of up to 3 meters, it needs to be used with an industrial mobile ladder to load and unload goods.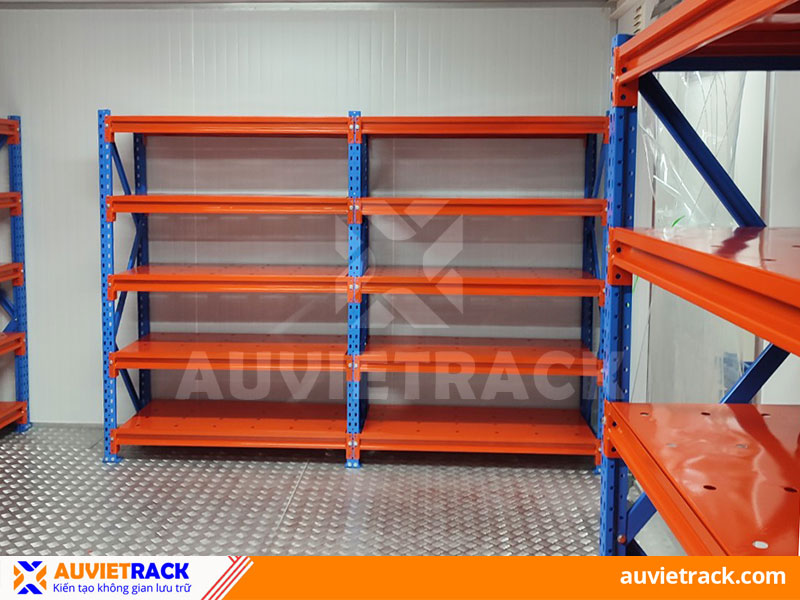 Manual picking when using medium duty racks
The need to store goods
Medium duty rack is used for light goods and the 700 kg load level is due to the fact that the racking allows a lot of light goods to be loaded onto one rack's level. From that, it can be inferred that medium-duty racks are only suitable for storing small and light goods.
Medium duty rack is very suitable for warehouses that need convenience and speed when loading and unloading goods. As a small version of the Selective racking, the mid-load racking provides up to 100% access to goods.
In addition, using medium duty racks also helps to better manage inventory, easily observing goods on the racks.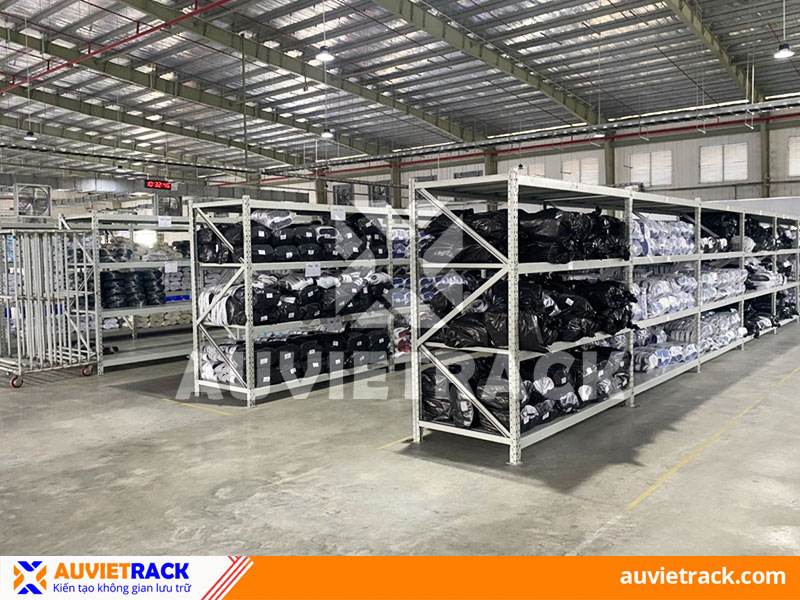 Medium duty racks store light and small goods
Cons of medium duty rack
When goods are placed on the high rack's level, it will make loading and unloading more inconvenient. Picking up crafts by mobile ladder on high racks is also not an absolute safe solution for people and goods.
Because of manual picking, the amount of goods picked up for each time will not be much compared to using pallets and forklifts.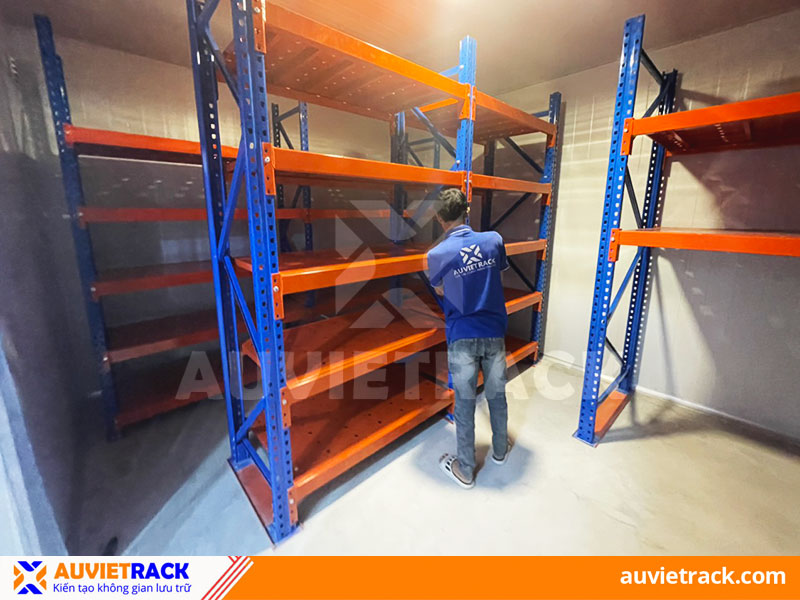 It's harder to pick items on high rack's level
>>> Learn more about features, specifications and drawings of medium duty rack
The application of the medium duty rack
Medium duty racks are applied in a multitude of industries, including cold environments and low-corrosion environments, storage space is limited. Small and light goods can all be stored with this type of rack. Au Viet Rack will offer some types of industries that regularly use the medium duty racks:
Medium duty racks are widely used in warehouses, especially light-duty warehouses with diverse fields such as: garment industry, automobile industry, electronic components, mechanics, ...

Medium duty racks are also used to store household items, equipment, and household items.

Medium duty racks are used to store stationery or computers and equipment in the office.

Used for displaying goods in shops, grocery stores.

Used to store components and spare parts in car repair shops, car garages.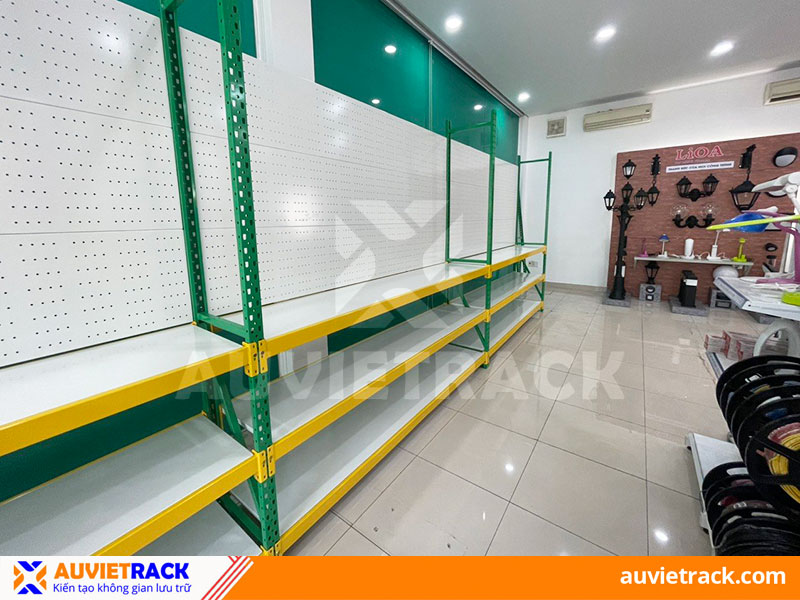 Medium duty rack for display goods in the store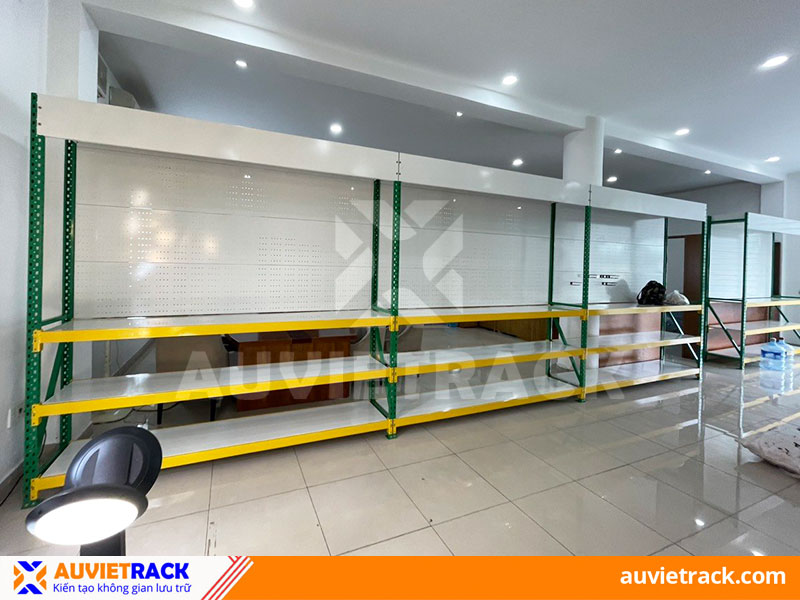 The medium duty rack is beautifully designed on customer requirement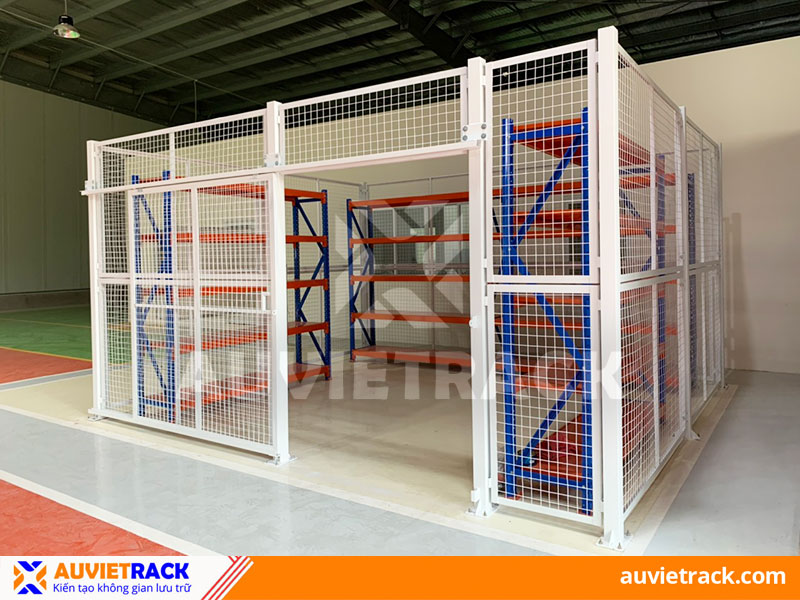 Medium duty rack storing mechanical tools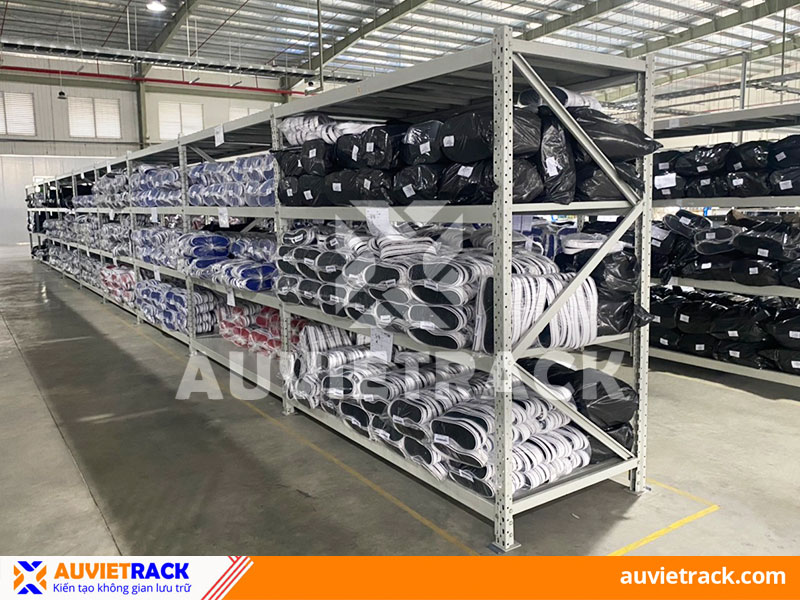 Medium duty rack for shoes
Reasons to choose a medium duty rack
The medium duty rack is made from removable parts so it is easy to adjust to your needs. The rack also does not require drilling to be fixed to the warehouse floor, so it will be convenient to move to another place when needed.

Retrieve goods quickly, control inventory more efficiently and accurately.

The medium rack has high aesthetics, can be painted or designed more specifically according to the needs of the customers, so it is very suitable for displaying products, used in offices and households.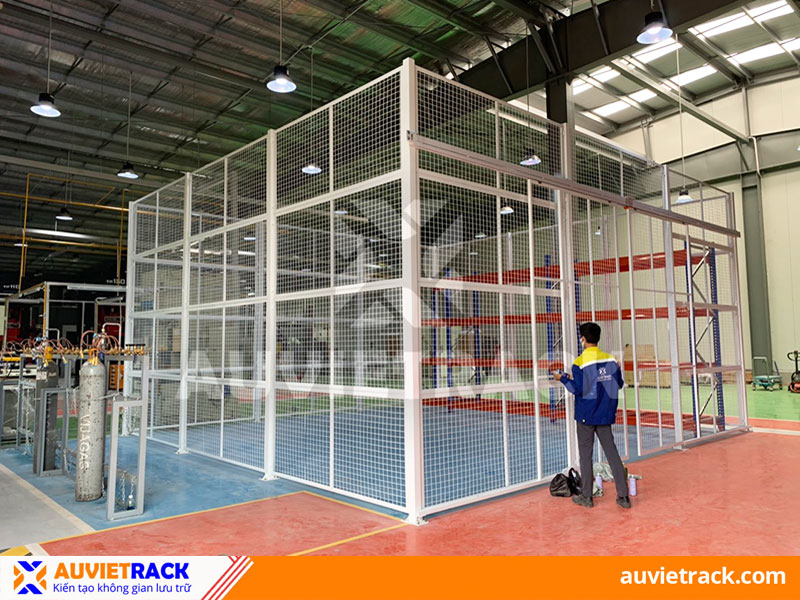 Medium duty racks have a long, durable life of up to 10 years or more if used and maintained properly.

Despite having a higher load capacity than other types of light racks, medium duty racks still retain their compact size, do not take up much storage space, suitable for all spaces.
In short, medium duty racking is easy to use and is widely used in everyday storage needs. You can immediately refer to the quotation of medium duty rack or contact Au Viet Rack immediately for more in-depth advice. Au Viet Rack is very pleased to serve you!