DOUBLE DEEP RACKING
Double Deep racks are storage racks with heavy duty for warehouses from small to large. This is a similar type of rack with Selective racking but there is a change in the layout. Therefore, Double Deep racking provides larger capacity without spending more space for forklift aisle.
Double Deep racking is a pallet storage system that significantly increases storage density in warehouses compared to selective racking. Let's explore what is Double Deep racking and clarify its notable features to gain a deeper understanding of this type of warehouse racking.
Flexible structure of Double Deep racking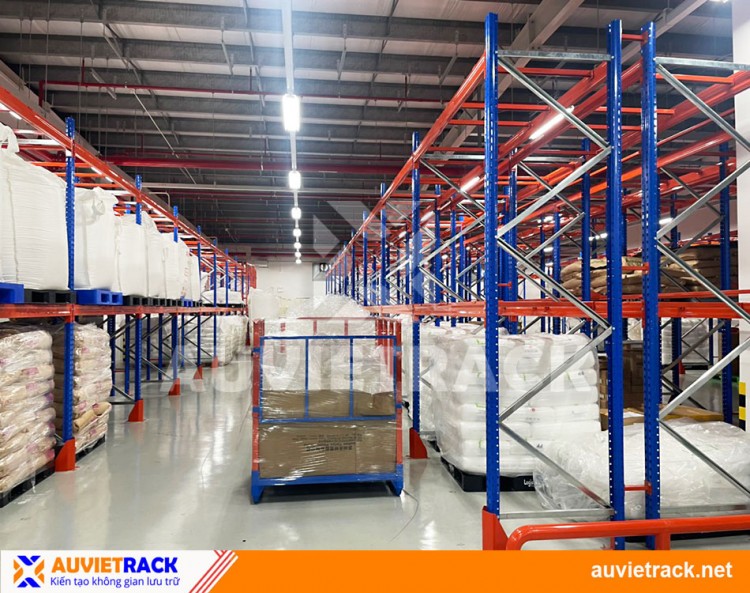 The Double Deep rack is made up of separate components for easy assembly, movement with low investment costs.


It can be flexibly modified when the distance between levels need to be changed.



It can be expanded by adding additional levels or bays as the need for storage increases.
Durable and cost-effective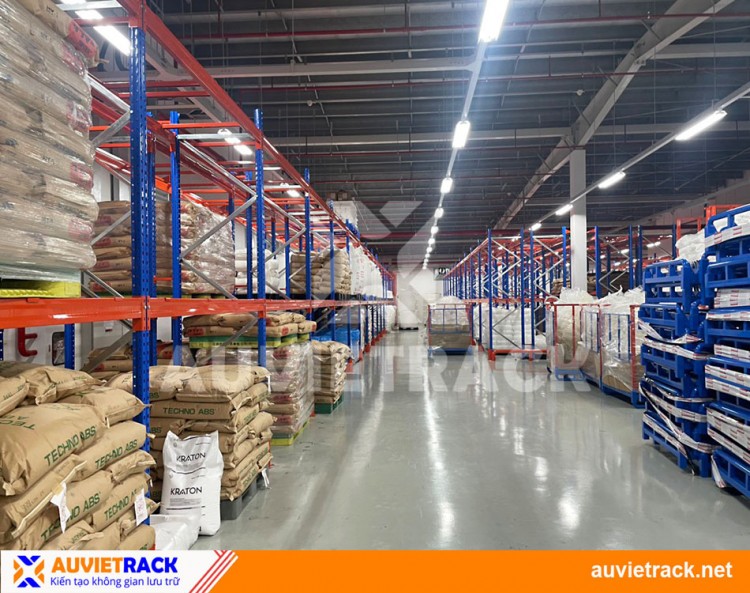 Long-term usage time, ranging from 10-15 years or longer depending on the environmental conditions in the warehouse.




Long-term use with minimal repair or replacement costs if used correctly.



When the Double Deep rack is no longer in use, it can be sold and recoup 30% of the initial investment cost.
Maximize the usage of warehouse space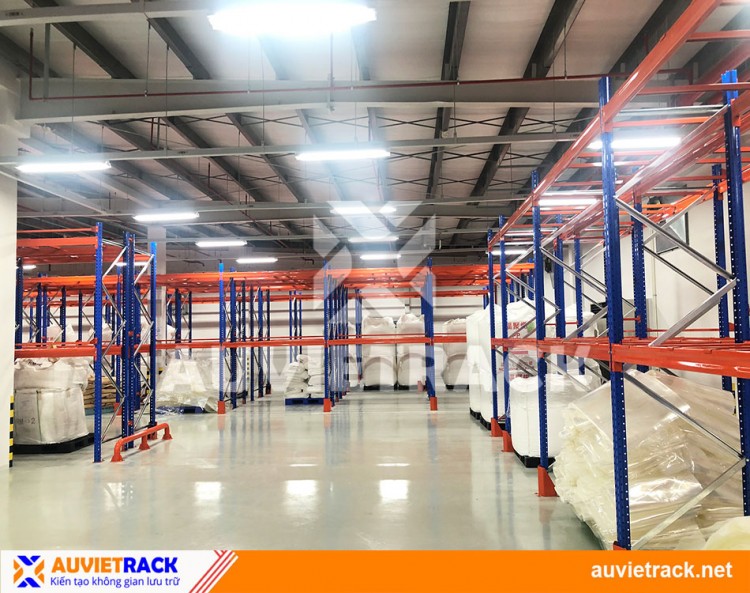 Occupying warehouse floor space: The Double Deep racking system utilizes up to 65% of the warehouse floor space.


The advantage of Double Deep racking is its high storage density, utilizing more storage space compared to Selective racking.



Reduce the number of aisle for forklifts inside the warehouse.
Disadvantages of Double Deep Racking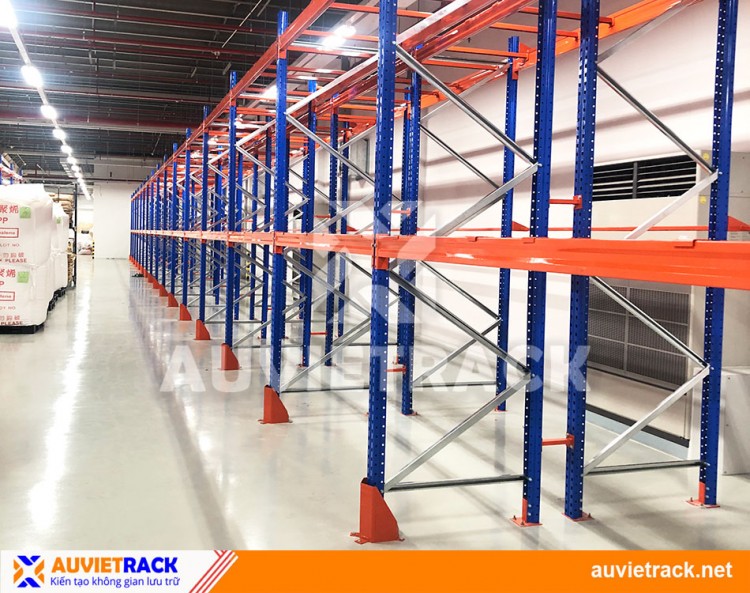 The investment cost of the Double Deep racking is 15-20% higher than that of the Selective racking.


It is necessary to use specialized forklifts with high cost, with forks that allow deep into the rack to import and export pallets. These types of forklifts require highly specialized forklift drivers to be careful when loading and unloading goods.


The speed of loading and unloading goods is not high due to the pallet accessibility is 50%.


Difficulty in loading and unloading the pallets located at the back and the pallets on the top because it is difficult to observe the position.


Double Deep racking system are not suitable for storage of products with short shelf life.


Not suitable for warehouses containing many types of goods (SKU), the warehouse requires continuous loading and unloading speed.



The pallets used in the warehouse must be uniform in terms of specifications and sizes.
Application of DOUBLE DEEP RACKING
Double Deep heavy duty racking are very wide-application racks, used for both frozen warehouses, regular storage and high humidity storage. Au Viet Rack has launched are some typical warehouses that can use Double Deep racking below for customers to refer.
The most popular Double Deep racking are used as: cold storage, paper storage, production warehouse, industrial warehouse, pharmaceutical warehouse, electronic warehouse, logistics warehouse, fashion warehouse, production warehouse, e -commerce warehouse. Here are some pictures of Double Deep racking in the actual warehouse:



Double Deep racking in cold warehouse contain medical equipment

Double Deep racking in cold warehouse contain fresh agricultural food



Double Deep racking system in finished product warehouse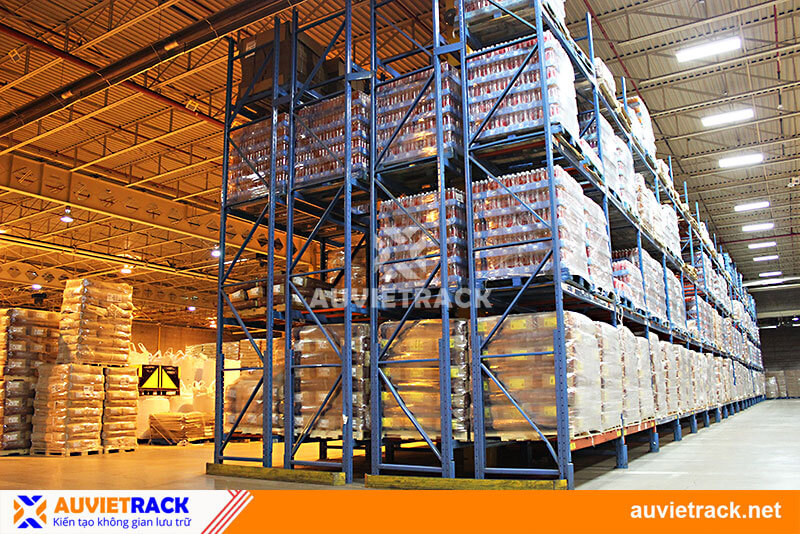 Double Deep racking system in logistics warehouse
In addition, there will be a lots of more warehouses that you can apply this type of rack. Please contact Au Viet Rack or leave a request for advice if you have questions about the suitability of Double Deep racks in your warehouse.
Above is the outstanding information about the Double Deep racking characteristics. In addition, you can find out more details about the product such as specifications, design drawings, warranty, ... in the sequels. You can contact us directly for a free consultation or immediately refer to the quotation of Double Deep racking.
Au Viet Rack sincerely thanks for the companionship of customers!