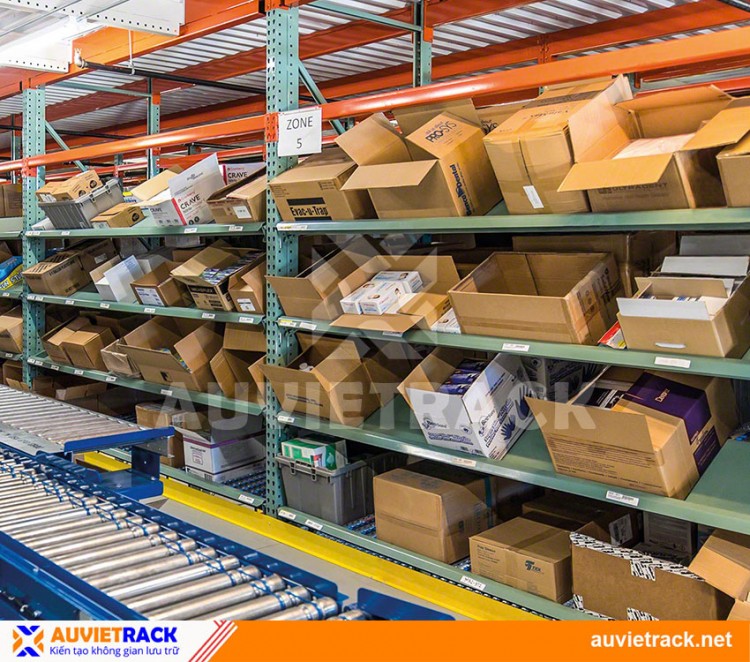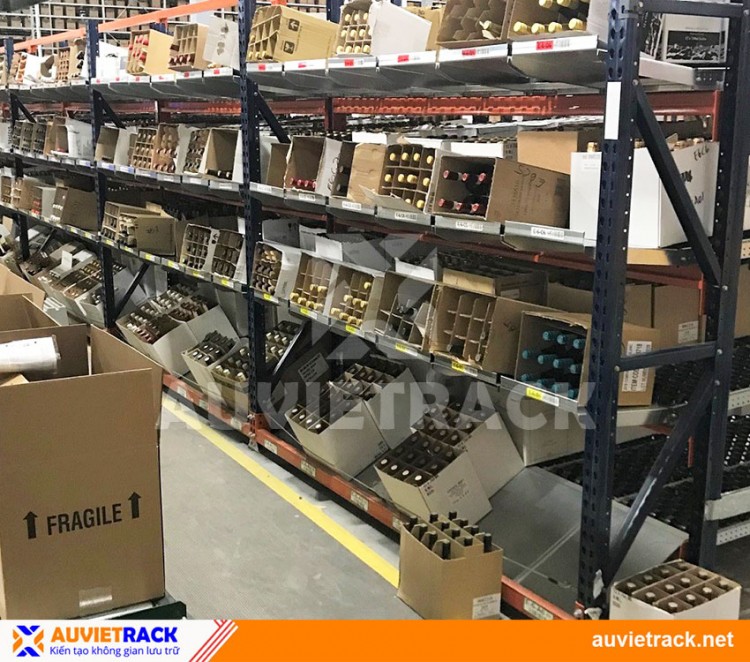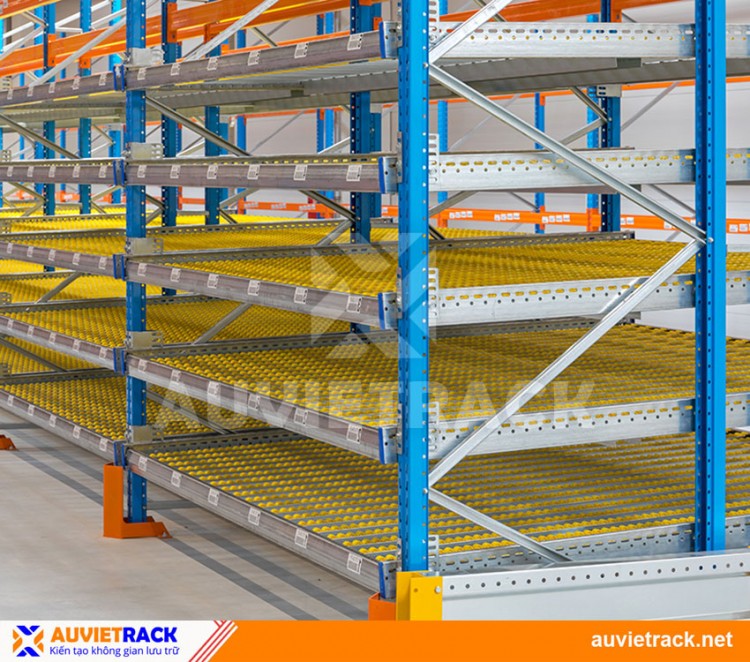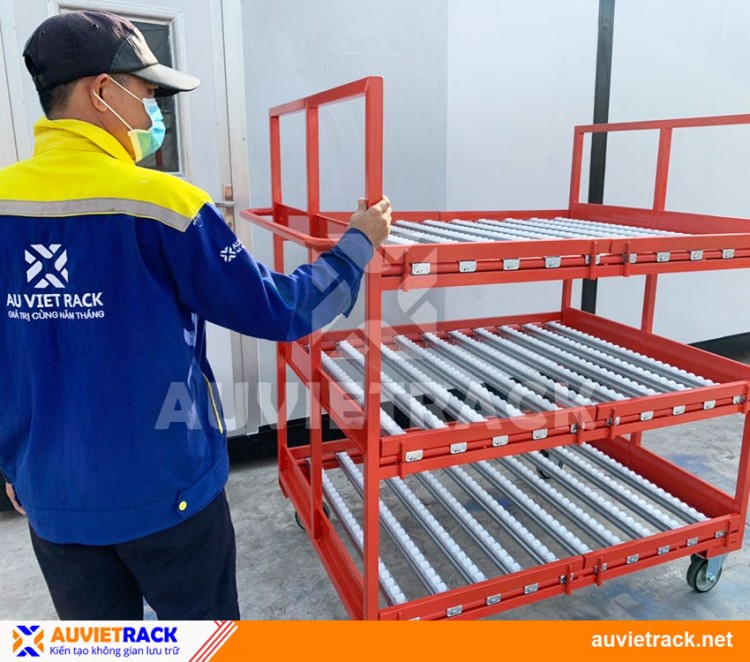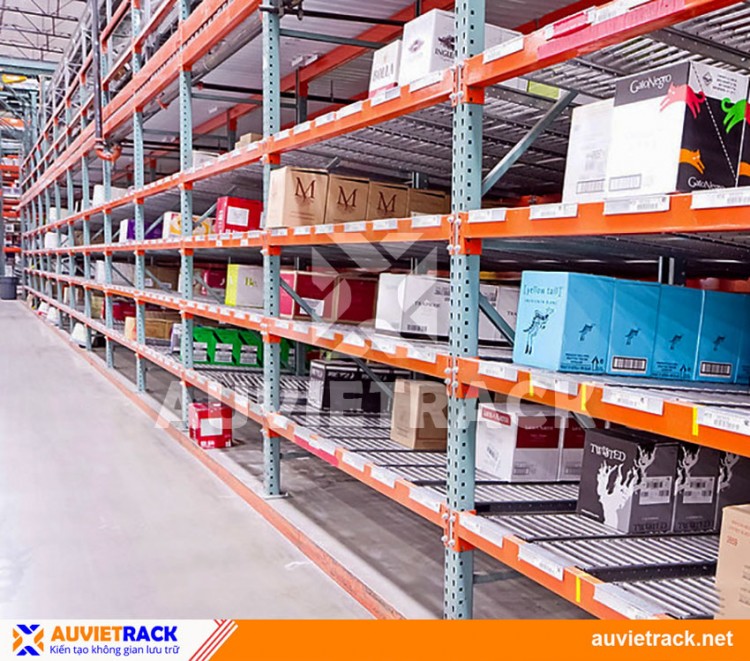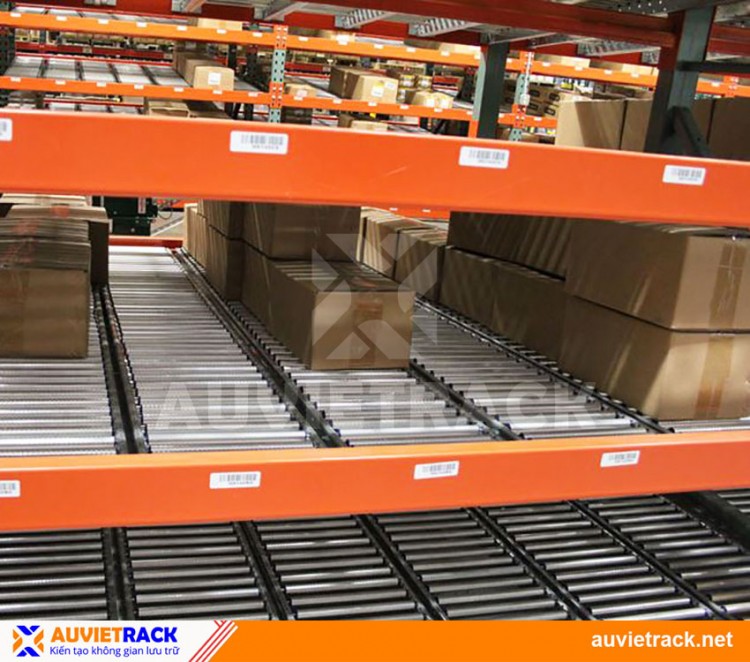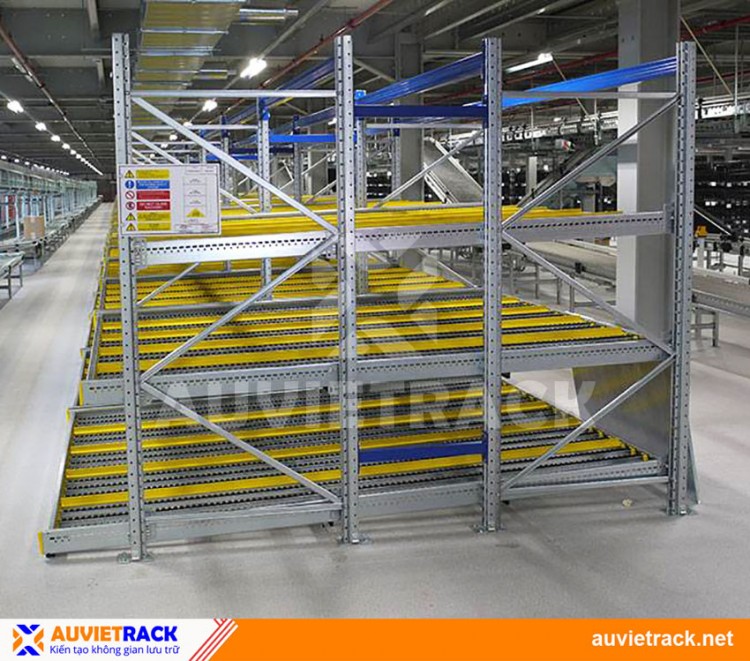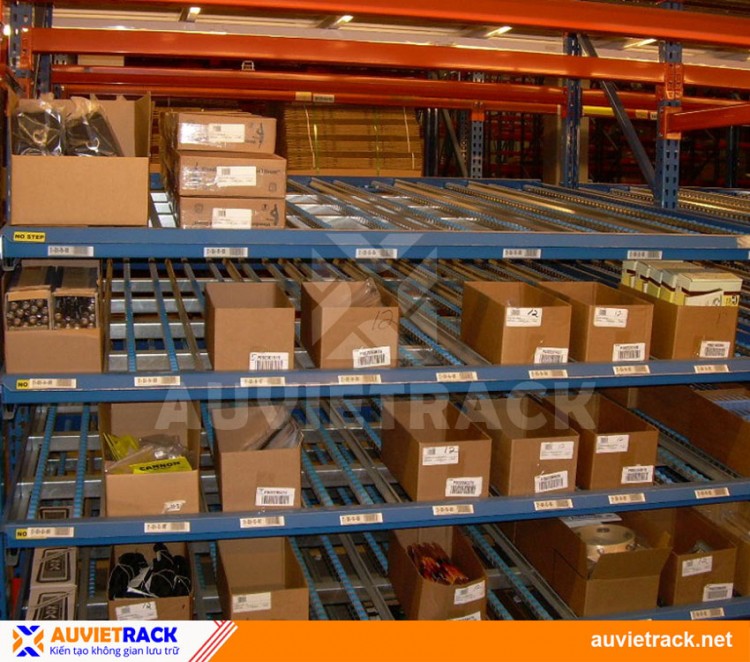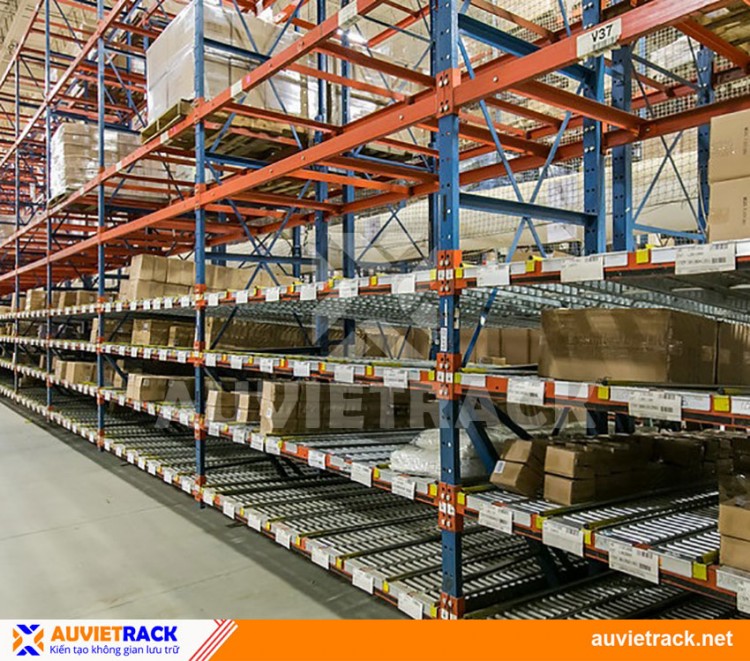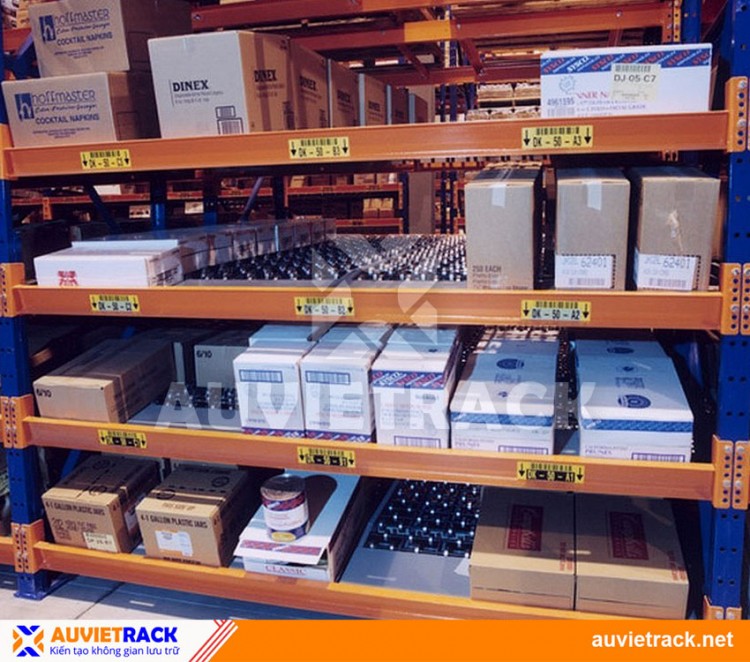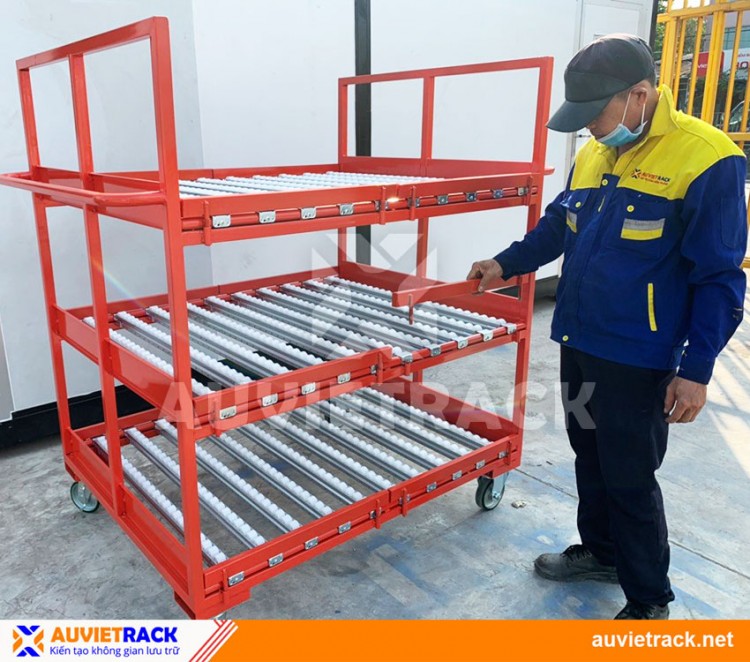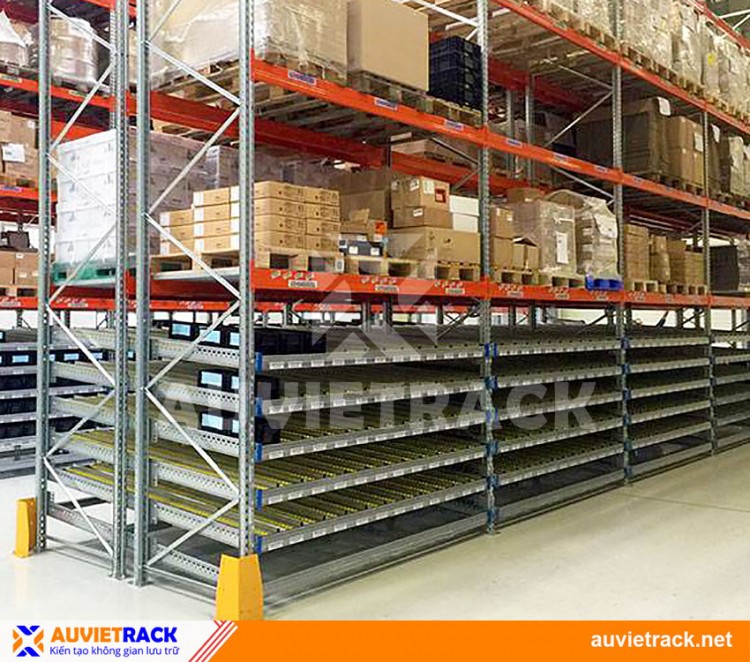 CARTON FLOW RACK
Carton Flow Rack is a dynamic storage solution (Live Storage) that applies conveyor movement technology. The racks are designed in the form of a conveyor belt with a slope that creates a moving force that makes the boxes or trays move to one side.

Although it has been appeared for a long time, the Carton Flow Rack is still a fairly new type of rack for many people. This is one of the most popular smart racks for light-duty storage. Let's find out with Au Viet Rack what is a Carton Flow rack and the features of this type of rack!
Carton Flow rack - Smart design, easy to use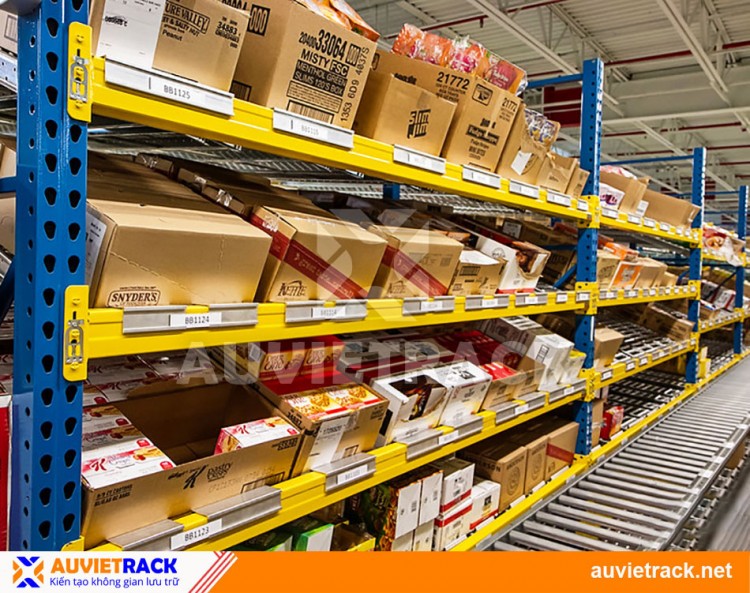 Carton Flow rack consists of many levels, each levels uses a system of rollers installed inclined from the input side to the output side, in the direction from high to low.

Smart design, good application of physical laws when loading and unloading goods without using human power or electromechanical.

The way to pack goods by cabins, cartons, ... with many different sizes and shapes makes it easy for goods to slide on rollers, without using pallets.


Carton Flow rack is easy to install, the distance between the wheels in the roller system and the slope can be flexibly modified according to needs.
The principle of operation of the rack and the principle of load/unload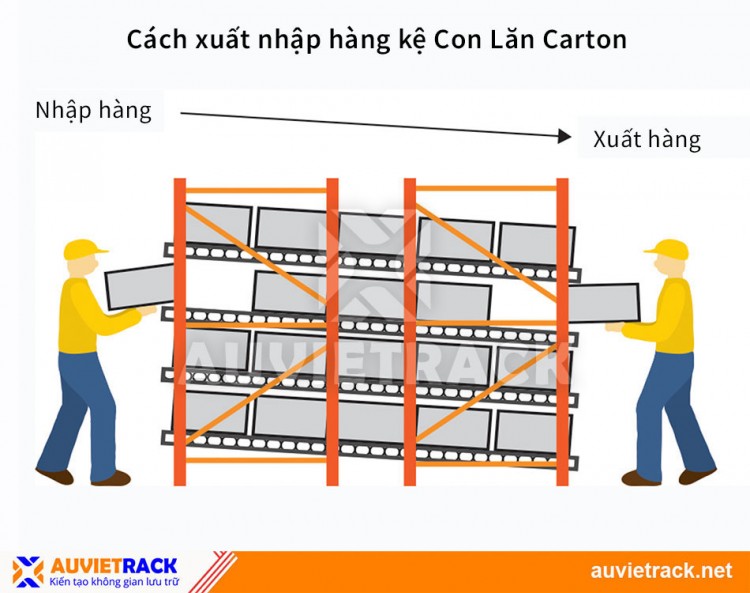 Working principle of Gravity Carton Flow rack: when loading goods, the first package is placed on the rack on the imput side (higher side). Thanks to the slope and roller, the package will start moving to the unloading side (lower side). This process will continue to repeat with subsequent packages. Subsequent packages will continue to roll and stop when they reach the previous one. When unloading, the outermost packages on the unloading side will be removed first, the rear packages will continue to slide down to the position of the previous package.

The method of picking goods by manual and combining with a mobile ladder when picking up goods at high levels.

Principles of load and unload: Carton Flow rack are suitable for FIFO principle, goods entered first will be exported first to avoid accumulation of old goods causing product damage.
Increase storage density, reduce labor costs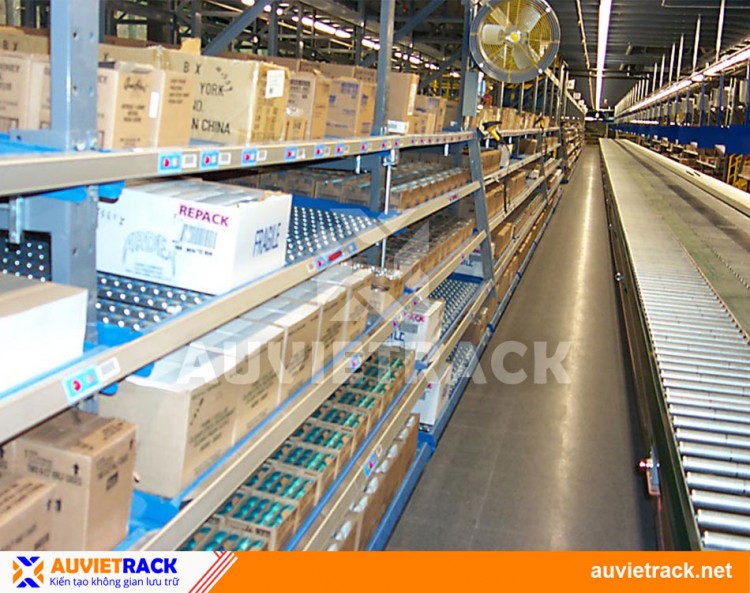 Carton Flow racking system has high density storage, taking advantage of 70-80% of the warehouse floor space.

It is easy to observe the goods on the racks, giving better control and taking advantage of the gaps for the next imput.

Up to 75% reduction in labor costs compared to conventional static racks.

Load and unload processes can take place at the same time helping to reduce unnecessary costs.

It is possible to combine the installation of pallet racks in the higher levels of this rack to diversify storage functions on the same rack.
Warehouse operations become safer and faster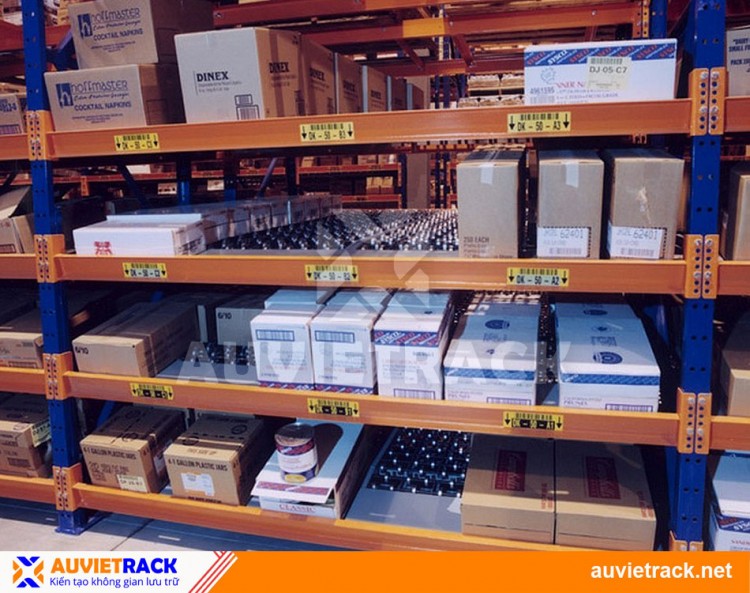 High safety when using, the speed of flowing goods on the rack is controlled by deceleration device.
Light-weight Carton Flow rack helps inventory take place faster and more accurately.

The input aisle is separate from the output aisle.

Keeping the goods from being thrown out, and ensuring the smooth sliding process.

Ability to quickly retrieve goods, increase loading speed up to 200%.

Automating many stages in warehouse operations.
Carton Flow Rack is popular in light duty warehouses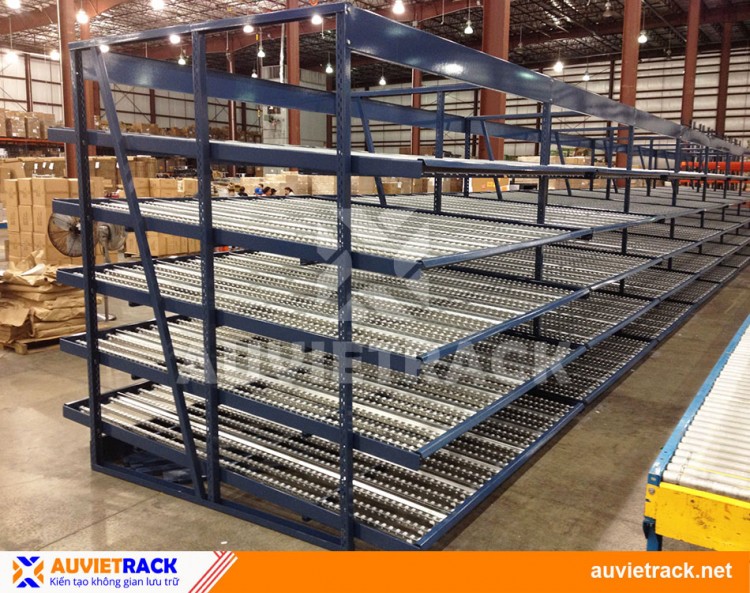 The Carton Flow rack solution is often applied to warehouses with many types of goods (sku) but the quantity of goods is not much.

Applied to warehouses with uniform product packaging specifications: cartons, plastic items, aluminum boxes, etc.

This type of rack is often used in dry or cool storage.

Suitable for warehouses and workshops that need to store high-density goods, high inventory turnover and follow automatic lines.

Carton Flow racking is commonly used in industrial warehouses, production workshops, general warehouses, commodity centers, multi-purpose storage centers...
DISADVANTAGES of CARTON FLOW RACK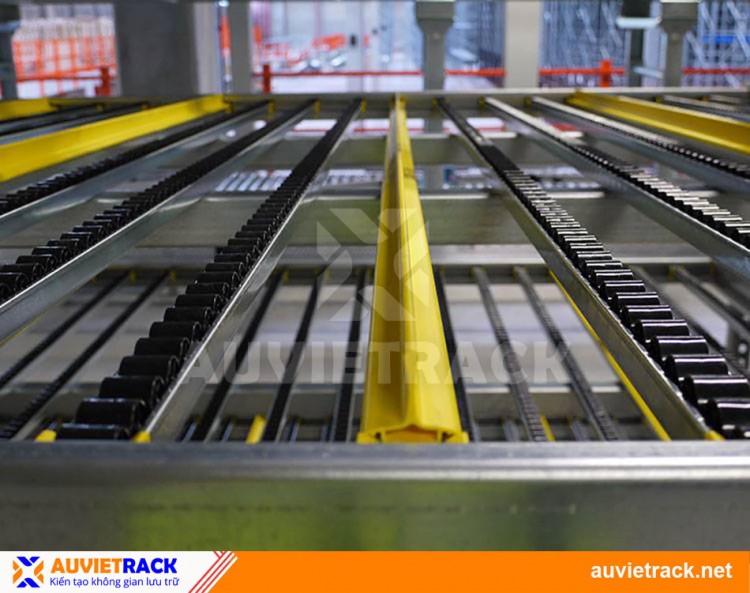 Carton Flow rack has a higher investment cost than static shelves with the same load due to the need to install an additional roller system.

Each slide should contain only one item type.

Cannot withstand bulky and heavy goods.
APPLICATION of CARTON FLOW RACK
Carton Flow rack will promote the best effect when applied to the right type of warehouse and type of goods to be stored. Au Viet Rack has presented some typical warehouses that can use Carton Flow rack below for customers to refer to.
Carton Flow rack is used in many different fields such as the food industry, beverage industry, pharmaceutical industry, manufacturing plants, storage of components, spare parts, automobiles, logistics...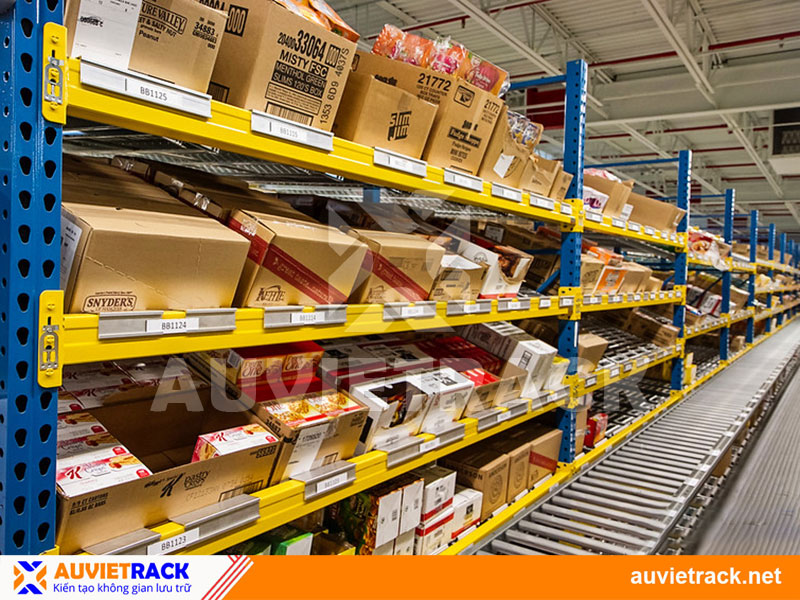 Carton Flow rack for confectionery warehouse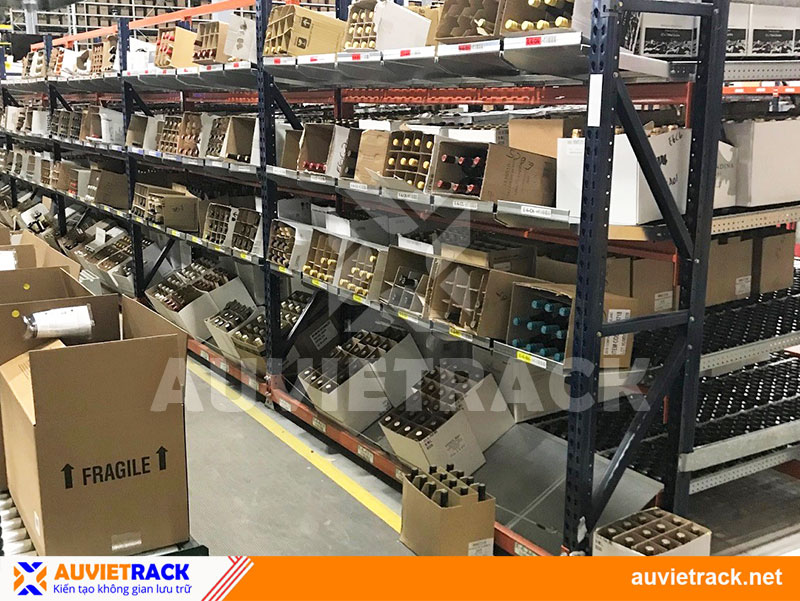 Carton Flow rack for beverages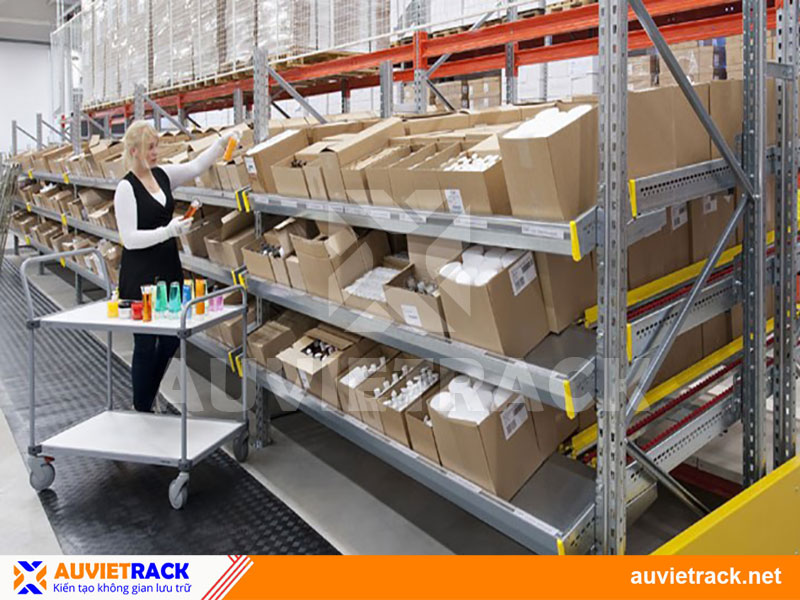 Carton Flow rack for pharmaceutical warehouse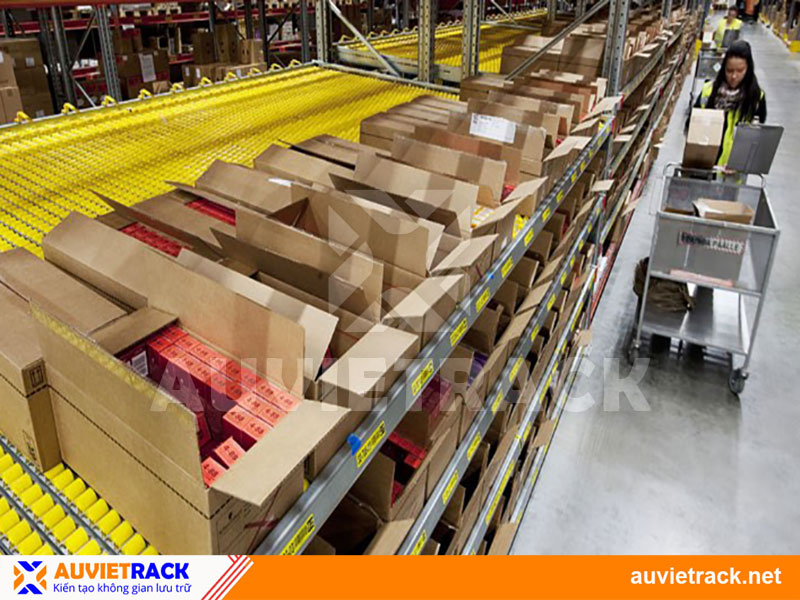 Carton Flow rack for spare parts storage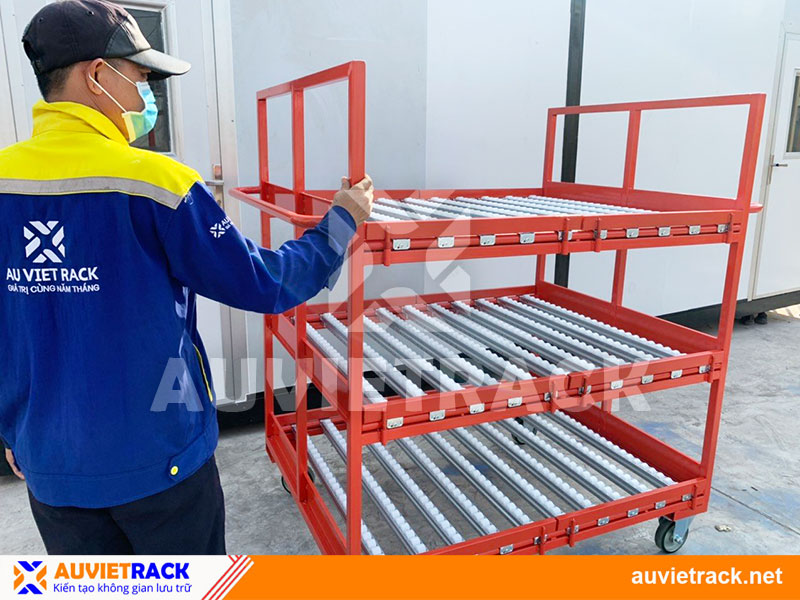 Carton Flow rack for storing small goods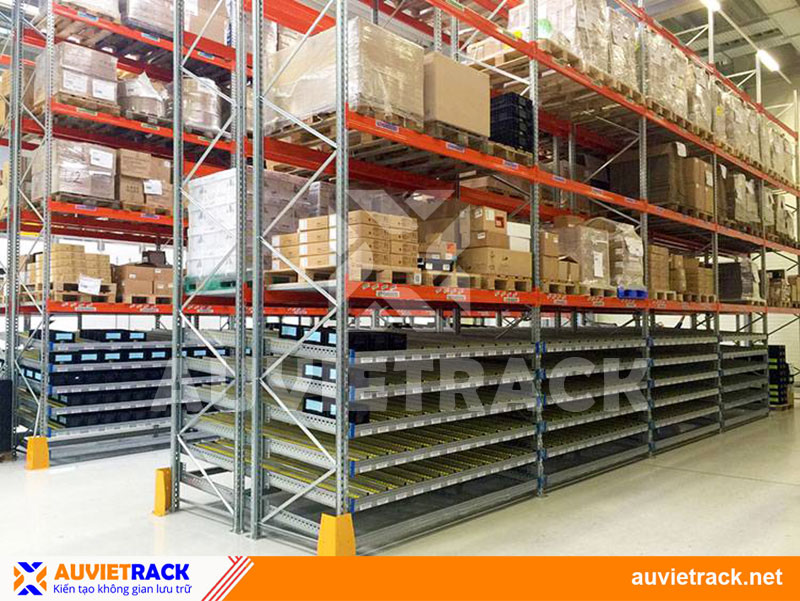 Carton Flow racks combine with pallet racking on higher levels
Above are outstanding information about the characteristics of Carton Flow rack. In addition, you can find out more details about the product such as specifications, design drawings, warranty, operation and actual pictures in the next parts.
You can also contact us directly for a free consultation or refer to the quotation of Carton Flow rack.
Au Viet Rack sincerely thanks for the companionship of customers!