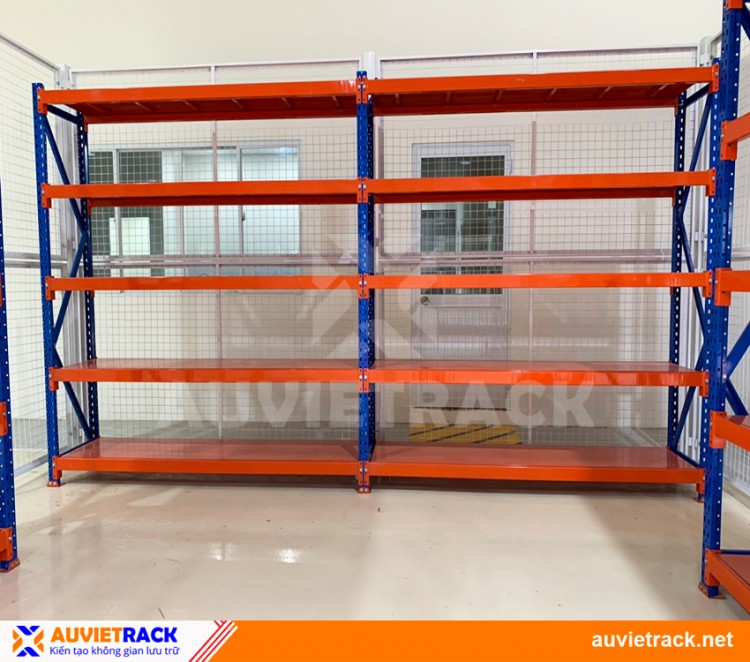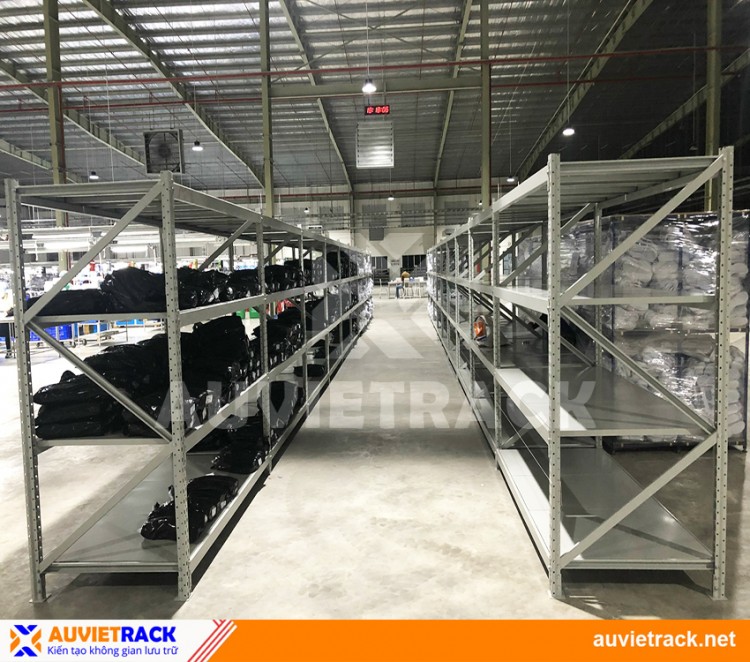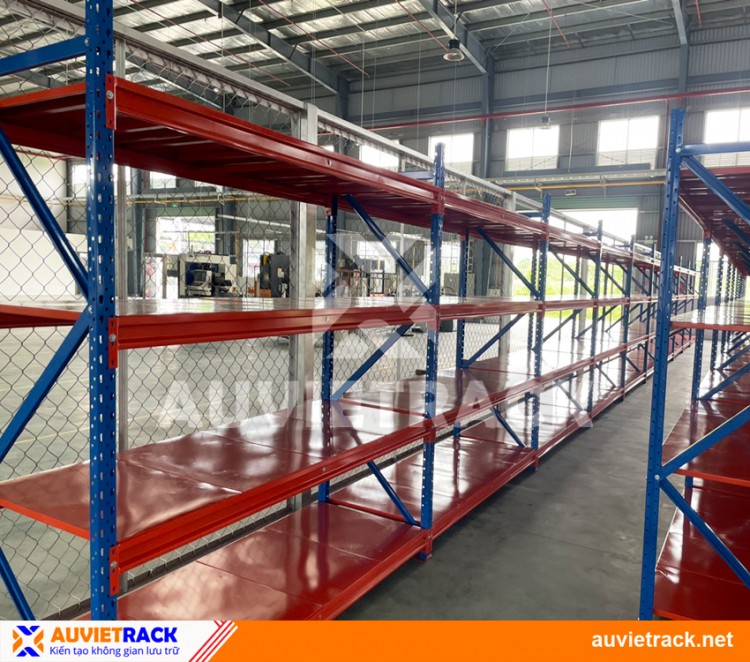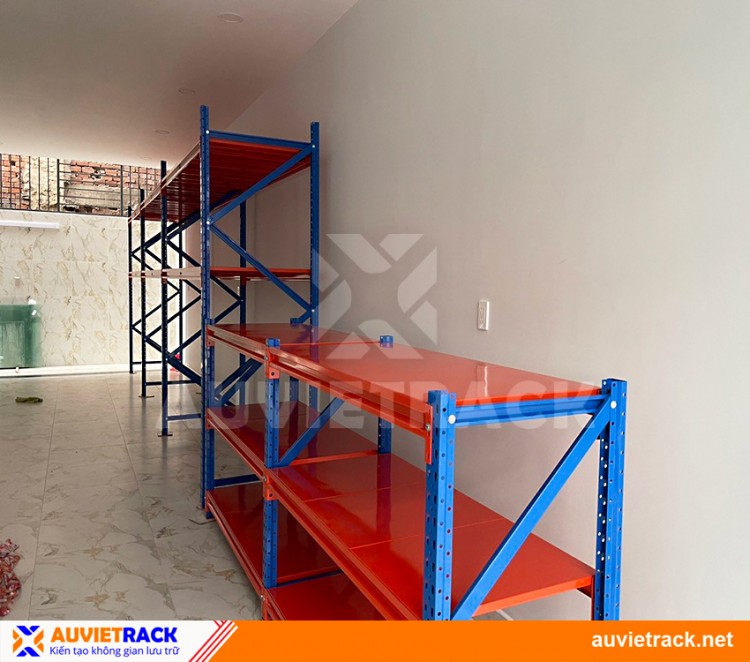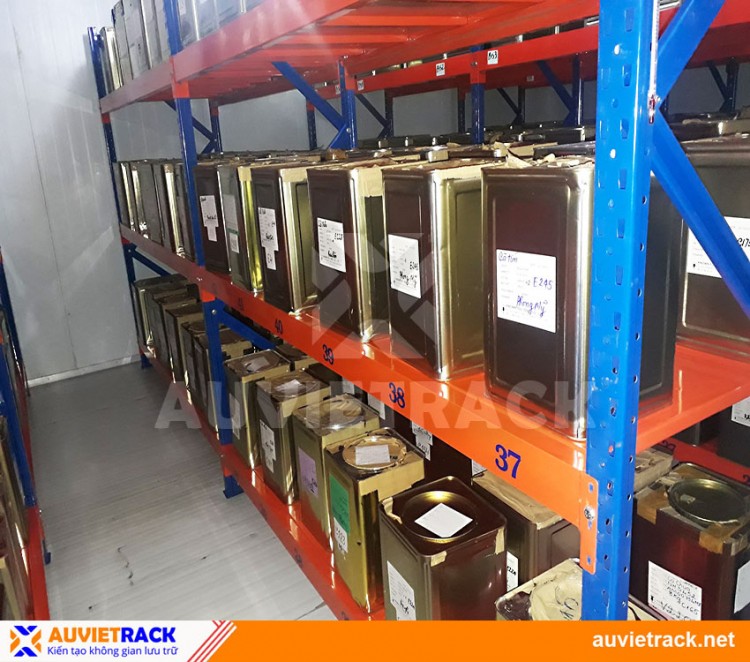 MEDIUM DUTY RACK
Medium duty rack, also known as medium load rack, is used for storing or displaying goods in warehouses, supermarkets. The rack has moderate dimensions suitable for medium and small warehouses.
Using medium duty racks is an effective solution to maximize warehouse space utilization, helping companies save significant investment costs and expand storage capacity. So, what is a medium duty rack? Let's explore the details about medium duty racks in the following article with Au Viet Rack.
MEDIUM DUTY RACK - A SIMPLE AND EASY TO INSTALL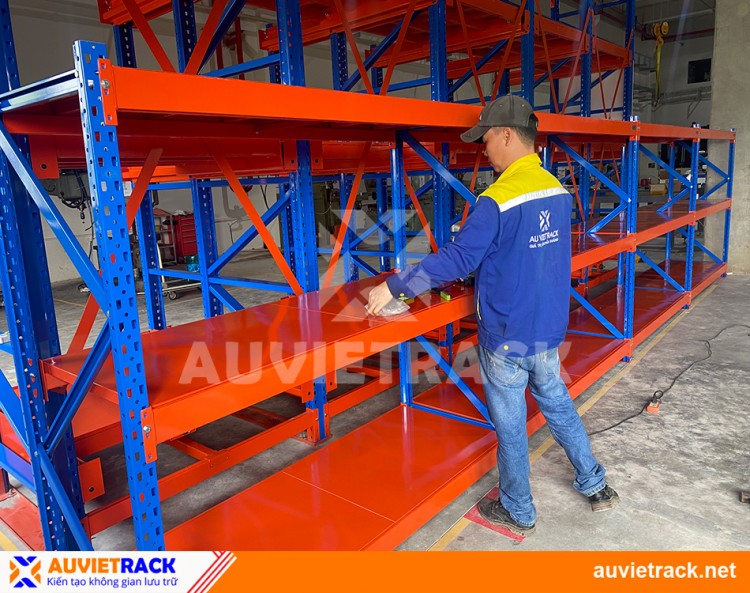 The structure of the medium duty rack is constructed by assembling multiple components, interconnected with bolts and screws, allowing for flexible adjustment and expansion as desired.


Simple and convenient design for easy installation, movement, maintenance, and repair.



The rack height can be adjusted according to the characteristics goods and usage requirements.
Highly Functional Medium Duty Rack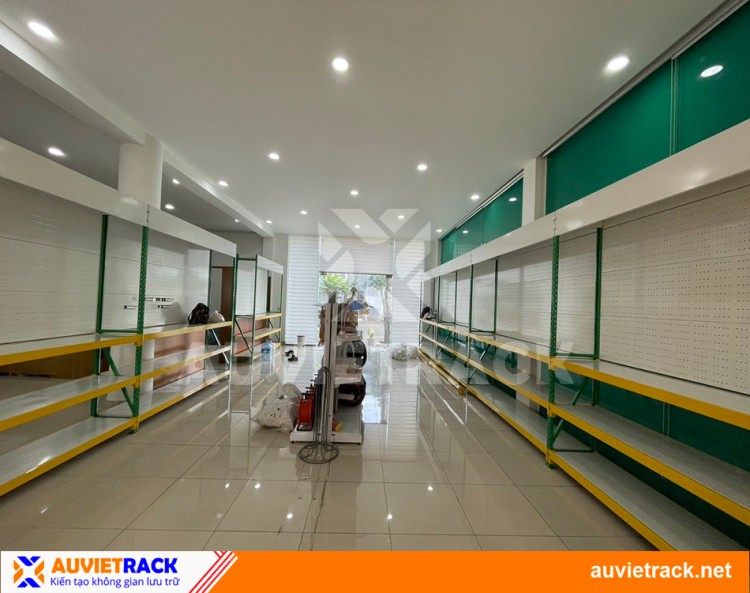 Medium duty racks, are capable of storing a diverse range of goods. They are often used to directly place items on the rack without the need for pallets, making them efficient in various industries and fields.


The process of loading and unloading goods with medium duty racks can be done manually or mobile ladder.


In addition to storage and warehouse management purposes, medium duty rack designs are aesthetically pleasing, making them widely used for product display in stores, supermarkets, as well as organizing files in offices and schools.



By utilizing medium duty rack systems, it is possible to increase storage space in warehouses by up to 60% compared to not using such systems.
STORAGE SOLUTION FOR SMALL TO MEDIUM-SIZED WAREHOUSES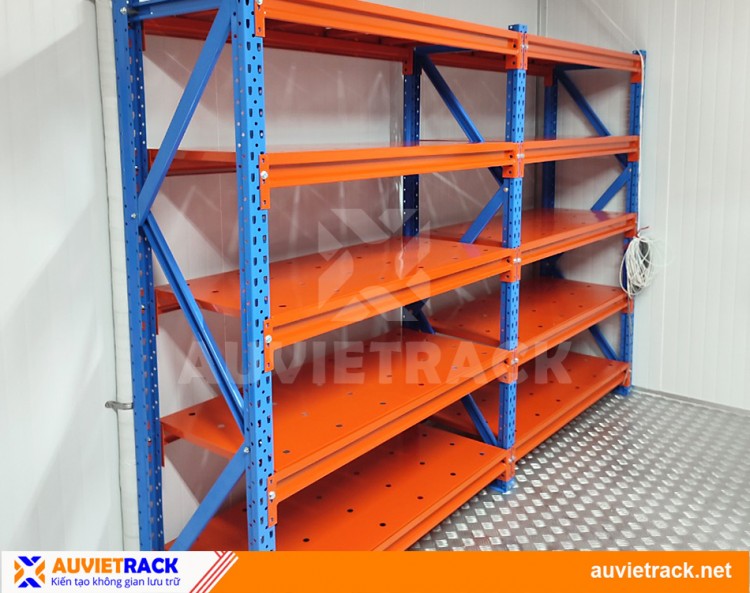 For warehouses with small to medium-sized areas and a need for storing light to medium-weight goods, medium duty racks are an effective alternative to other rack types that require larger warehouse spaces, such as Selective racking or Drive-in racking.

In warehouses where most products have a short storage period and require continuous movement of goods, investing in medium duty racks is highly suitable.


With reasonable initial investment costs, medium duty racks provide a safe storage solution for small to medium-sized warehouses.


DISADVANTAGES OF MEDIUM DUTY RACK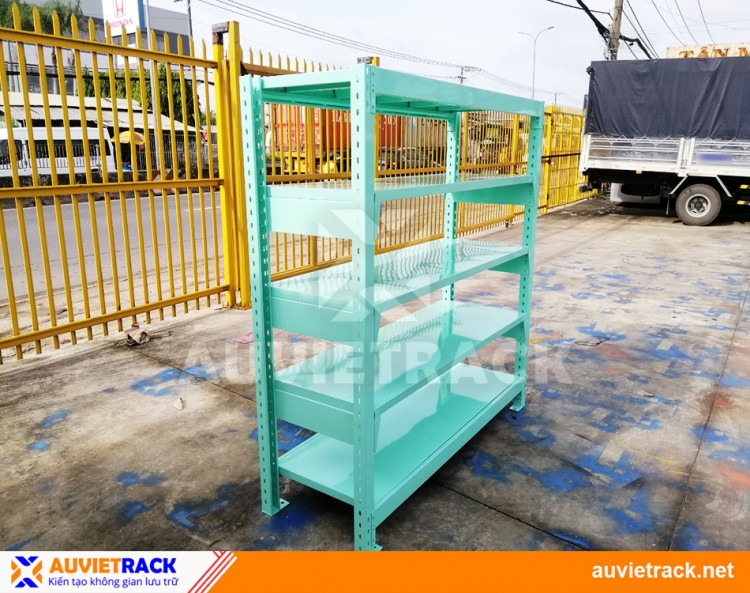 The storage capacity for heavy goods of the medium duty rack system is not high and it is only suitable for goods with limited weight. It is not suitable for use in industrial warehouses.


If the height of the goods is too high, it can be inconvenient to retrieve them.



Retrieving goods is done manually or using a mobile ladder, without the use of forklifts, which means that the quantity of goods retrieved at each time is relatively small compared to other retrieval methods.
APPLICATIONS OF MEDIUM DUTY RACK
Medium duty racks are widely used in various types of warehouses, especially those storing light-weight goods in diverse fields such as textiles, automotive industry, electronic components, office supplies, and product display racks.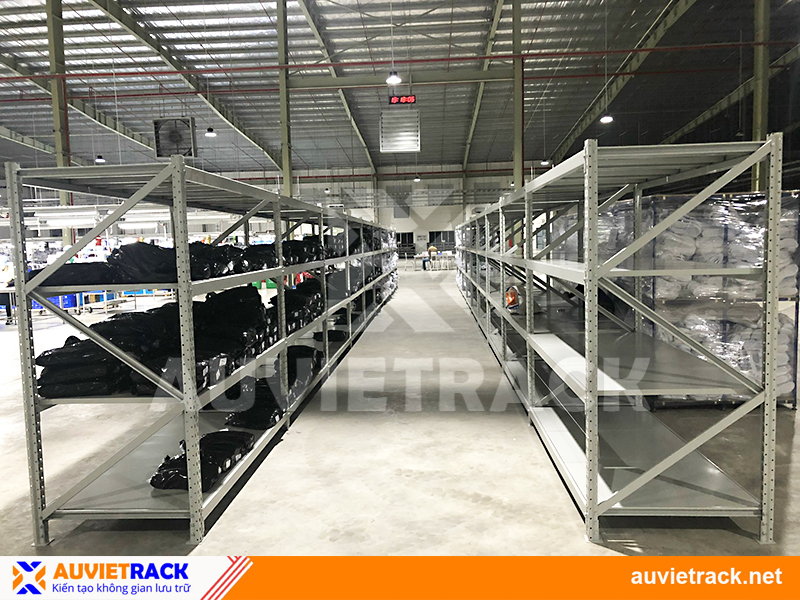 Medium Duty Racks for storing leather shoes in warehouses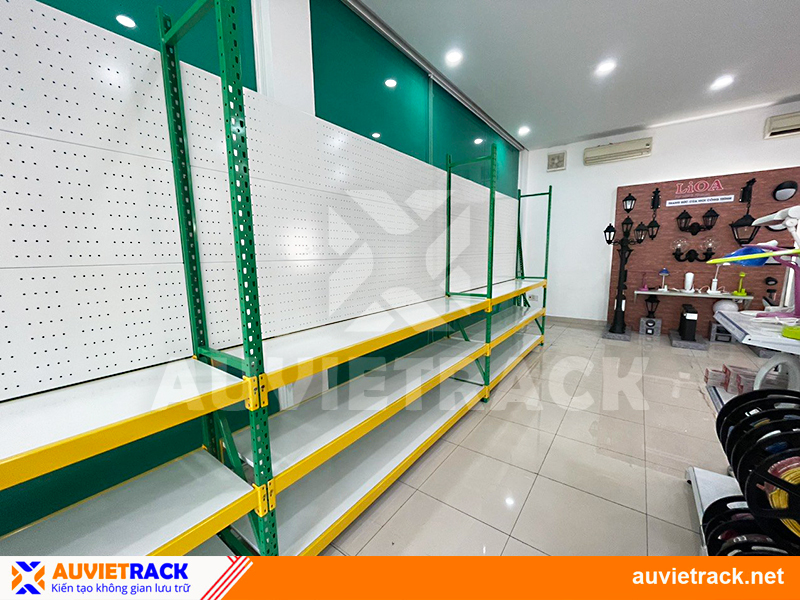 Medium Duty Racks for displaying merchandise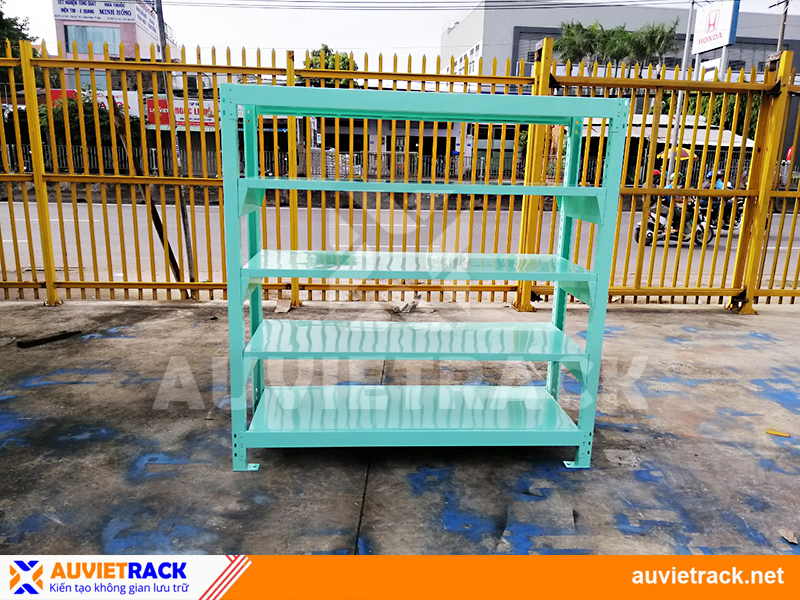 Mini Medium Duty Racks for storing lightweight items

These are the features of Medium Duty Racks. Additionally, you can find more details about the product such as technical specifications, design drawings, warranty policies, and more in the following sections. You can directly contact us for free consultation or refer to our Medium Duty Rack price list.
Au Viet Rack sincerely thanks for the companionship of customers!