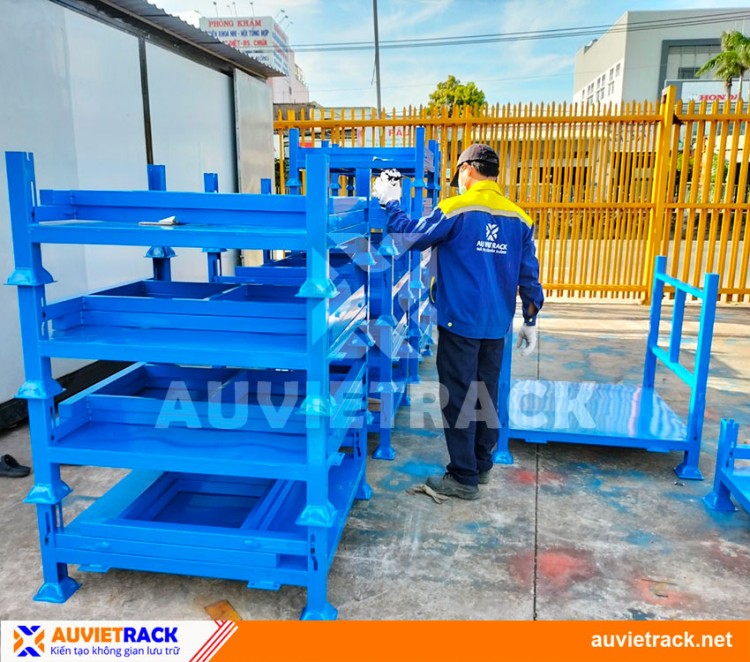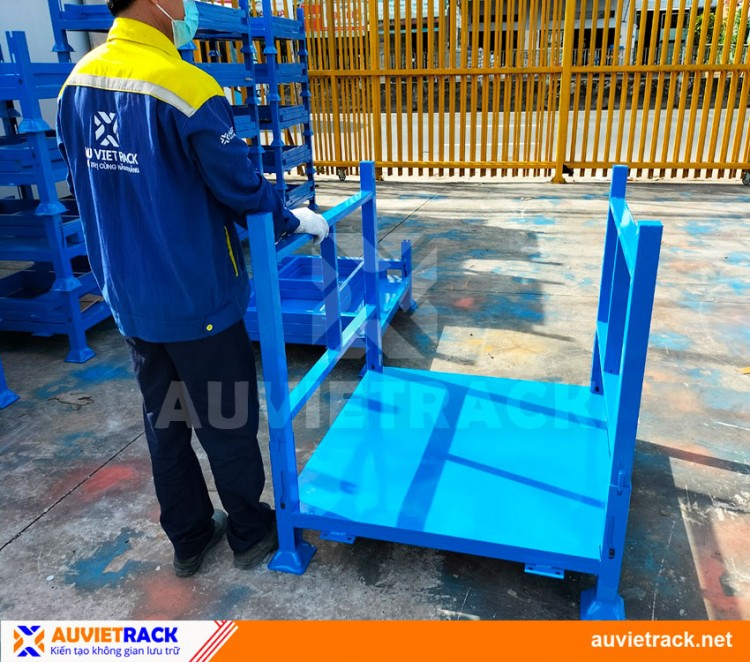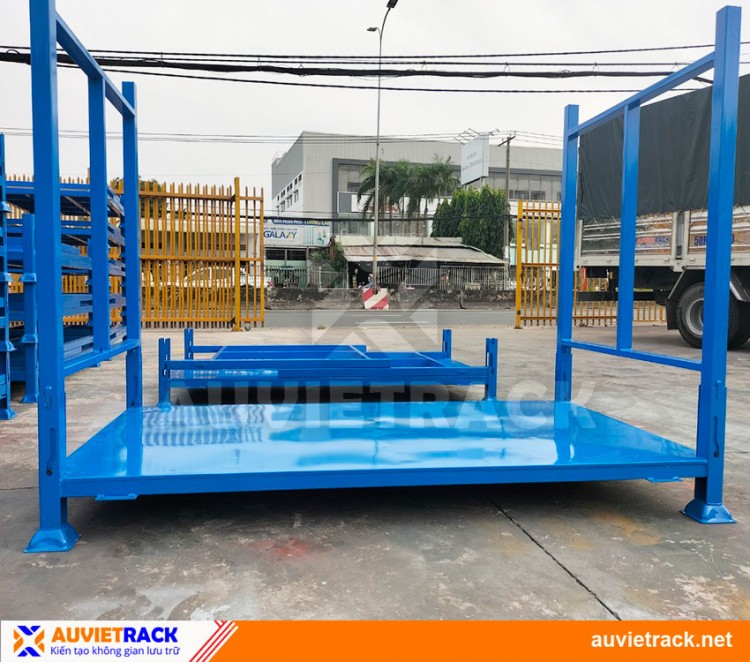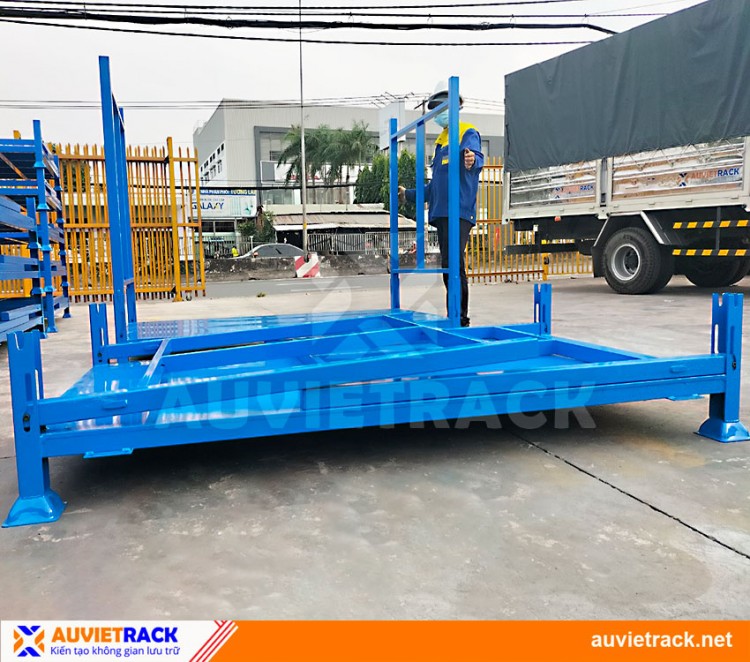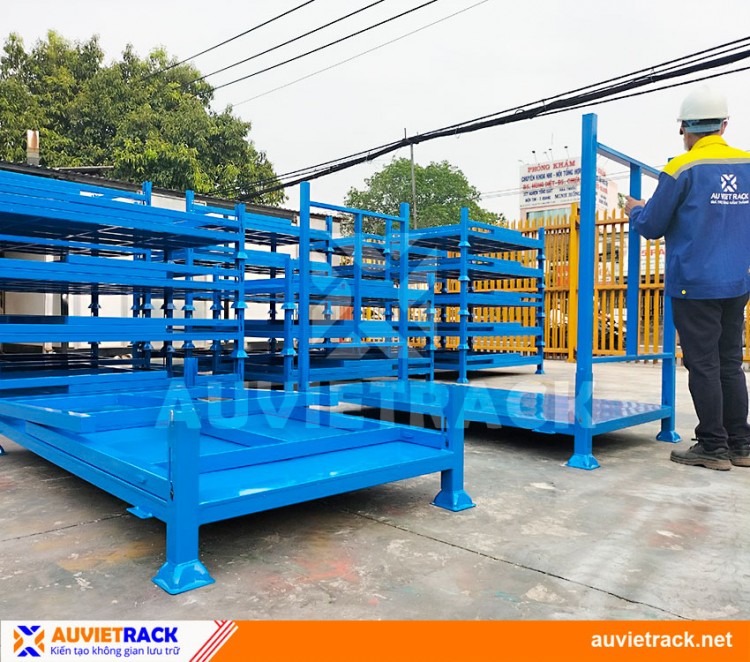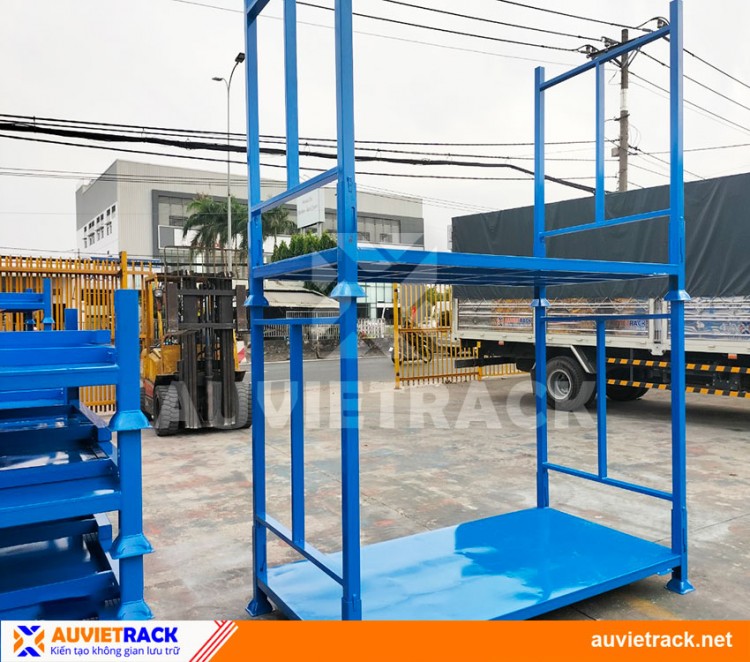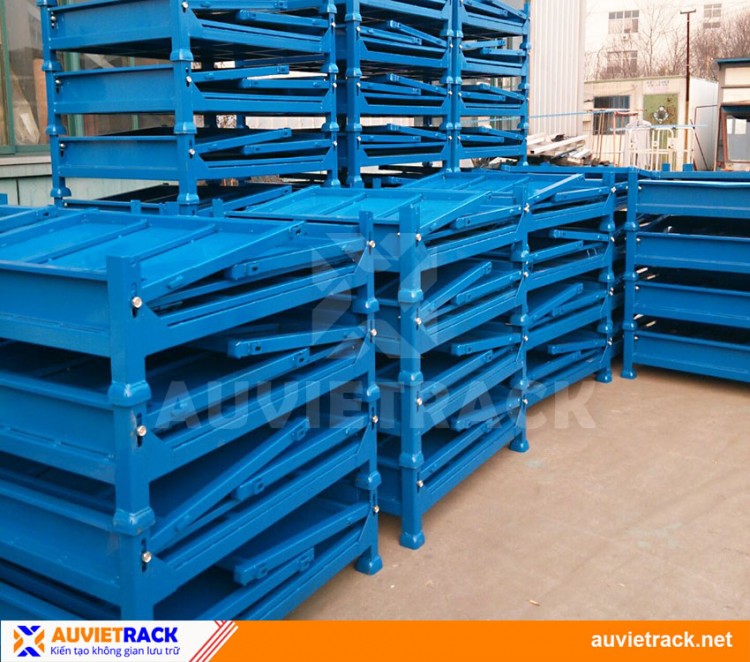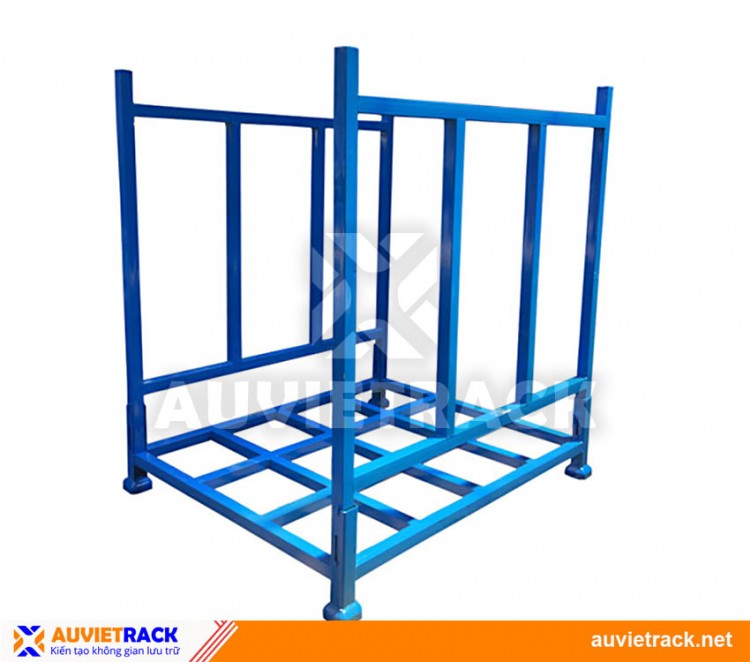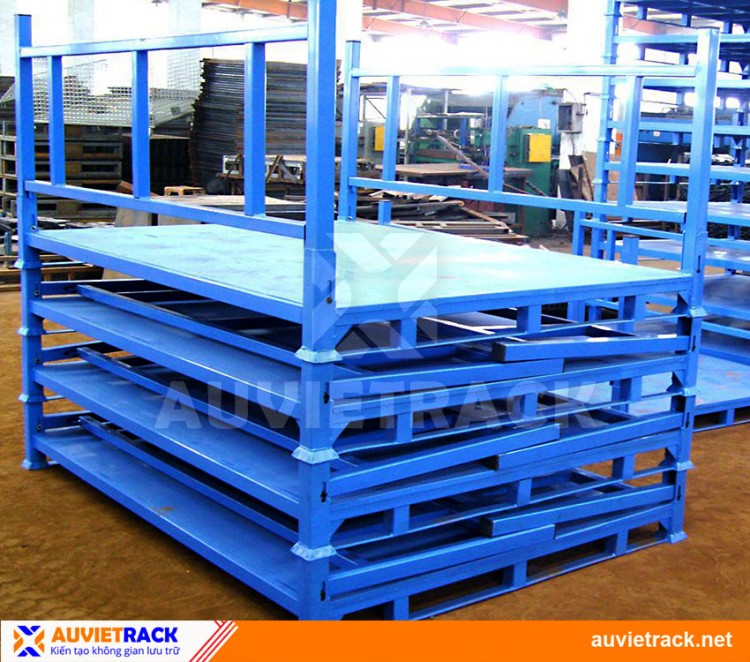 FOLDABLE STEEL PALLET
Foldable steel pallets function as a tiered storage system used to store goods in a warehouse. However, compared to fixed storage racks in one position, foldable pallets can be moved more easily. Additionally, when not in use, they can be folded to save a significant amount of space.
Many businesses choose not to invest in storage racks and instead of for steel pallets for storing their goods. Foldable steel pallets offer high flexibility and are increasingly used in various warehouses. Let's explore what makes this product stand out and become so popular with Au Viet Rack
OPTIMIZE WAREHOUSE STORAGE CAPACITY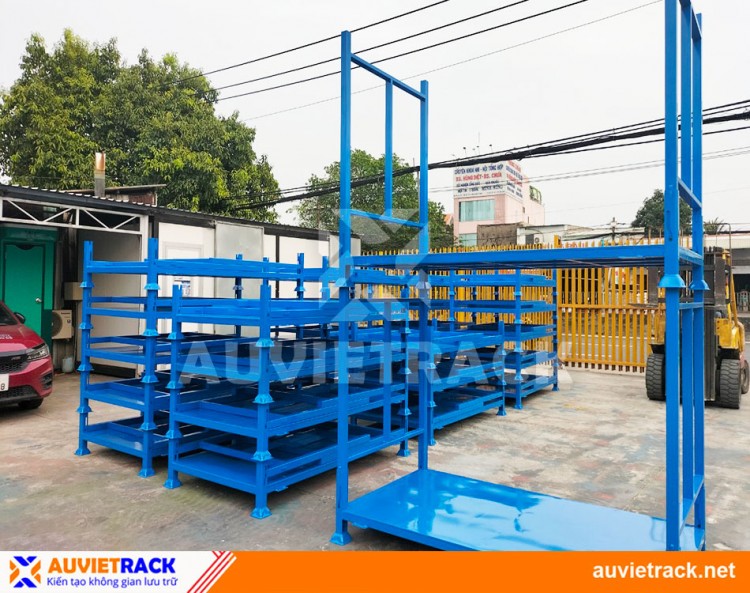 In addition to its ability to stack goods high, foldable steel pallets offer the advantage of compact and flexible storage.


When not in use, they can be folded and stacked on top of each other, significantly saving warehouse space. Foldable steel pallets can be stacked up to 5 levels high to make full use of the warehouse's vertical space. As a result, storage density increases significantly, allowing for the efficient organization and storage of a large quantity of goods without requiring a large storage area like traditional storage racks.



The cost of renting space and expanding warehouse facilities can be quite expensive. In contrast, foldable steel pallets have the ability to stack multiple levels efficiently, making use of the available floor space effectively for storage.
SAFE GOODS STORAGE THANKS TO A STURDY STORAGE FRAME SYSTEM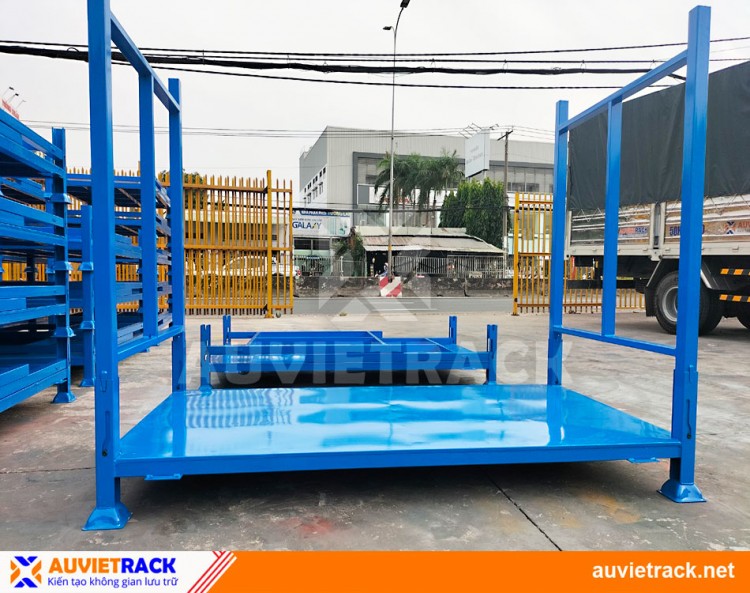 Foldable steel pallets are designed like containers, providing secure and convenient goods storage. They are a smart choice for warehouses dealing with bulky, oversized, and non-fixed materials that cannot be accommodated by regular pallets.



Their unique leg structure allows for stacking multiple levels without worrying about instability or tipping over.





Foldable steel pallets can store various types of goods, and the robust frame system can withstand loads ranging from medium to heavy.
HIGH FLEXIBILITY, QUICK GOODS ACCESS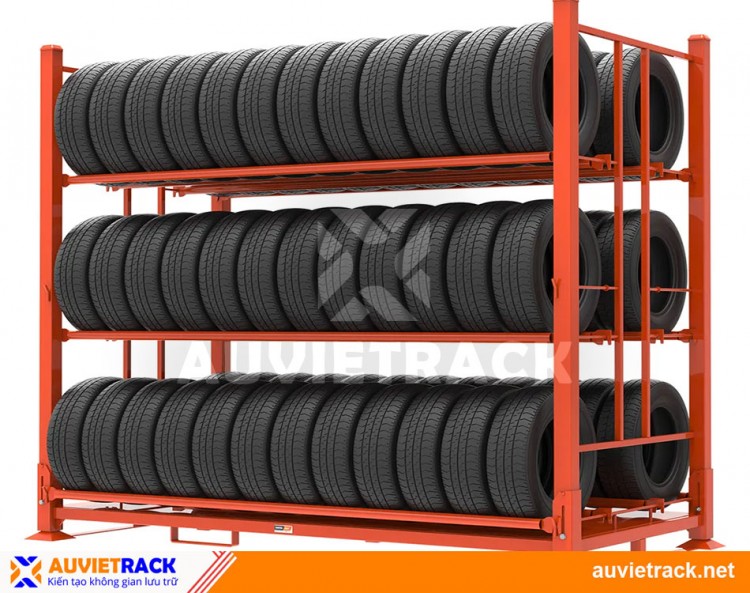 Foldable steel pallets are mobile, unlike fixed storage rack systems, allowing for easy and convenient movement during goods handling.


Their high flexibility makes foldable pallets suitable for various types of warehouses. With direct access to goods and a 100% accessibility rate, they offer the flexibility to choose the specific products for transportation easily.



Foldable steel pallets are compatible with most forklifts available today.
DISADVANTAGES OF FOLDABLE STEEL PALLET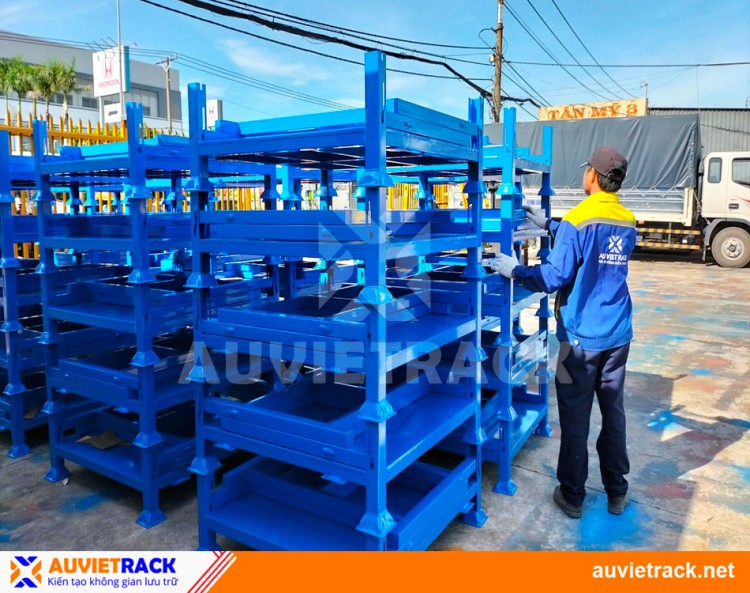 Operators of forklifts must be extremely careful because improper stacking of pallets can disrupt the balance of the entire pallet frame system, leading to potential damage, breakage of products, and posing risks to warehouse workers.



The initial investment cost for a foldable steel pallet system is relatively high
APPLICATIONS OF FOLDABLE STEEL PALLETS
Foldable steel pallets are widely used in various industries, providing an efficient and safe storage solution in warehouses for steel coils, fabric, construction materials, raw materials, or heavy industrial products.
Some applications of foldable steel pallets for storing various types of goods include: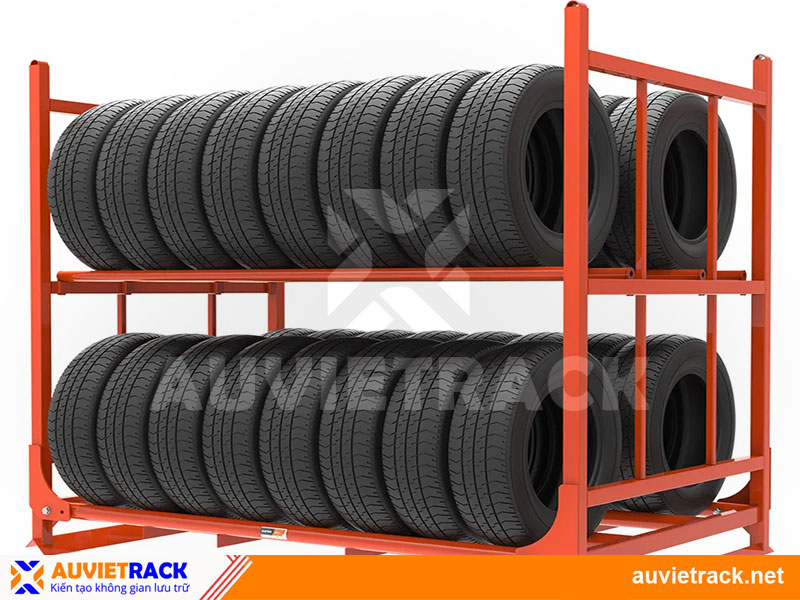 Foldable steel pallets for storing vehicle tires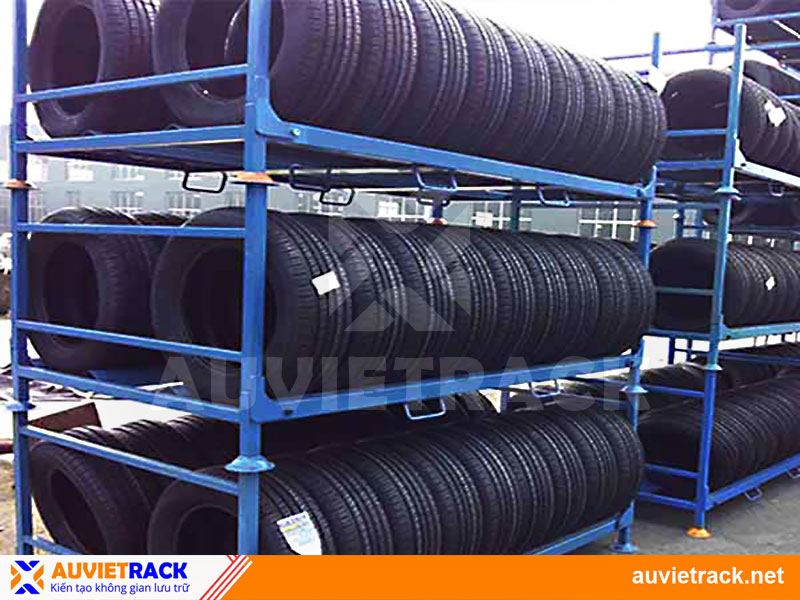 Stackable pallets for storing vehicle tires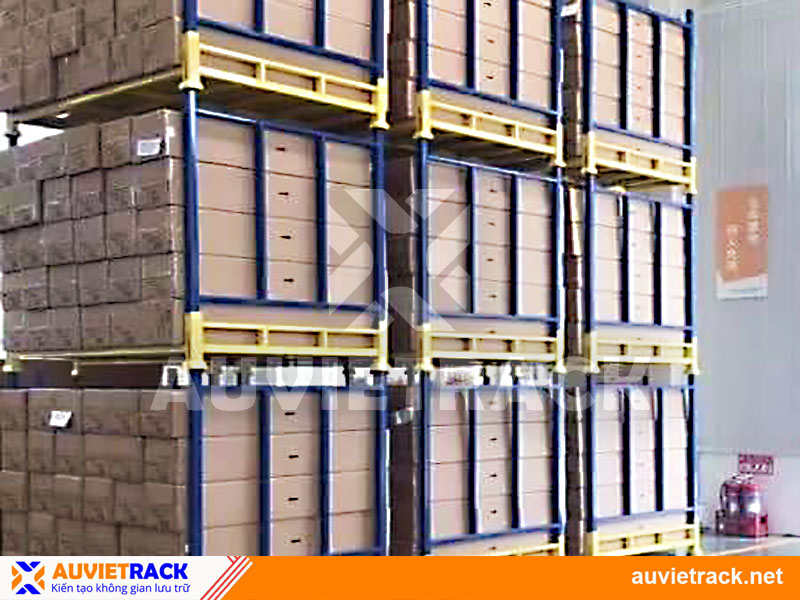 Foldable steel pallets in a warehouse for storing finished goods

Above are the most prominent features of foldable steel pallets that Au Viet Rack has provided to our valued customers. Additionally, you can explore more details about the product such as technical specifications, technical drawings, warranty terms, etc., in the following sections.
You can contact us directly for free consultations or refer to our steel pallet price list right away.
Au Viet Rack sincerely thanks for the companionship of customers!