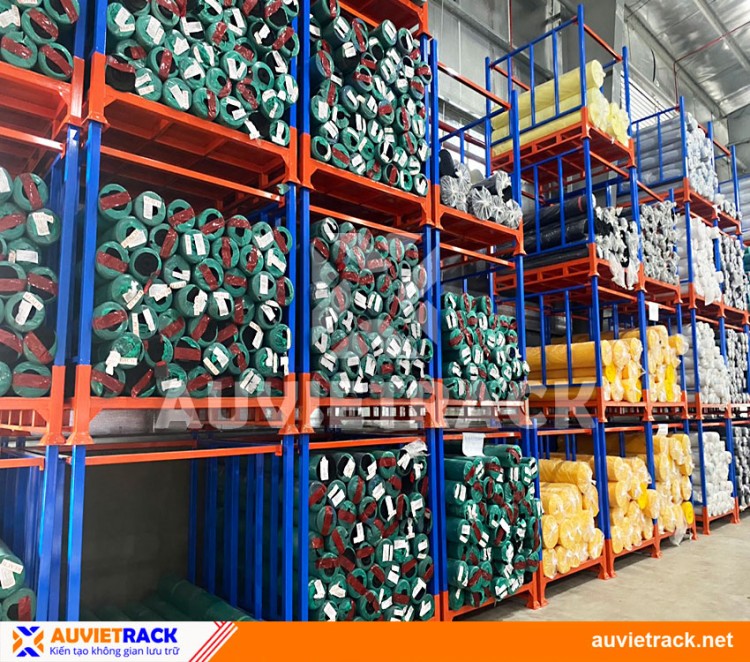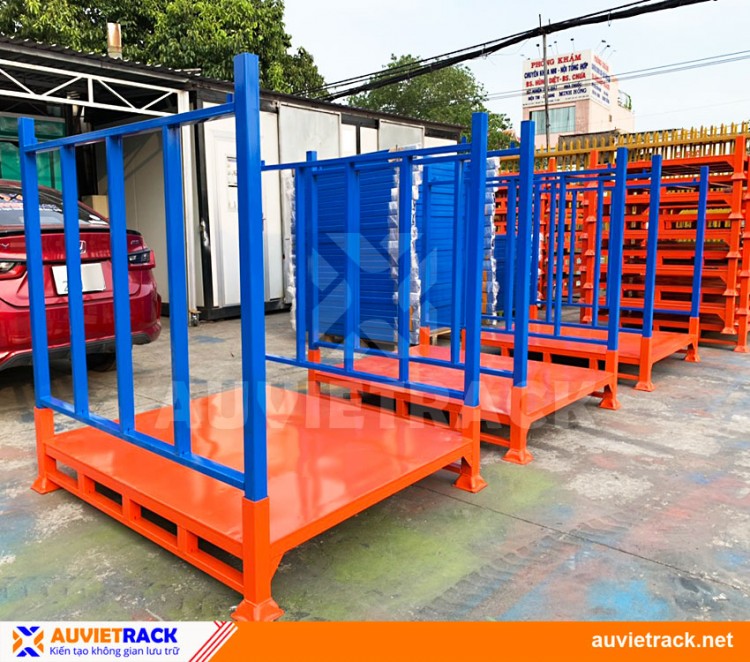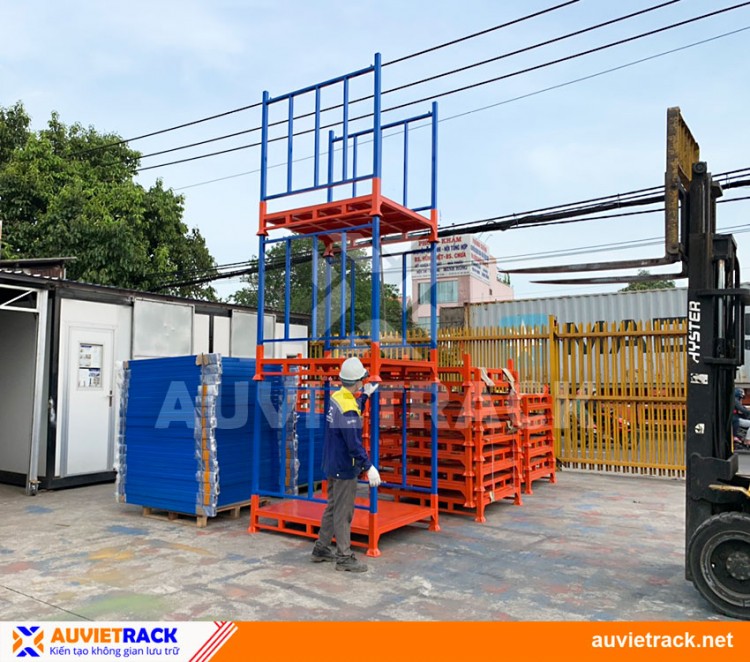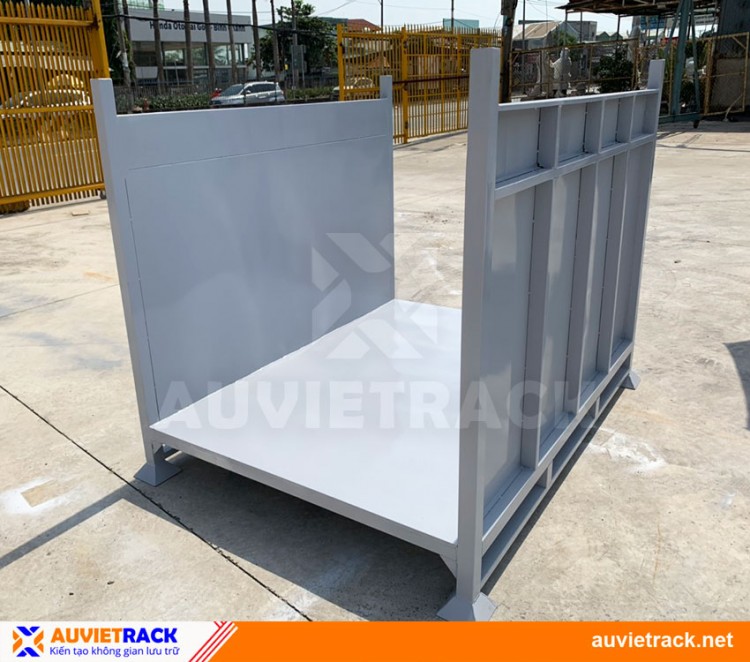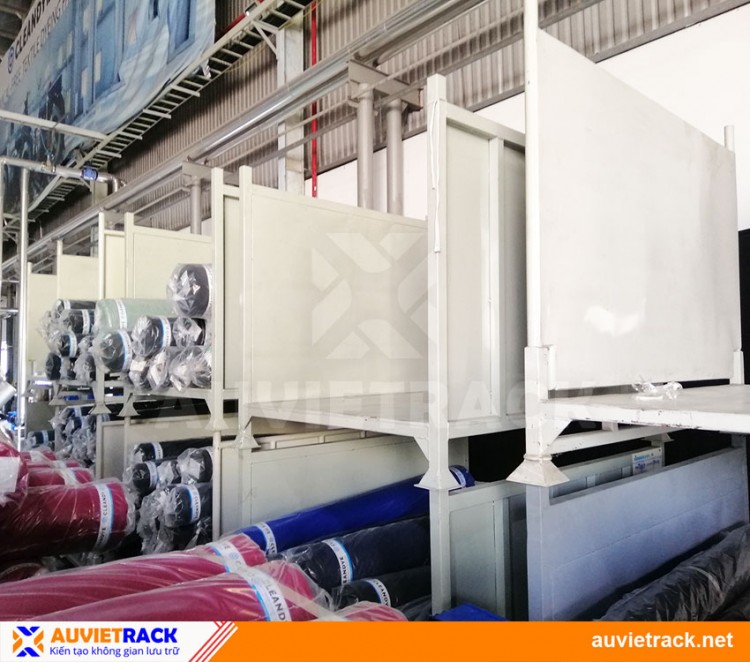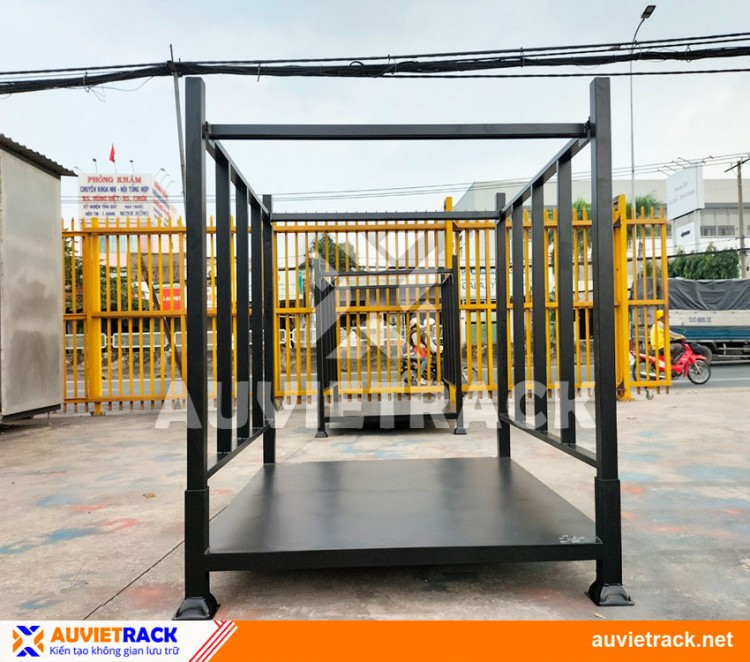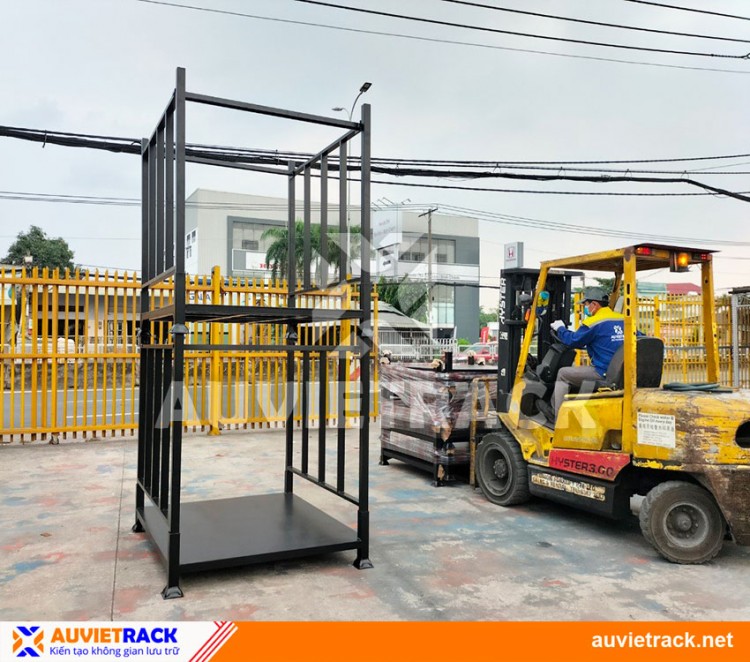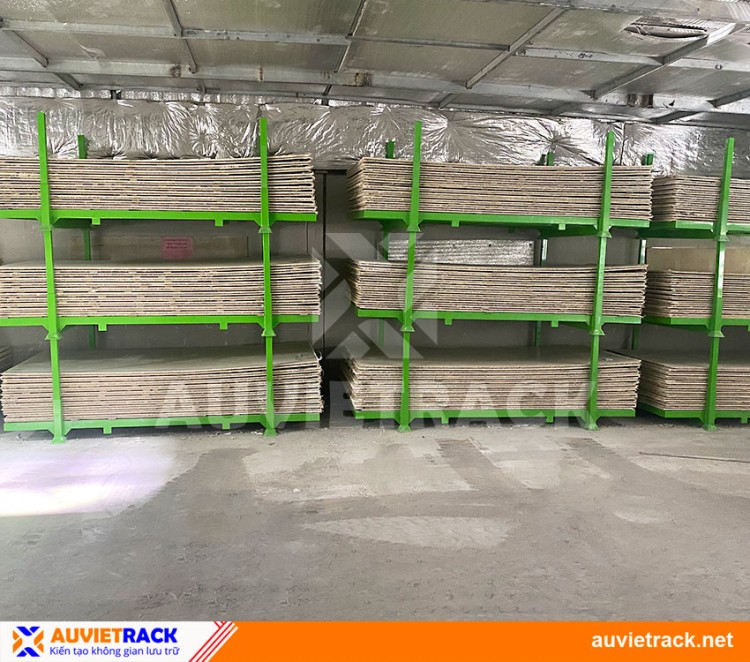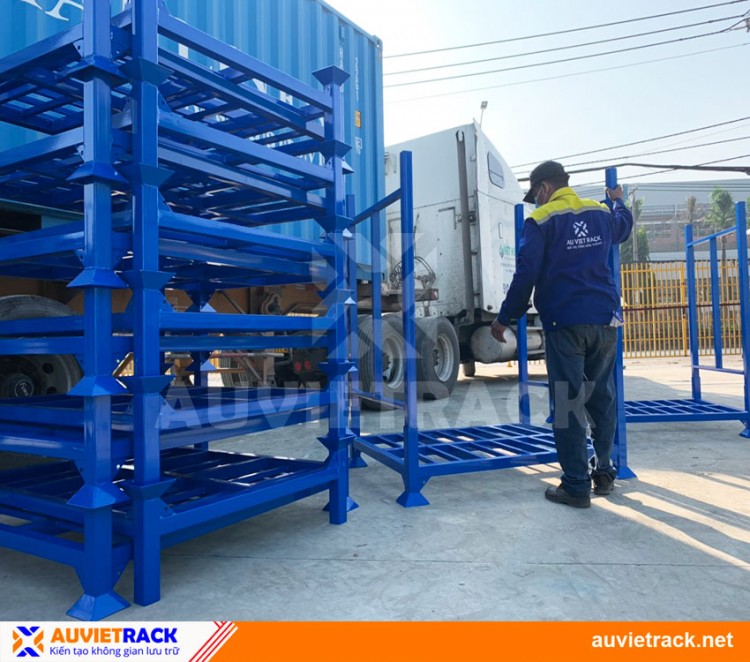 STACKABLE STEEL PALLET
A stackable steel pallet serves as a storage shelf layer and is widely used in many warehouses to arrange and store goods by stacking pallets on top of each other, maximizing the height of the storage space.
With its simple yet versatile structure that can transport and store various types of goods with heavy loads, stackable iron pallets have provided valuable support to many businesses in warehousing. Let's explore the characteristics of stackable iron pallets and their practical applications with Au Viet Rack in the section below.
STACKABLE STEEL PALLETS FEATURE A ROBUST STRUCTURE CAPABLE OF BEARING HEAVY LOADS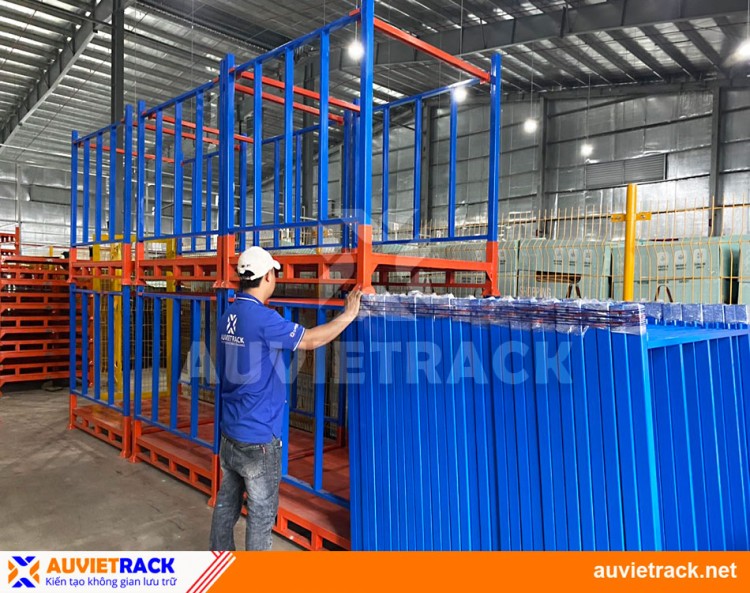 They are constructed with triangular-shaped base legs that can be stacked on top of each other, forming a stable and non-shifting frame for secure cargo storage.


Stackable steel pallets have a rectangular box-like design that can be combined with steel sheets or mesh to enhance storage efficiency, especially for bulky goods.



These stackable pallets can accommodate various types of goods, and their sturdy frame system is capable of handling cargo loads ranging from medium to heavy.
SIMPLE OPERATION, FLEXIBLE MOBILITY, AND EASY INSTALLATION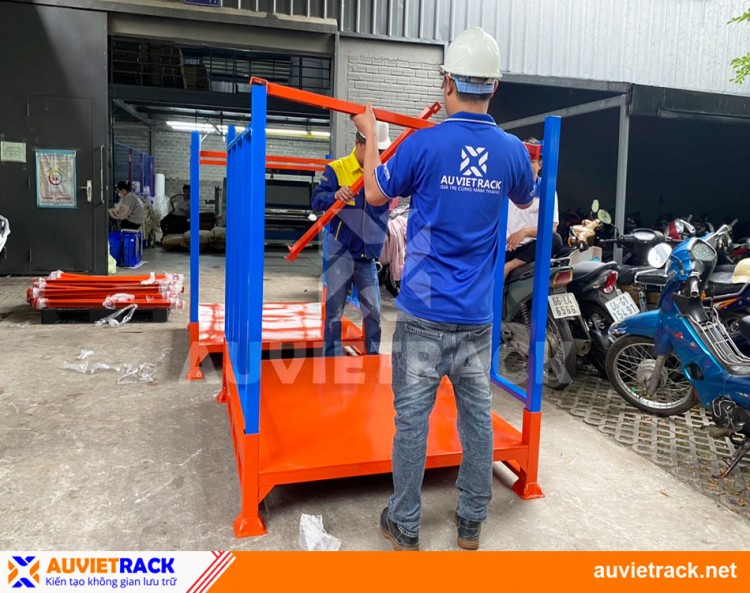 Direct access to goods with a 100% accessibility rate allows for flexible product selection for transportation.


Stackable steel pallets can be used in combination with most types of forklifts available today.


Furthermore, the base legs of stackable pallets can be disassembled, forming a regular pallet base frame for cargo storage.


Due to their flexibility in movement and cargo handling, stackable steel pallets are suitable for a wide range of warehouses, from small to large, and are suitable for warehouses with fast goods in/out processes or frequently changing layout arrangements.



While fixed storage rack systems can be challenging to relocate to different locations, stackable steel pallets offer greater convenience, allowing for easy and quick relocation from one place to another.
STACKABLE PALLET OPTIMIZES WAREHOUSE SPACE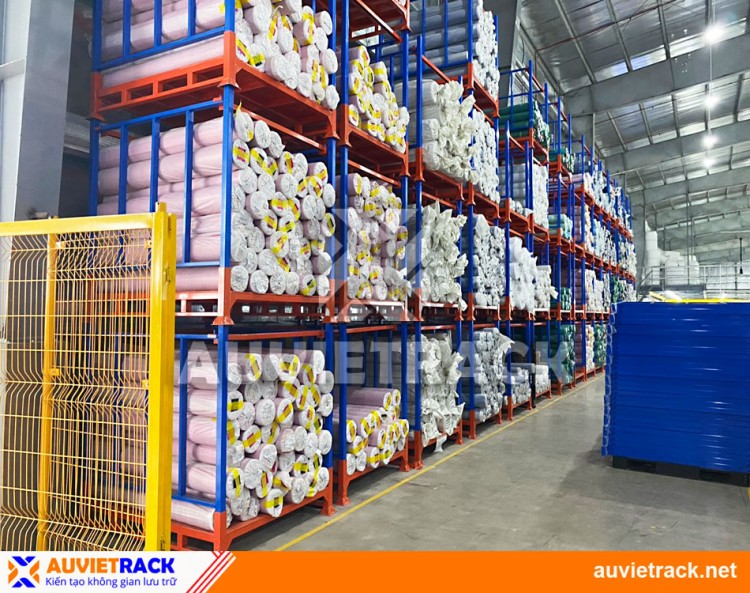 Pallets are stacked on top of each other, with the ability to stack up to 5 layers of pallets, thereby maximizing the warehouse height and increasing storage density while saving warehouse floor space.


When not in use, pallets can be compactly stacked and stored in an area that doesn't occupy too much space.


Using stackable steel pallets ensures that goods are stored and organized efficiently while significantly saving warehouse space compared to large-scale storage rack systems.



Furthermore, stackable steel pallets are highly flexible and do not require fixed columns beneath the floor, so they do not damage the structural integrity of the warehouse floor.
DISADVANTAGES OF STACKABLE STEEL PALLET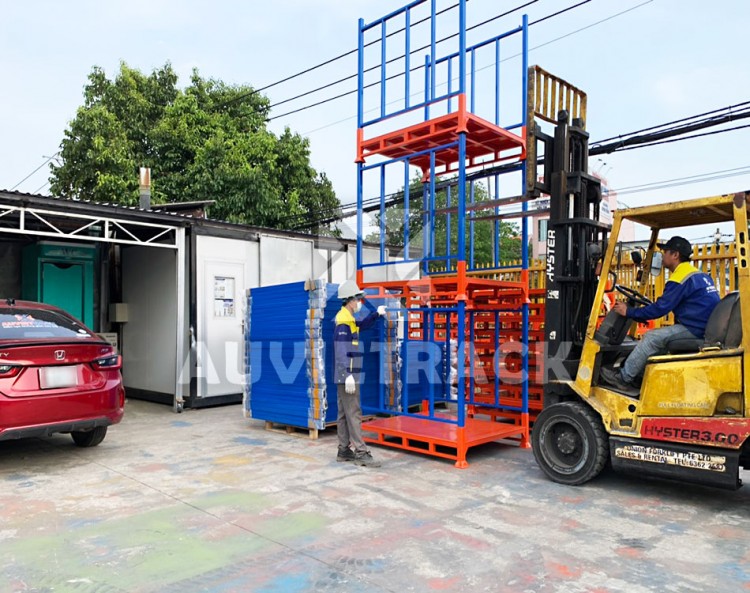 It requires forklift operators to be extremely cautious because any misalignment in the pallet stacking process can disrupt the entire pallet system, leading to product damage and posing risks to warehouse workers.



The initial investment cost is relatively high.
APPLICATIONS OF STACKABLE STEEL PALLETS
Stackable steel pallets are an ideal product to replace large-scale storage rack systems and are widely used in warehouses storing steel coils, fabric warehouses, construction material warehouses, raw materials, or heavy-duty industrial products...
Below are some images showcasing the applications of stackable steel pallets in warehouses: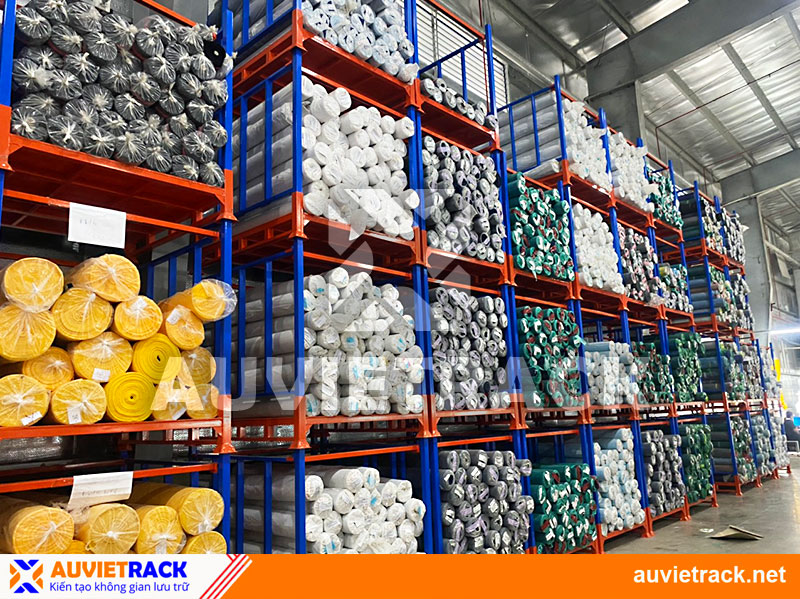 Stackable steel pallets in fabric storage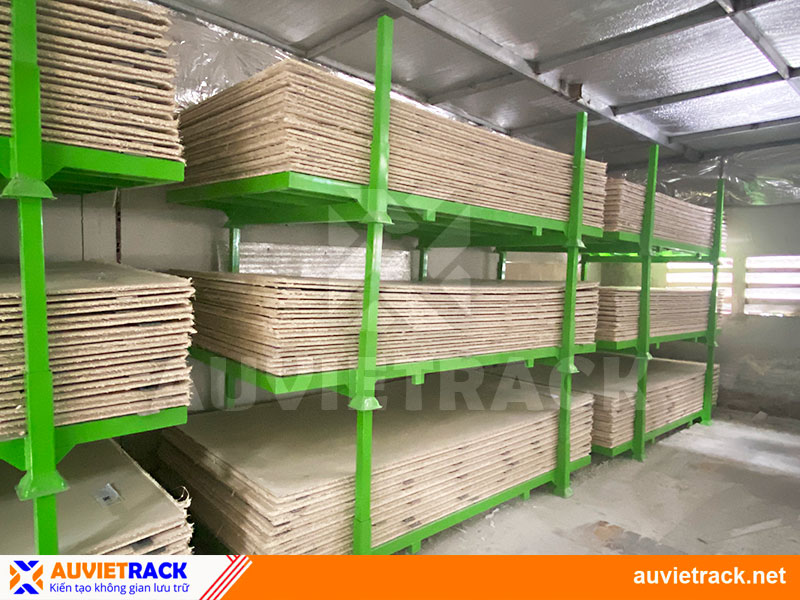 Stackable steel pallets for material storage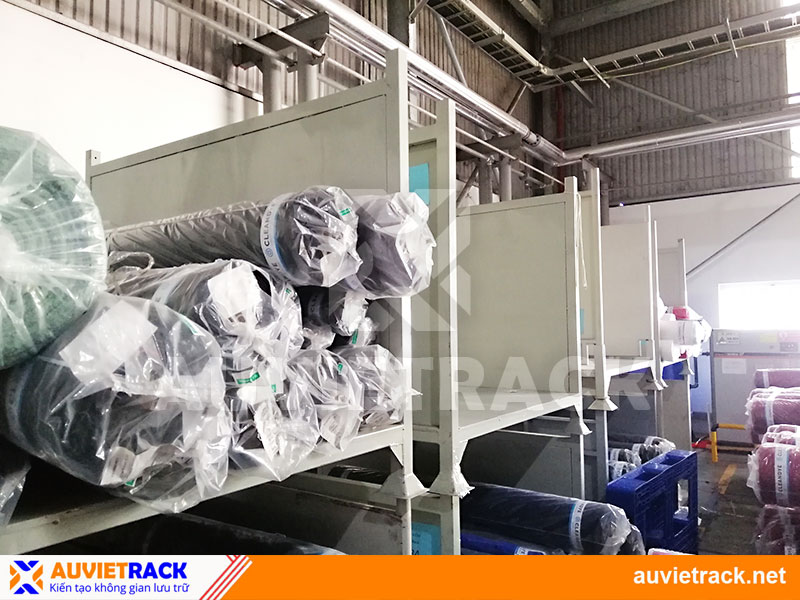 Stackable steel pallets for roll fabric storage

Above are the most prominent features of stacked steel pallets that Au Viet Rack has provided to our valued customers. Additionally, you can explore more details about the product such as technical specifications, design drawings, warranty policies, etc., in the following sections.
Please feel free to contact us directly for a free consultation or refer to our steel pallet price list.
Au Viet Rack sincerely thanks for the companionship of customers!