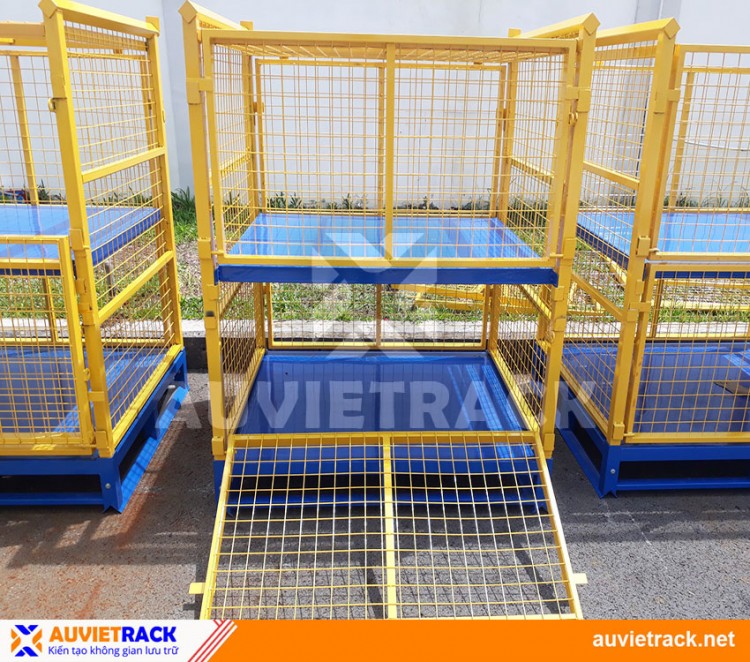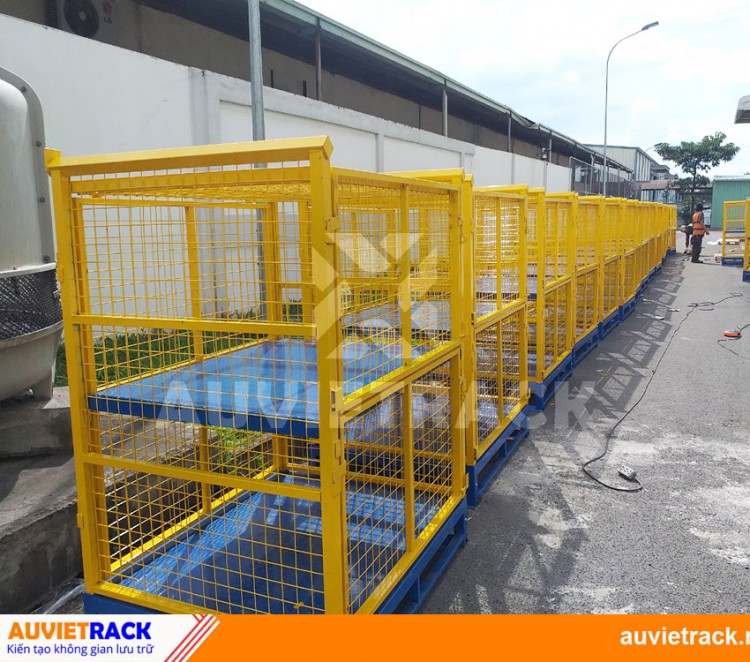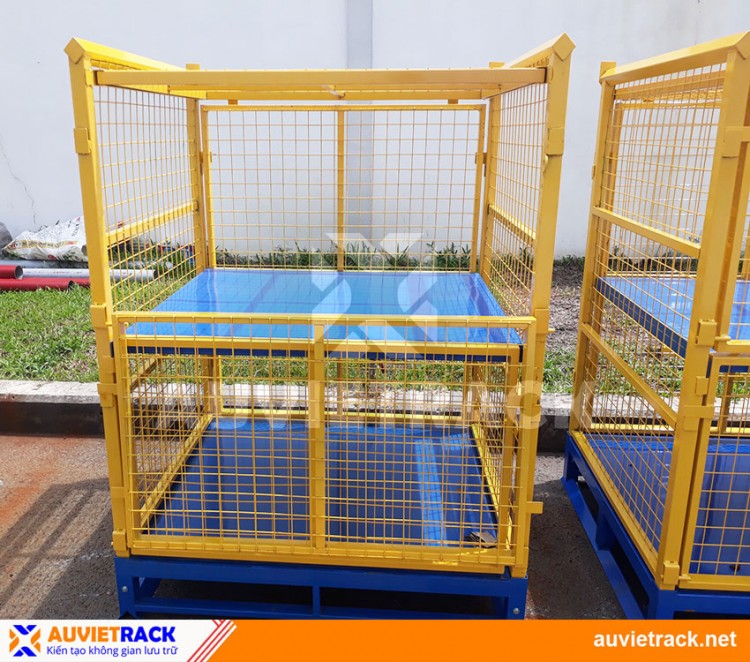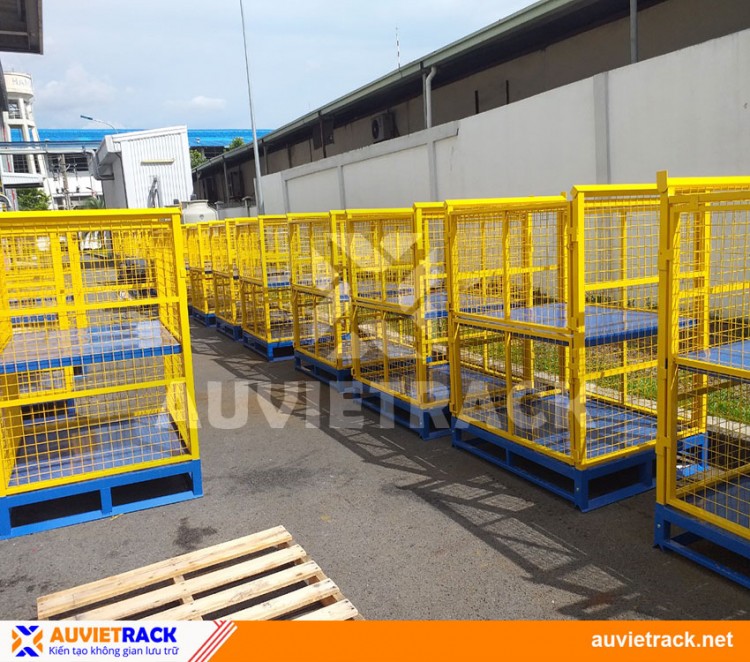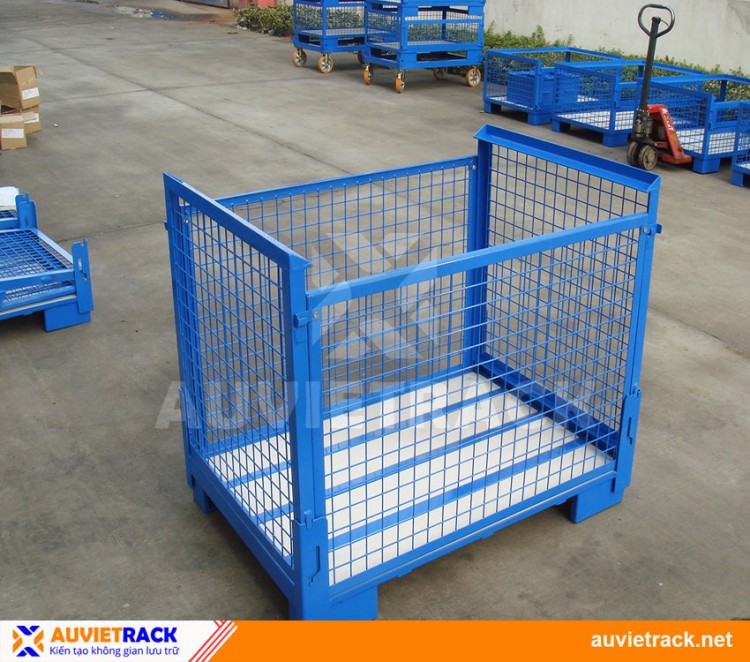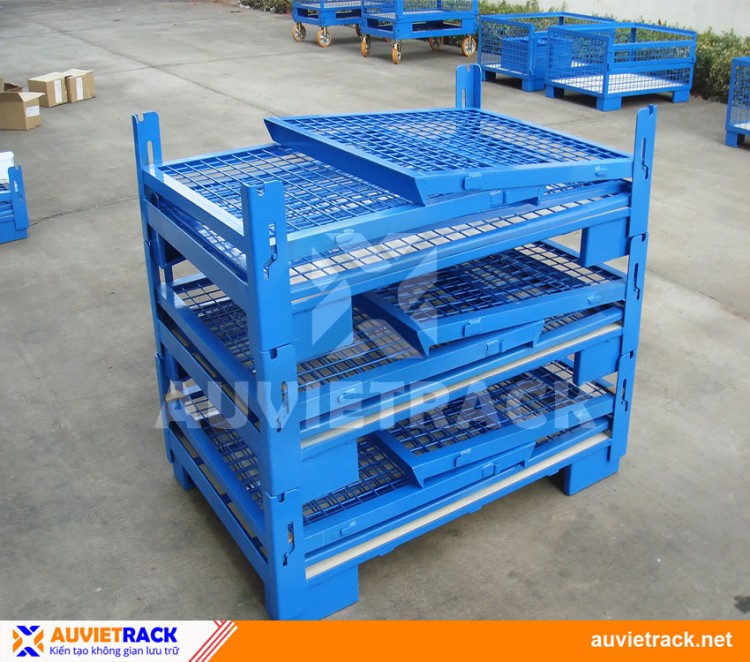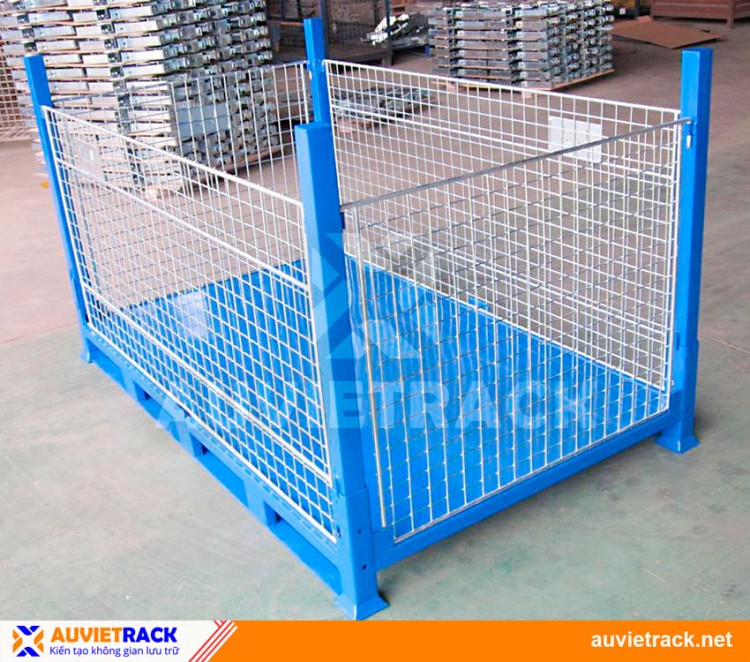 STACKABLE WIRE MESH PALLET
A stackable wire mesh pallet is a type of rectangular box-shaped pallet with mesh panels on all sides featuring various hole sizes. These pallets are used for storing and securing goods in warehouses and can be easily handled either manually or with forklifts or pallet jacks.
The wire mesh pallet is enhanced with additional mesh panels all around to form a rectangular shape, facilitating versatile storage for a wide range of goods, particularly those with numerous parts and detachable accessories. To learn more about this type of pallet, please continue to follow along in the next section.
SAFE STORAGE AND PROTECTION OF GOODS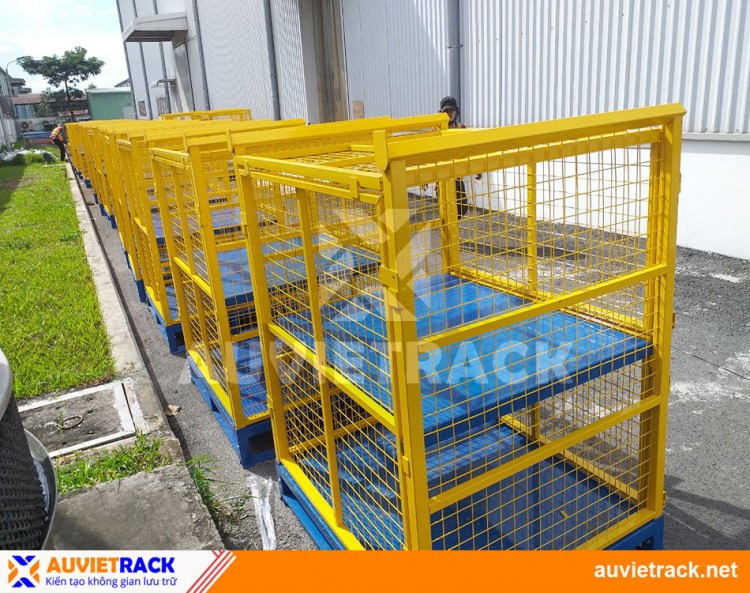 Wire mesh pallets provide safe protection for goods, preventing breakage and minimizing external impact.

The design, enveloped by mesh panels, ensures necessary airflow and convection when storing goods.



The pallet design, resembling a cargo crate, is suitable for storing goods with many detachable and bulky parts in industries such as mechanics and textiles. Particularly, for specific types of goods that require breathable storage to avoid low humidity, wire mesh pallets are the optimal choice.
MAXIMIZE STORAGE CAPACITY, COST-EFFICIENT WAREHOUSE EXPANSION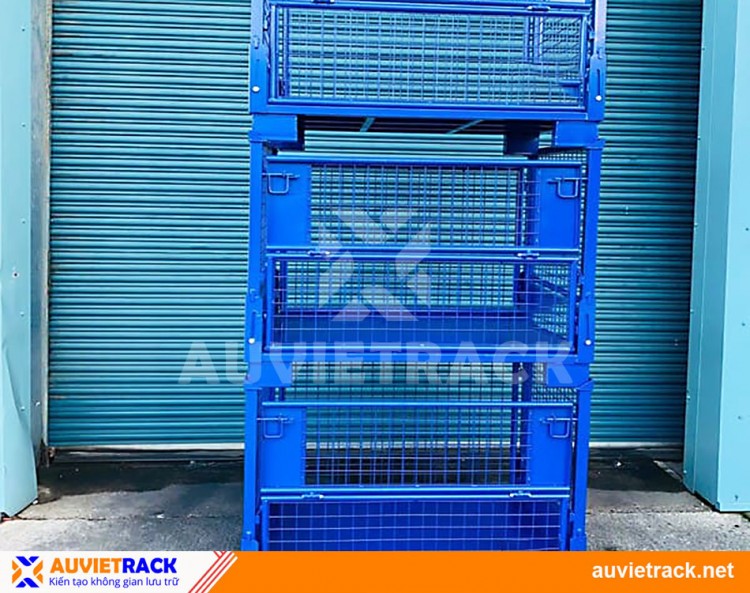 The specialized frame structure of the pallet allows for secure stacking, without any wobbling, enabling the safe storage of goods.


Stackable wire mesh pallets, when stacked 2-3 layers high, maximize storage capacity, resulting in significant cost savings when expanding warehouse space.


The dimensions can be customized to meet customer requirements.


Wire mesh pallets can be equipped with spring-loaded mechanisms, secure locking pins, facilitating easy opening and closing when needed.



The pallet's design allows for compact stacking when not in use, minimizing the warehouse footprint
FAST CARGO IN AND OUT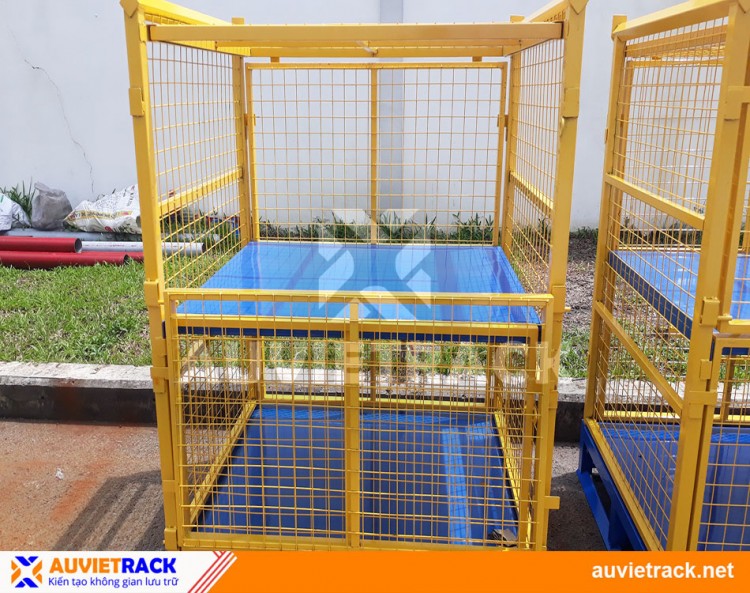 Thanks to the mesh surface, goods can be easily identified and selected visually during the process of loading and unloading.



Wire mesh pallets leave space underneath for forklifts to insert and retrieve cargo. In addition, some wire mesh pallets are equipped with four wheels to facilitate easier movement of goods, significantly saving time and labor in transportation.
DISADVANTAGES OF STACKABLE WIRE MESH PALLET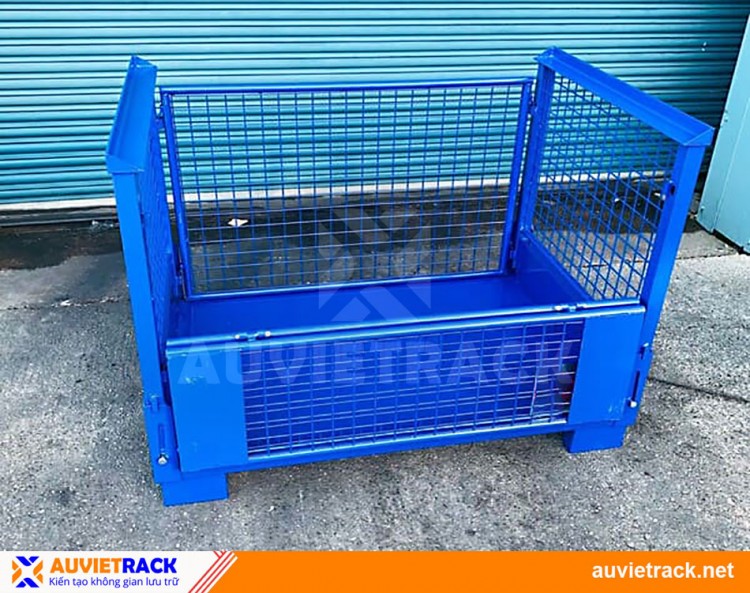 Due to its more complex mesh structure compared to regular pallets, the cost of wire mesh pallets is higher than other types.



It requires forklift operators to be extremely cautious because incorrect stacking of these pallets can disrupt the balance of the entire pallet system, leading to product breakage, damage, and posing a safety risk to warehouse workers.
APPLICATION OF STACKABLE WIRE MESH PALLET
Wire mesh pallets are used in various industries for storing a wide range of goods, especially those with numerous detachable and bulky parts, such as in the mechanical and textile sectors.
Some applications of wire mesh pallets for storing goods include: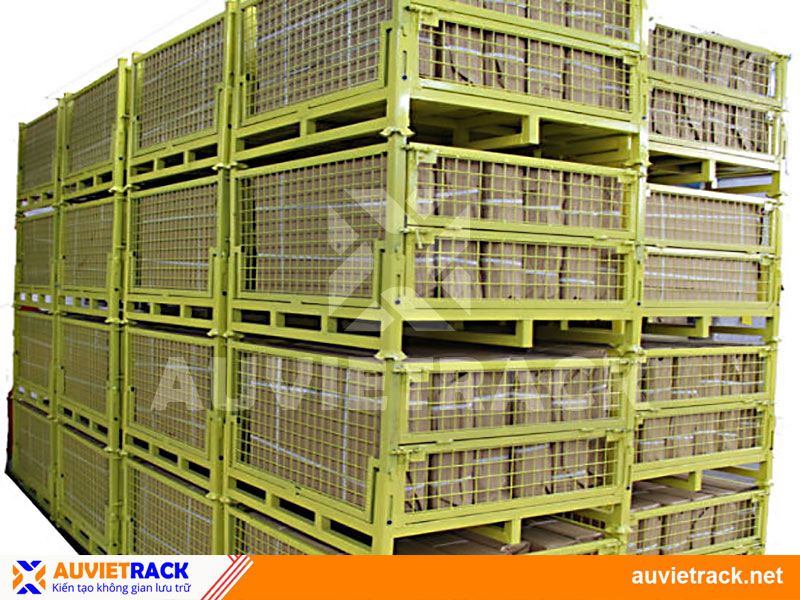 Wire Mesh Pallets for Warehouse Storage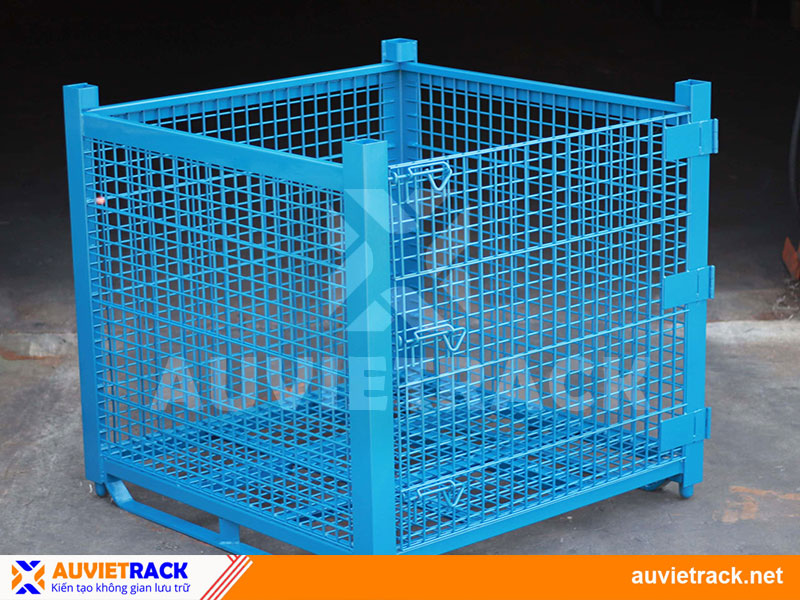 Wire Mesh Pallets for Warehouse Storage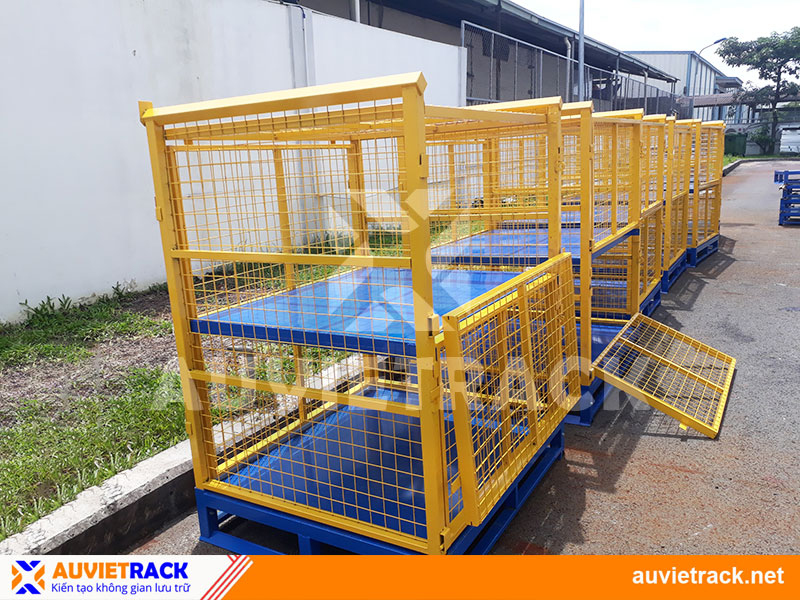 Wire Mesh Pallets for Warehouse Storage - Au Viet Rack
Those are the most prominent features of wire mesh pallets that Au Viet Rack has presented to our valued customers. In addition, you can explore further details about the product, such as technical specifications, design drawings, warranty policies, etc., in the upcoming sections.
You are welcome to contact us directly for free consultation or refer to our steel pallet price list.
Au Viet Rack sincerely thanks for the companionship of customers!