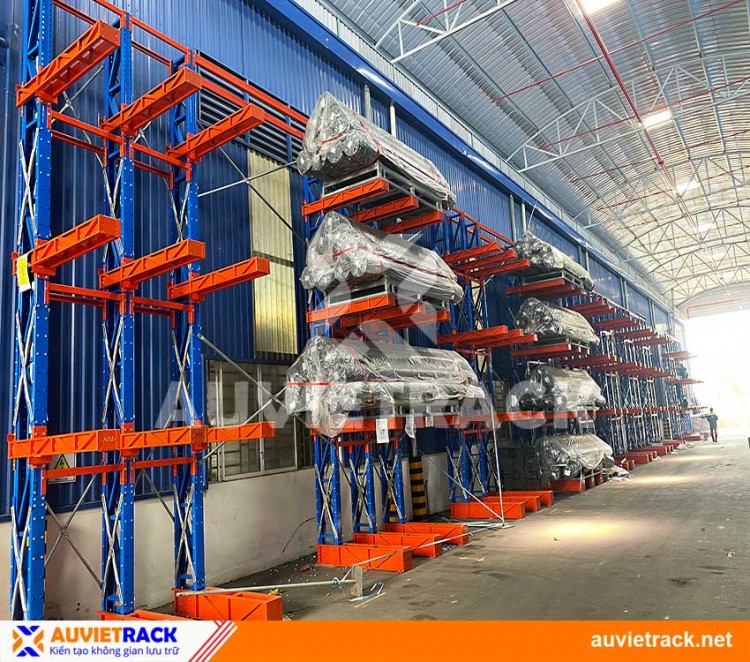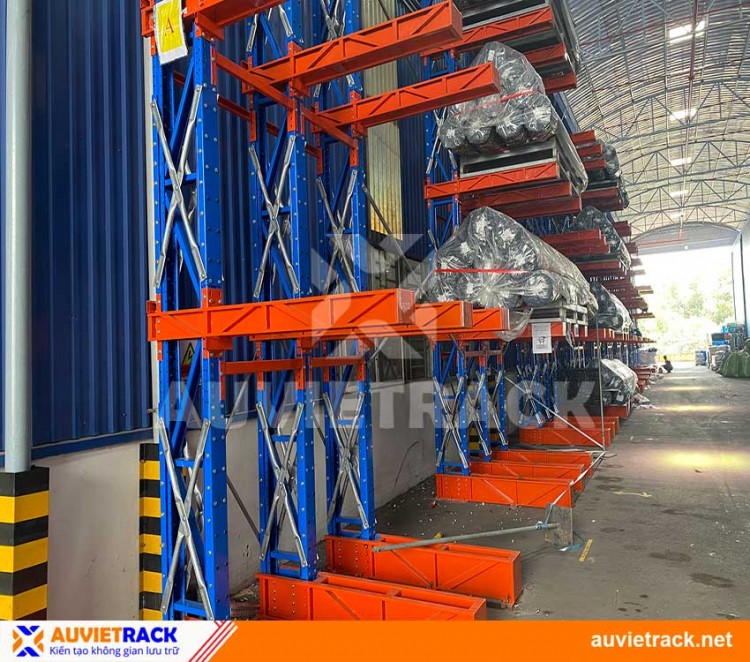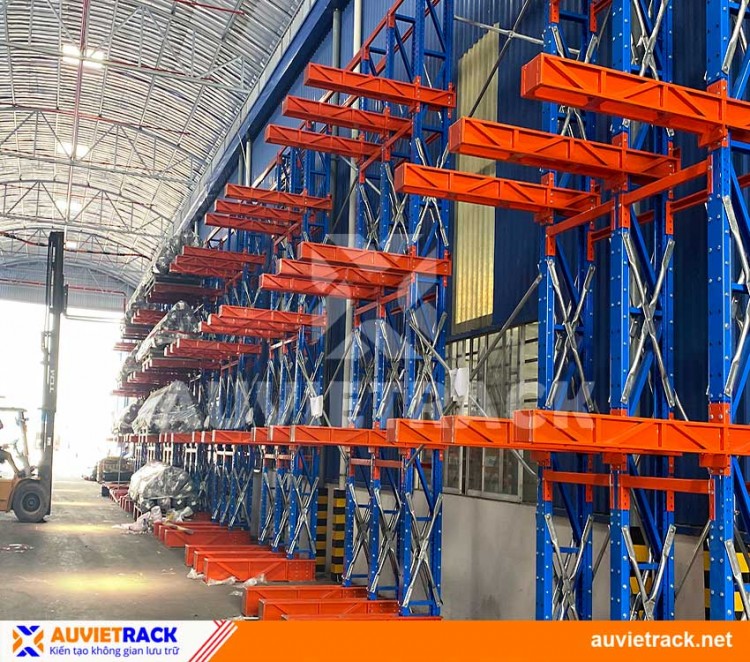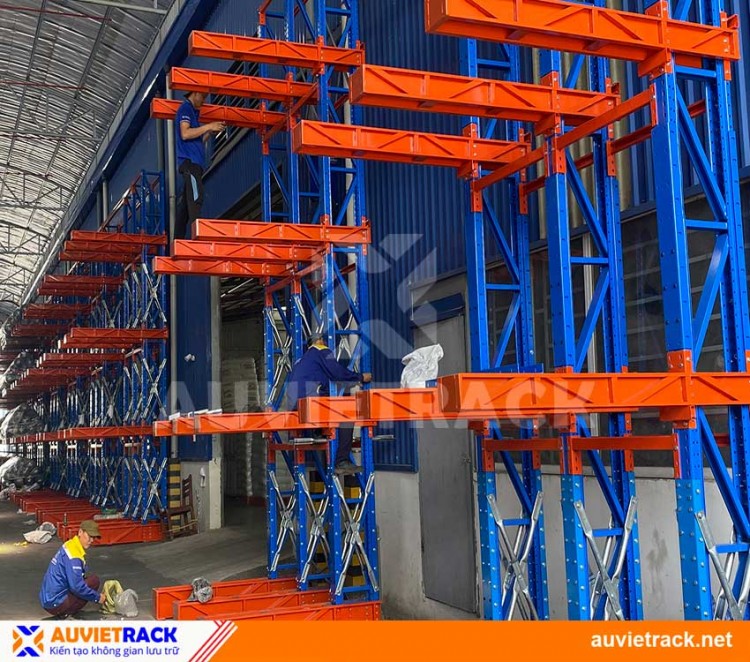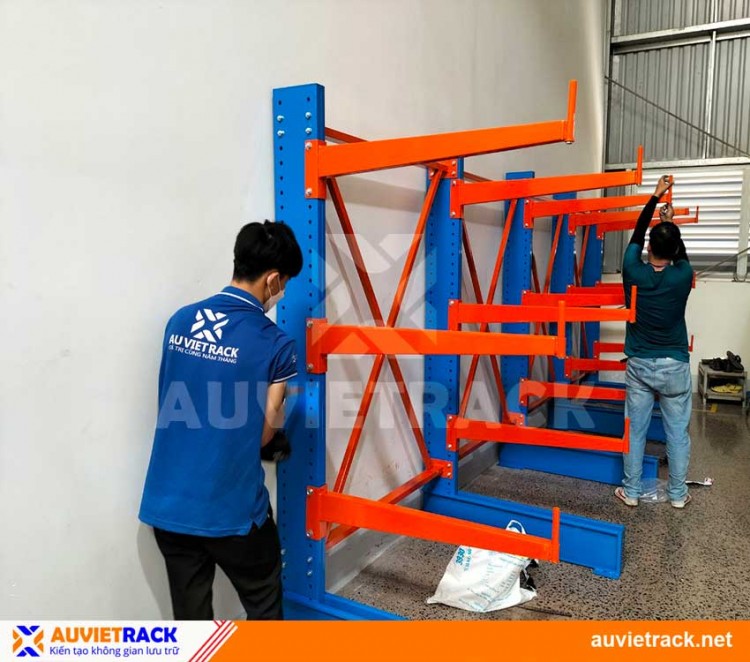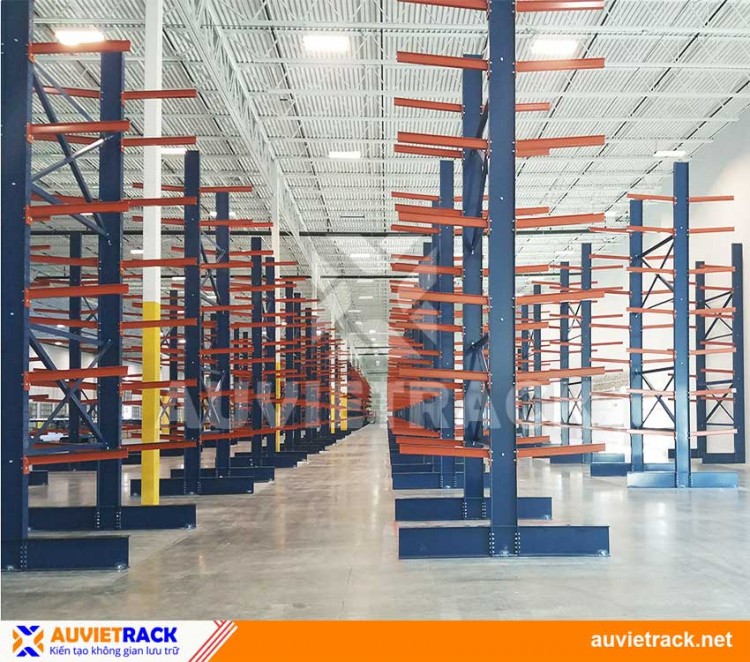 CANTILEVER RACK
Cantilever Rack is a type of heavy duty warehouse rack, goods are stowed on the arms of the rack. This type of rack has a design that does not obstruct the aisle, so it is very suitable for storing long, bulky materials.
Cantilever rack is the leading optimal solution for storing large and bulky goods of businesses. To learn more about the features and benefits of using cantilever rack, let's explore with Au Viet Rack.
CANTILEVER RACK FOR EFFECTIVE STORAGE OF LONG, HEAVY GOODS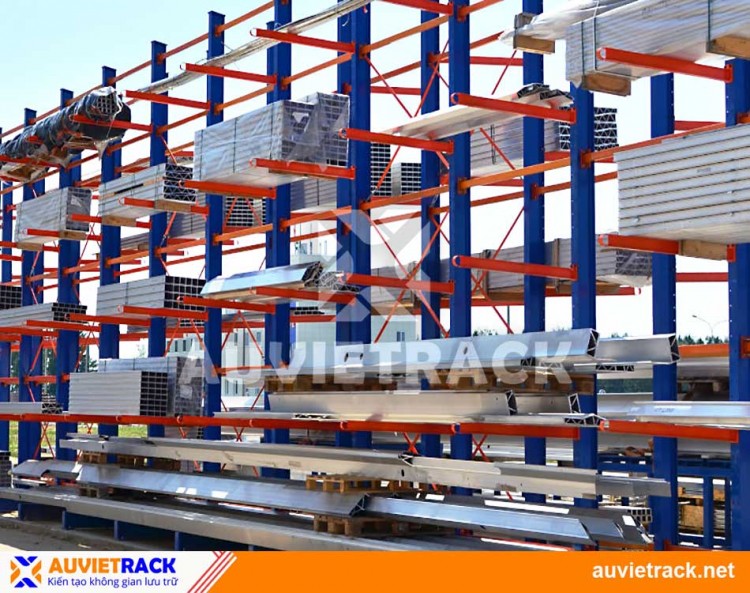 It is the ultimate solution for storing all oversized items, long tubes, or items with uneven dimensions according to lengthwise, horizontally or vertically.


Goods in their original condition are putted directly onto the rack without using pallets.


The rack can store products up to 6 meters in length.



Cantilever racks are firmly welded and carefully installed to help the goods on the racks to be more stable, safe and convenient.
DIVIDED INTO 2 TYPES TO GUARANTEE THE BEST SUITABLE FOR STORAGE NEED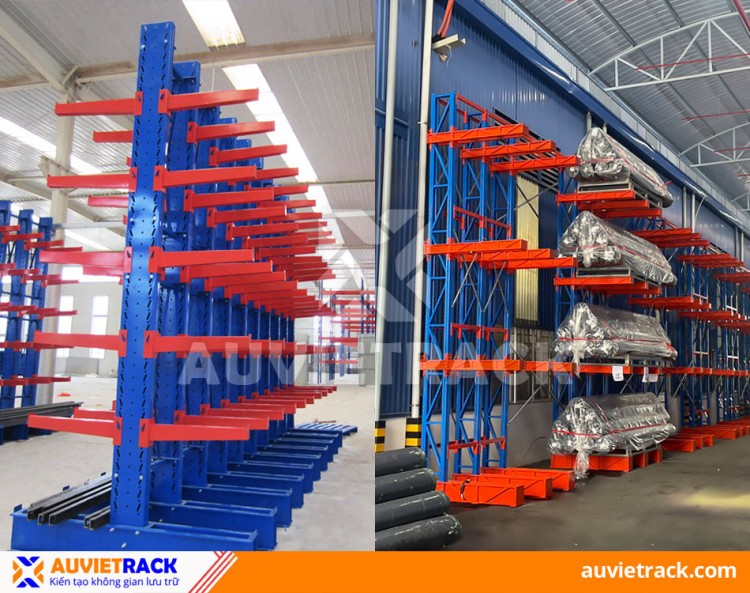 Depending on the needs of loading and unloading goods, the cantilever racking is divided into 2 types: single side cantilever rack and double side cantilever rack:
Single side cantilever racks are usually used for medium and heavy loads. This type of rack only has arms on one side to store goods, the other side of the shelf is pressed against the wall, the warehouse wall.



Double side cantilever racks are often used for warehouses with large to extremely large loads. This type of racking allows access to goods from both sides, making it easier for forklifts to access goods, taking advantage of more warehouse space, and faster loading and unloading times.
Cantilever's arm can be customized base on need, flexible adjustment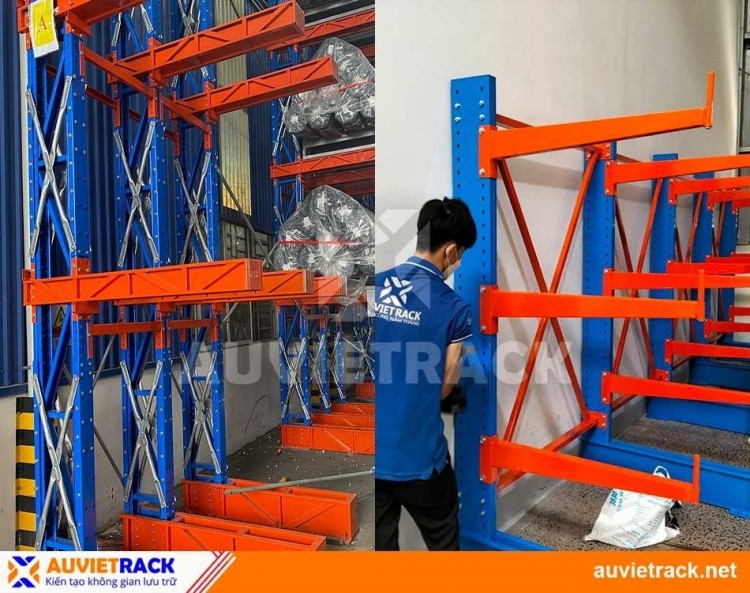 Additional arms can be added to the racks when needed, allowing for the storage of all types of goods of a more limited length.


Specially designed support arm with 30mm steel pin, prevents the product from falling off the rack.


Owners can choose straight or angled arms depending on the needs of the warehouse.


Conveniently change the distance between the rack's levels, customize and disassemble the rack's details easily.
MAXIMUM ACCESSIBILITY, SAVE TIME in loading and unloading goods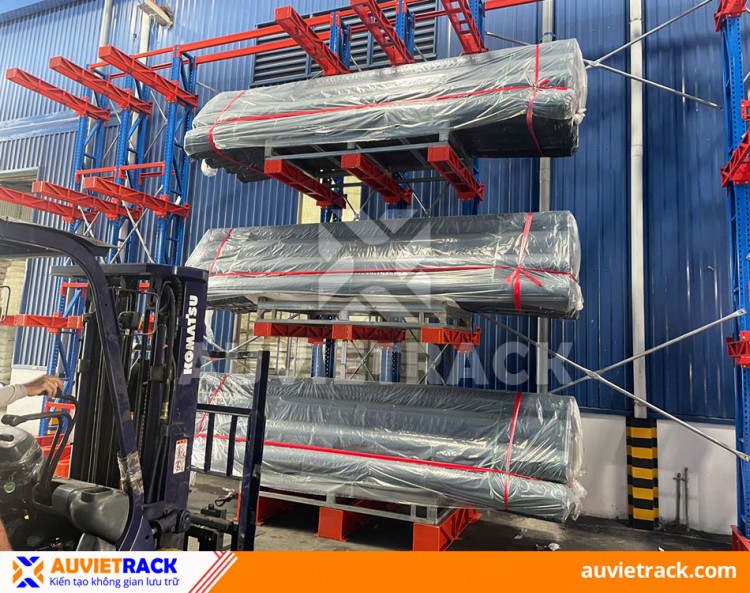 Fast load and unload helps reduce processing time and improves productivity.


Better warehouse operation, 100% access to goods, easy loading and unloading from the front.


Forklifts are easy to move in the racking system, not being entangled by columns like pallet racking.


Rarely do collisions affect forklifts and racks.


The rack is suitable for all types of forklifts or manual picking.



Automatic control panel can be equipped when needed.
SAVING SPACE OF WAREHOUSES, ADAPTABLE TO EVERY ENVIRONMENT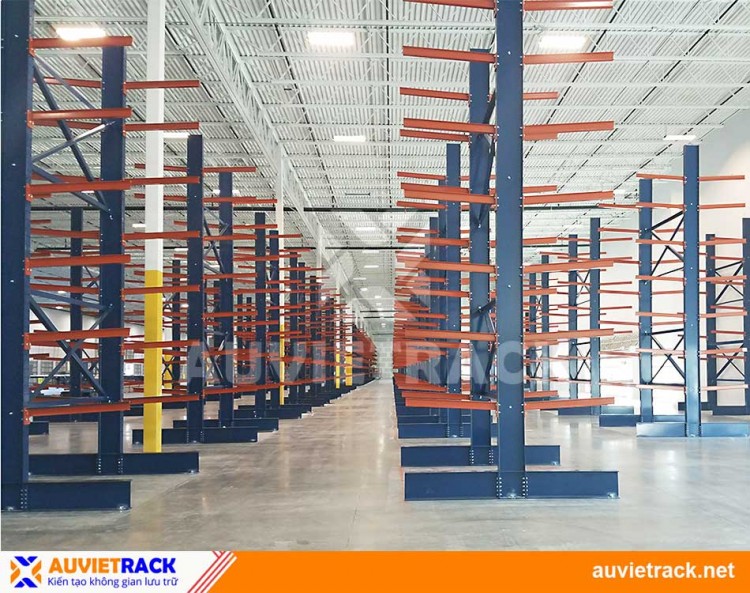 Increase the usable floor space of ​​the warehouse by 50%.


Save storage space, you can put racks anywhere according to the length of the goods.


The structure of the rack is simple, so it is easy to combine with machine equipment and tractors when needed.


Cantilever racking is used in light, medium and heavy duty warehouses, with high adaptability.



Suitable for storing goods in warehouses, factories and also outdoors.
CANTILEVER RACK CAN BE USED FOR A LONG TIME, HELP SAVING COST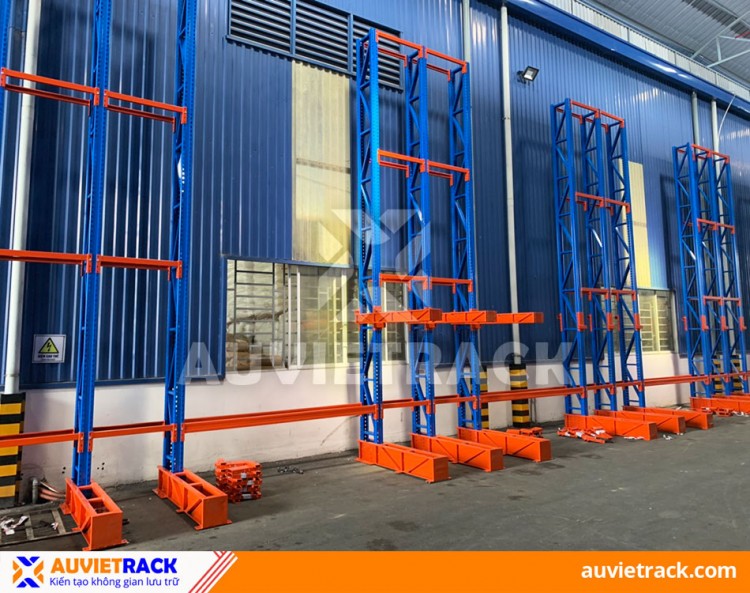 Long life from 10 years or more depending on environmental conditions in the warehouse.


Long-term use, does not cost much to repair or replace if used properly.



When the cantilever rack is no longer in use, it can be sold and 30% of the initial investment cost can be recovered.
DISADVANTAGES of CANTILEVER RACK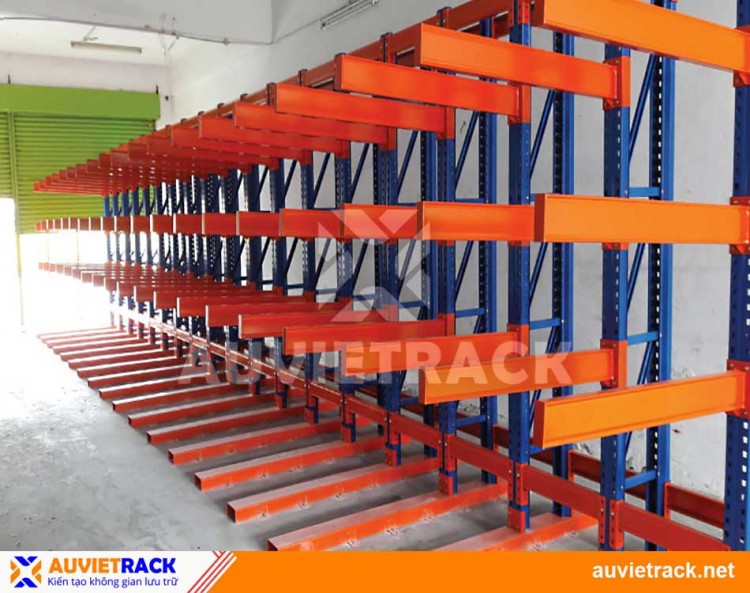 High investment costs due to the use of quality materials for production.

Need plenty of space for aisles between rows of rack.



Difficult to store goods when using pallets. If you need to store goods on pallets, you need to install some other accessories such as wooden panels, wire mesh, etc.
APPLICATION of CANTILEVER RACK
Cantilever rack is a type of rack with very wide applications, which can be applied to all types of warehouses from small to large sizes, not limited to the field of industry. Au Viet Rack has presented some typical warehouse types that can be used with the cantilever rack below for customers to refer to.
Cantilever rack are often used as lumber storage racks, steel pipe storage racks, machinery and equipment storage racks, used as display racks at material stores, construction material factories, etc. This type of rack is specialized for storing goods and panels, gypsum board, cemboard, steel frame & pipes, PVC carpet,...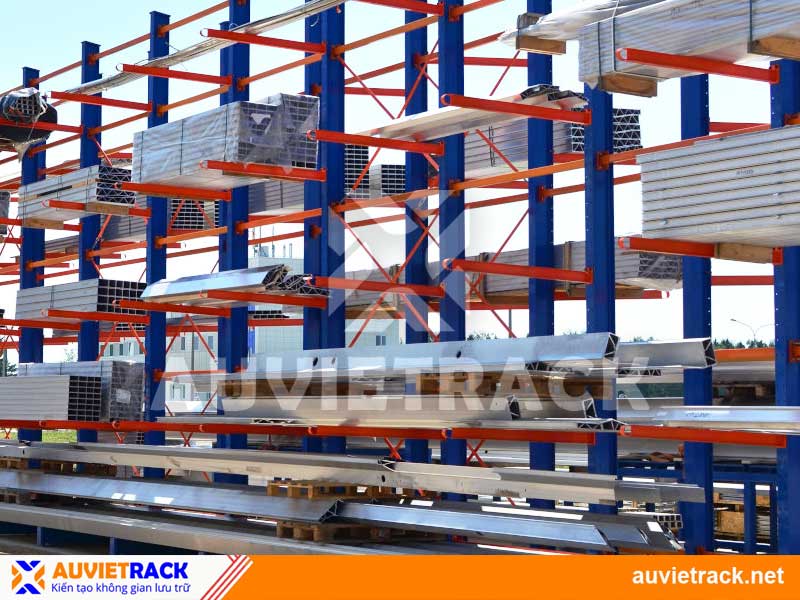 Cantilever rack with aluminum and iron bars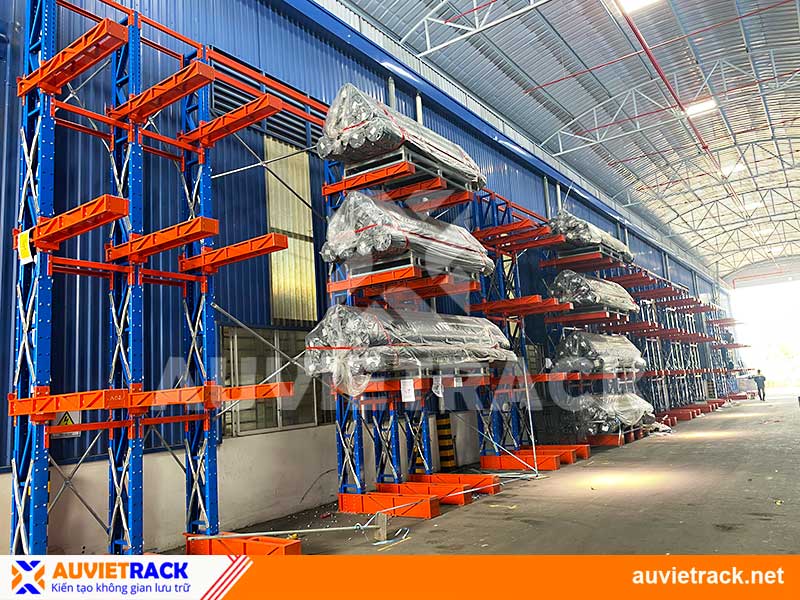 Cantilever rack for plastic pipe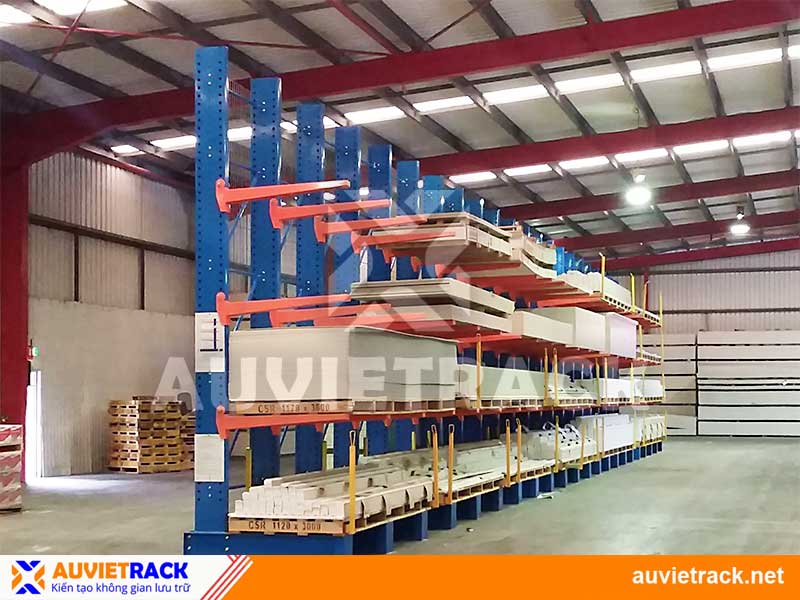 Cantilever rack for industrial boards
The above is a typical application of cantilever racking in the warehouse. In addition, there will be several other types of warehouses that you can apply this type of rack. Please contact Au Viet Rack if you have questions about the suitability of the cantilever rack in your warehouse.
Above is the outstanding information about the Cantilever rack characteristics. In addition, you can find out more details about the product such as specifications, design drawings, warranty, ... in the sequels.
If you have any questions about the suitability of Cantilever rack in your warehouse, please contact Au Viet Rack or leave a request for advice, Au Viet Rack is always happy to give you the fastest and specific advice. best for you.
Au Viet Rack sincerely thanks for the companionship of customers!