RADIO SHUTTLE RACKING
Radio Shuttle racking are a semi-automatic storage solution to move the goods inside the rack, similar to the Drive-in racking. However, Radio Shuttle racking eliminate the need for forklifts to drive into the racking system, allowing the racking system to be expanded in depth, helping to increase safety, fast, cost and time savings.
The Radio Shuttle rack offers maximum storage capacity with smart and quick operation. To understand more about what is a Radio Shuttle racking and the characteristics of it, let's find out in the sections below.
Smart Radio Shuttle racking helps increase storage capacity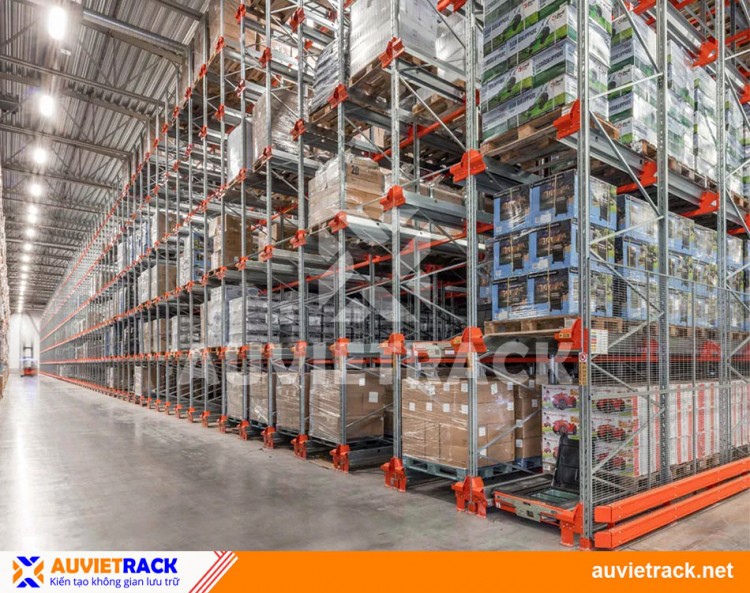 Radio Shuttle racking is a smartly operated racking, increasing storage capacity by 2-3 times compared to traditional racks, replacing Drive-in / Drive-thru warehouse racks with great productivity.


The structure of the rack is very sturdy with the ability to increase the storage capacity to 80% of the warehouse area.


Reduce forklift aisles, increase cargo floor space.



Optimum use of space due to the low height of each rack's level.
Smart loading and unloading method greatly reduce the error rate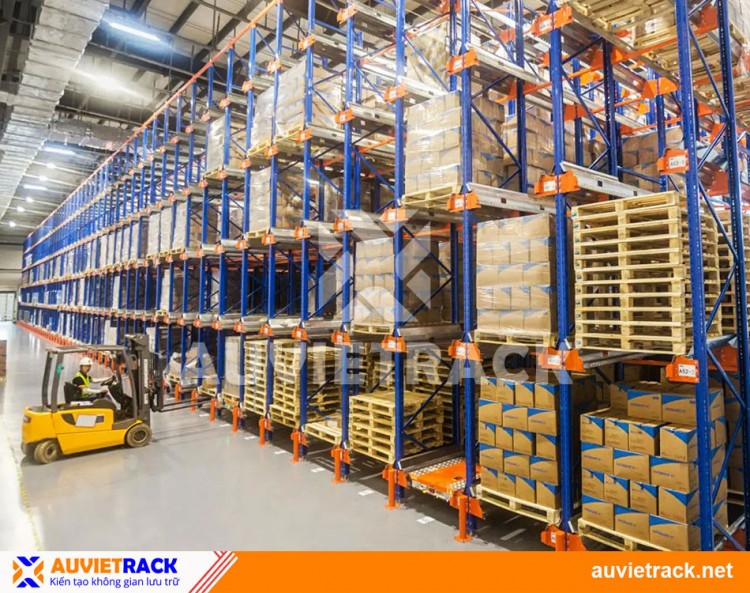 The racking system helps to control inventory well through sensors, remote controls and barcodes, greatly reducing the error rate.


Fast loading/unloading speed thanks to the automatic picking process, flexible movement.


This automated racking allows the application of both FIFO (first in, first out) and LIFO (first in, first out) principles.



Radio Shuttle pallet racking loading/unloading pallets continuously and automatically through receiving remote control commands. This advantage makes Radio Shutte racking the ideal choice for warehouses with high inventory turnover.
Save time, cost and labor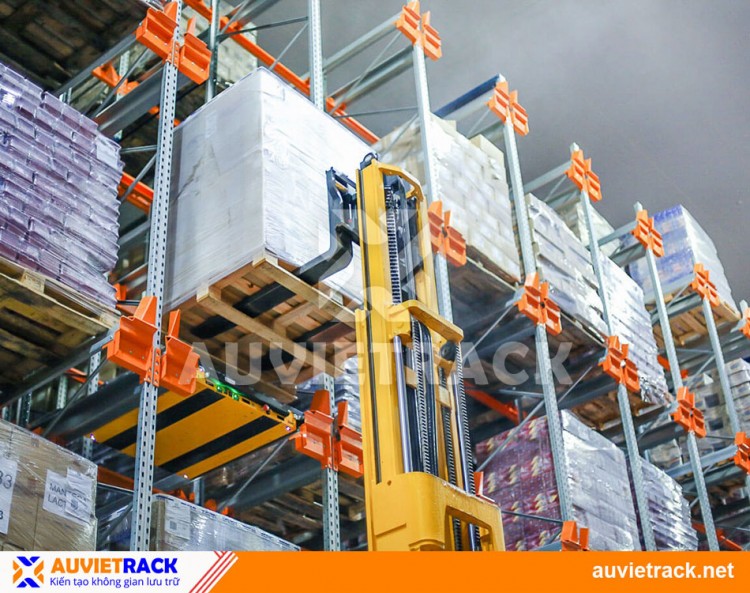 Radio Shuttle Racking helps to reduce the risk of impact due to a forklift truck without driving into the rack.


Significant liberation manual labor helps reduce labor costs.


Pallet moves in rack and forklift only moves in the outside area of the rack. That help to increase pallet throughput and reduce product damage.


Save time and fuel.



This semi-automatic racking is highly safe when operating with low maintenance costs.
Maximize the density of goods storage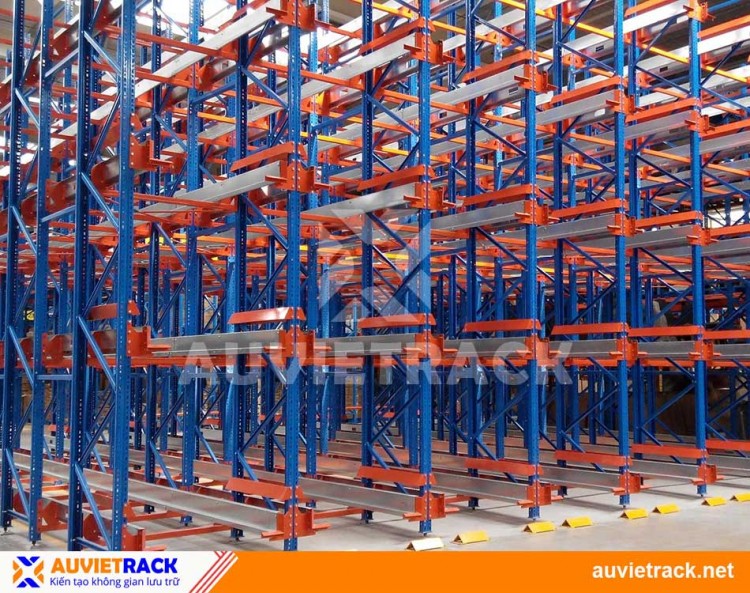 The outstanding advantage of Radio Shuttle racks is provide extremely high storage density.


The depth of each rack's level is up to 40 pallets.


Reduce forklift aisles, increase warehouse's floor space.



Optimum use of space due to the low height of each rack's level.
Radio Shuttle racks are suitable for all types of warehouses
Radio Shuttle Rack is applicable to both normal warehouse, cold storage and high humidity warehouse.


This type of rack can be applied in the AS/RS system, intelligent automatic warehouse.


The most ideal choice for cold storage: Because the operation of cold storage costs a lot of money, the arrangement of Radio Shuttle racks in cold storage will make the most of the space, thereby saving operating costs and increasing productivity.


Suitable for warehouses with limited area but need to store a large volume of pallets.


Suitable for warehouses need high loading and unloading speed, store seasonal goods.



Ideal for storing large quantities of goods with similar stock-keeping unit (SKU). It also can be used for storing many kinds of SKU as well as seperate the area for each SKU on the racks.
Automate every process in the Radio Shuttle racking system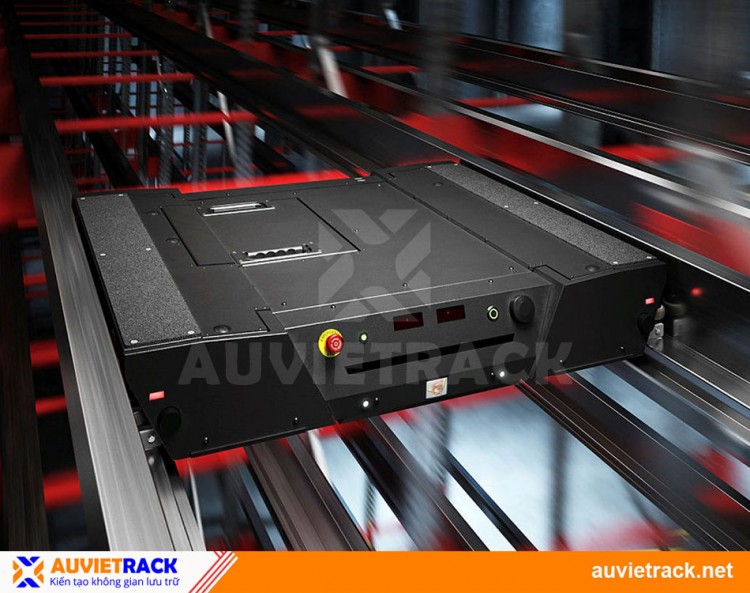 The speed of the Radio Shuttle robot normally reaches 70m/min when not lifting and 35m/min when lifting.


The Radio Shuttle Heavy Duty Rack can combine with all types of forklifts.


The Pallet Shuttle robot can be programmed for a number of pallet movements according to the needs of goods in and out, even simply filling or emptying an entire rack's level.


This semi-automatic robotic racking system can perform an inventory function that helps to count the pallets in any given lane.



The inventory information about the goods is clearly displayed on the "Communication Display" panel on the tablet.
DISADVANTAGES OF RADIO SHUTTLE RACKING SYSTEM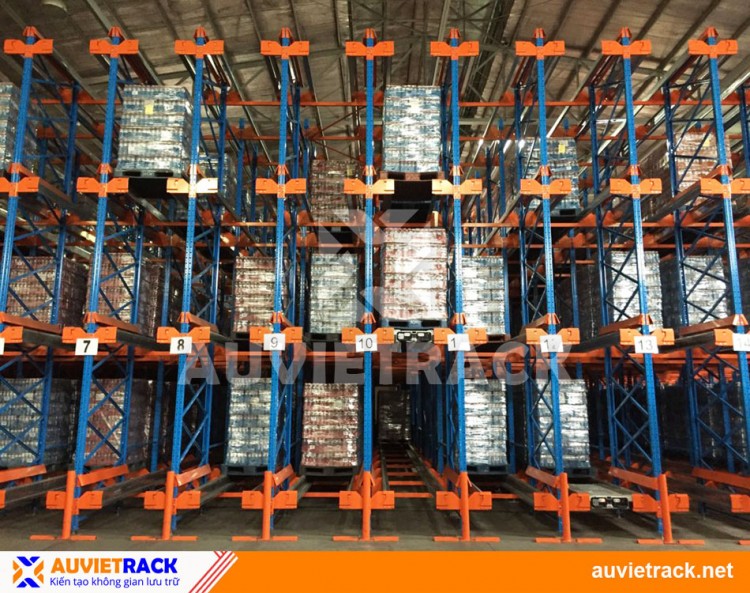 In the long run, the Radio Shuttle rack helps businesses save significant operating costs, but the initial investment costs are quite high.



Whenever there is a need for maintenance or the electrical system has a problem, it will lead to the operation in the warehouse being stopped unless there is a backup system and equipment.
APPLICATIONS OF RADIO SHUTTLE RACKING
Radio Shuttle racking is a type of rack with very wide applications, which can be applied to all types of warehouses from small to large sizes, not limited to the field of industry. Au Viet Rack has come up with some typical types of warehouses that can use the following Radio Shuttle rack for customers to refer to:
Radio Shuttle racks are suitable for storing food, seafood, beverages, cold storage, dairy, pharmaceuticals, etc. and other low SKU levels.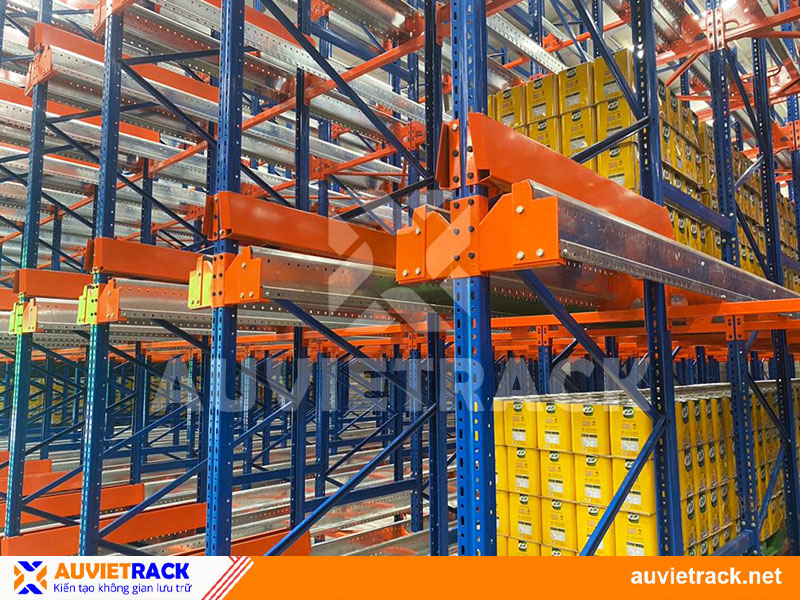 Radio Shuttle Rack for Food Warehouse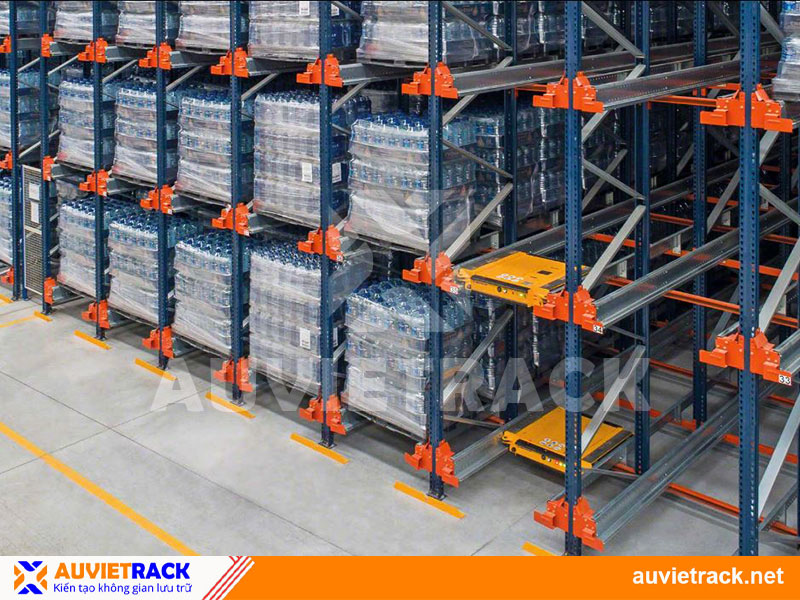 Radio Shuttle racking for beverage
Suitable for the application of chemical, garment, automotive, electronic components, logistics and chemical industry centers.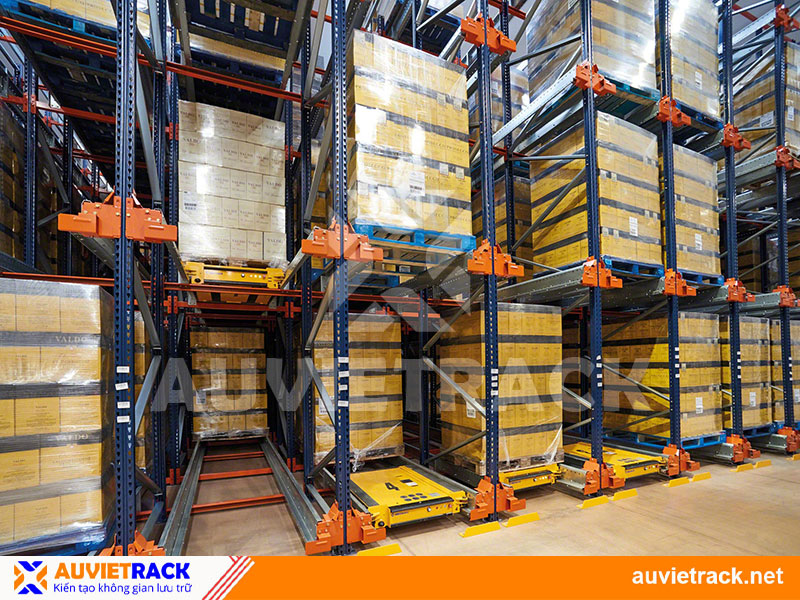 Shuttle Radio racking for chemical warehouse
Industrial production, large area cold storage, production supplies warehouse.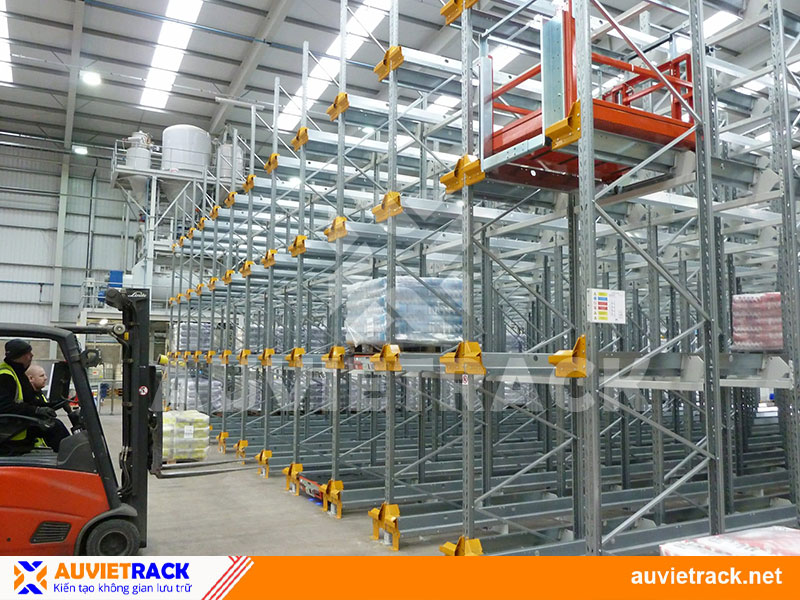 Radio Shuttle racking for cold storage
E-commerce warehouse, finished product warehouse.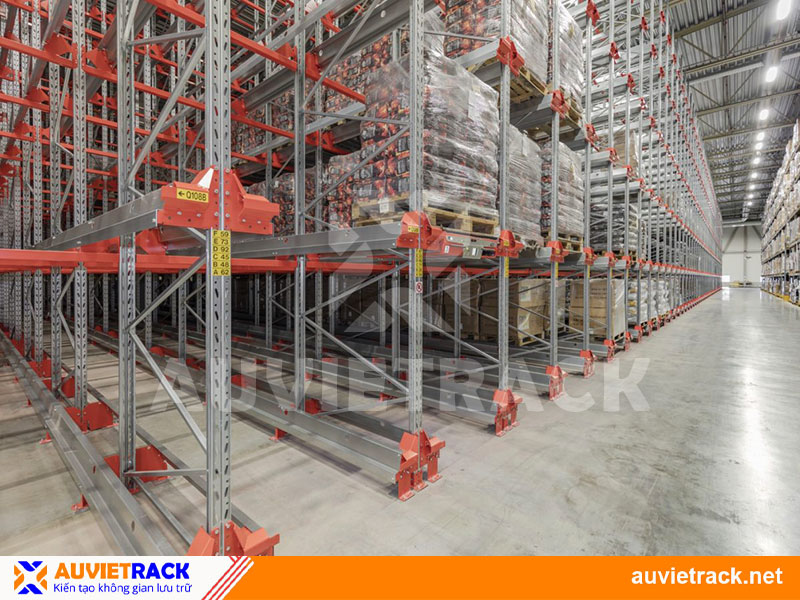 Radio Shuttle racking for E-Commerce Warehouse
Above is the typical application of Radio Shuttle rack in warehouse. In addition, there will be some other types of warehouses that you can apply this kind of rack. If you have any questions about the suitability of Radio Shuttle racking in your warehouse, please contact Au Viet Rack or leave a request for advice, Au Viet Rack is always willing to serve you.
Above are the most prominent features and uses of Radio Shuttle racking that Au Viet Rack sent to customers. In addition, you can find out more about products such as specifications, technical drawings, warranty, etc. in the next sections. You can contact us directly for free advice or refer to the Radio Shuttle racking quotation.
Au Viet Rack sincerely thanks for the companionship of customers!