PALLET FLOW RACKING
The pallet flow racking system operates on an automatic sliding mechanism from high to low without much effort to move goods out of the rack.
Pallet Flow Racking, is used in warehouses with high storage density while ensuring fast goods in and out. To understand the operating mechanism and prominent features of the racking system, please follow the section below.
MAXIMIZING WAREHOUSE FLOOR SPACE UTILIZATION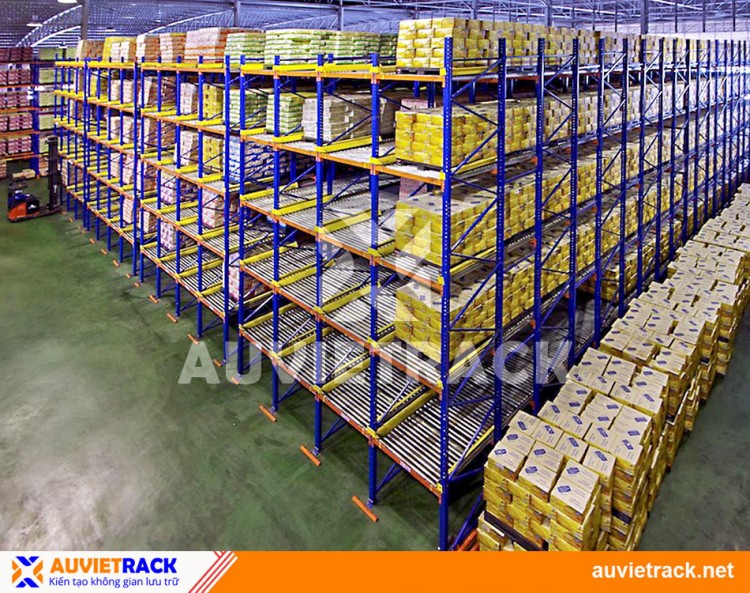 Using a pallet flow racking brings many benefits, including high storage density, quick and simple pallet handling.


Ability to utilize 70 - 80% of the warehouse floor space. By minimizing forklift aisles, it helps increase warehouse storage space by up to 50%.



Each slide lane can hold up to 18 pallets of the same SKU.
PALLET FLOW RACKING OPERATES SAFELY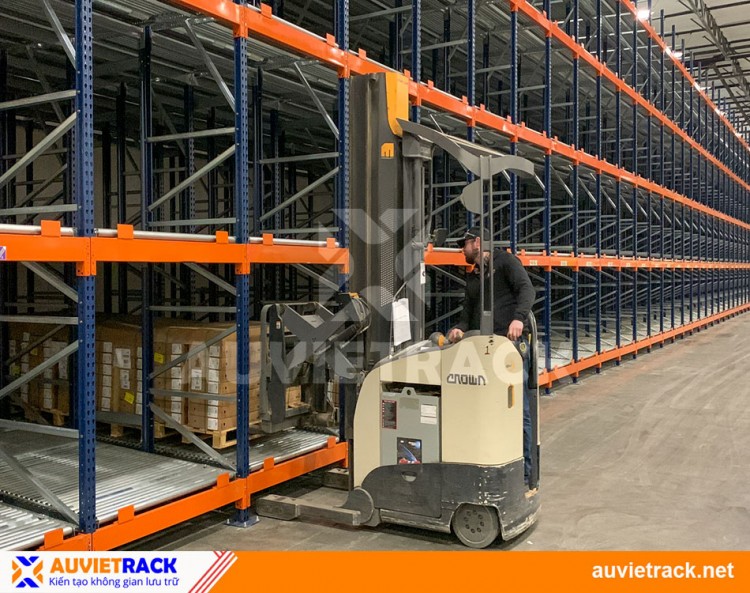 The speed of moving goods on the Pallet Flow Racking is controlled by deceleration devices, preventing cases where the goods slide quickly while the picking side cannot catch up with the speed.



Compared to Drive-in racking, forklifts do not have to go deep into the rack lanes to pick up goods, making it safer by reducing collisions between forklifts and the racking system, avoiding risks and accidents for operators.
USING PALLET FLOW RACKING HELPS SAVE COSTS AND OPERATIONAL EFFORTS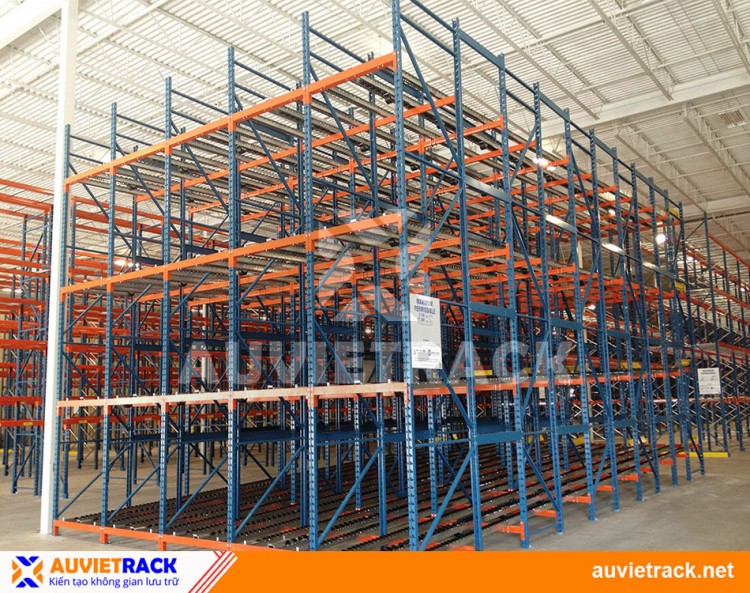 Managing goods according to the FIFO principle (First-In-First-Out), ensuring good inventory control.


Pallet flow racking have a high storage density similar to Drive-in racking, but still ensure fast pallet retrieval.


By simply inputting goods at one location, the pallets will automatically slide on the rollers and move inside by inertia, sliding downwards.


The automatic circulation of goods increases work efficiency, reduces labor and costs.


Industrial Pallet Flow Racking are suitable for all types of forklifts in the market, maximizing cost savings.



Applicable to a variety of pallet types and sizes, minimizing pallet investment costs.
DISADVANTAGES OF PALLET FLOW RACKING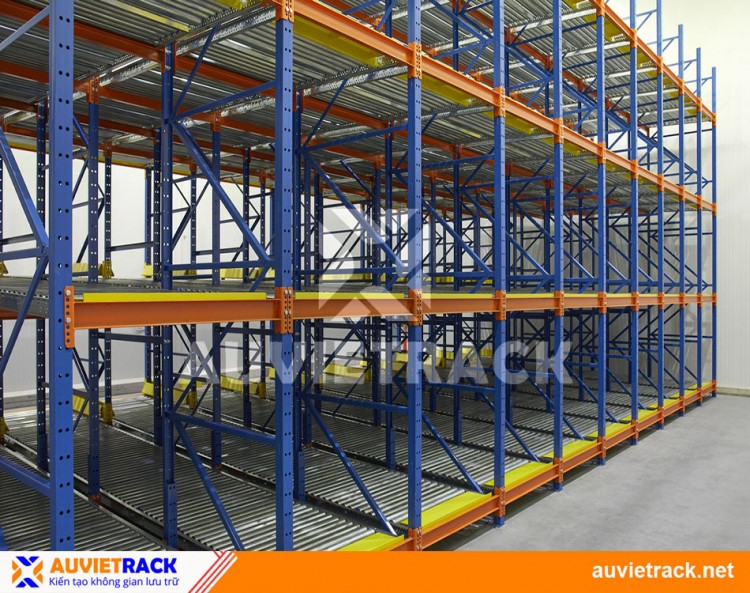 Pallet flow racking has a complex structure with the combination of many components, resulting in higher investment costs compared to other racking systems. It is also difficult to clean and maintain.


The initial investment and maintenance costs are higher than other racking systems with the same load capacity.



Regular maintenance of the rollers is required to ensure the proper functioning of the racking system.
ỨNG DỤNG KỆ CON LĂN
Pallet flow racking is applied in various fields such as manufacturing, automotive technology, logistics. The racking system allows for continuous movement of goods, suitable for warehouses with fast inbound and outbound frequencies, short-term storage such as food and beverages, and high-density storage of large quantities of goods.
Some applications of pallet flow racking include: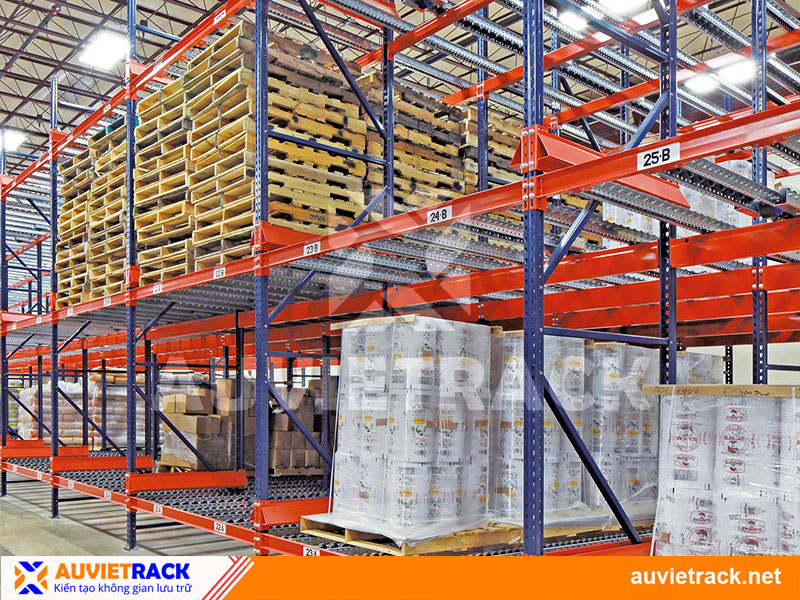 Pallet flow racking for storing paper rolls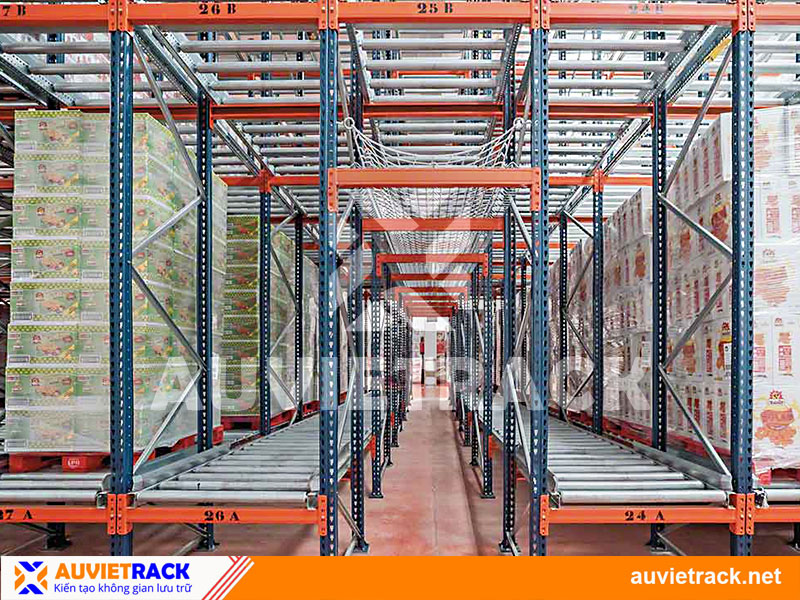 Pallet flow racking for storing food products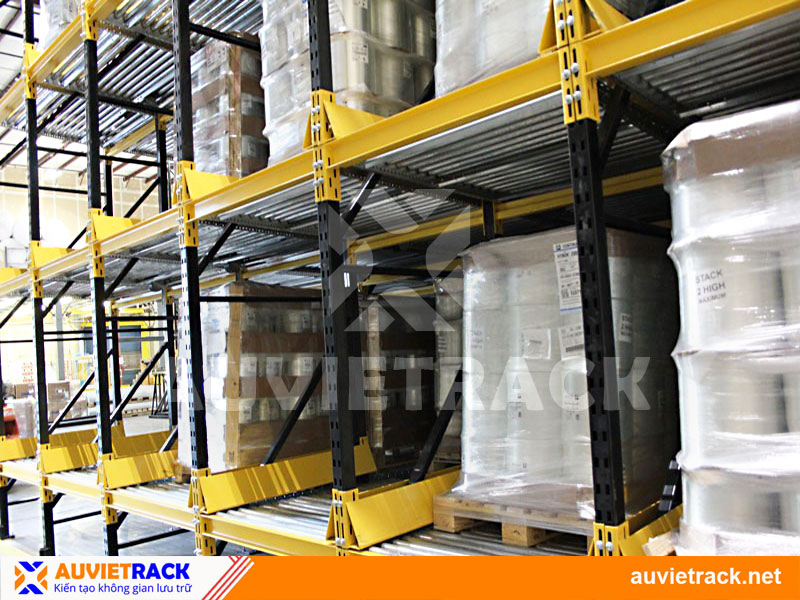 Pallet flow racking for storing PE rolls

These are the essential features of Pallet flow racking. Furthermore, you can explore more detailed information about this product line through technical drawings, specifications, and the various applications of pallet flow racking in warehouses in the following sections.
Au Viet Rack sincerely thanks for the companionship of customers!