MOLD RACK
Mold racks are specialized racks designed to store various types of molds, engines, or heavy tools in warehouses of businesses. Investing in a mold rack system for a warehouse ensures safer storage of molds and optimizes the space utilization in the warehouse.
Mold racks are the most effective and secure solution for storing large load-bearing molds in warehouses. So, what is mold rack? To gain a better understanding of the characteristics and benefits of using mold racks, let's explore them further with Au Viet Rack in the following section.
MOLD RACKS ARE HIGHLY FLEXIBLE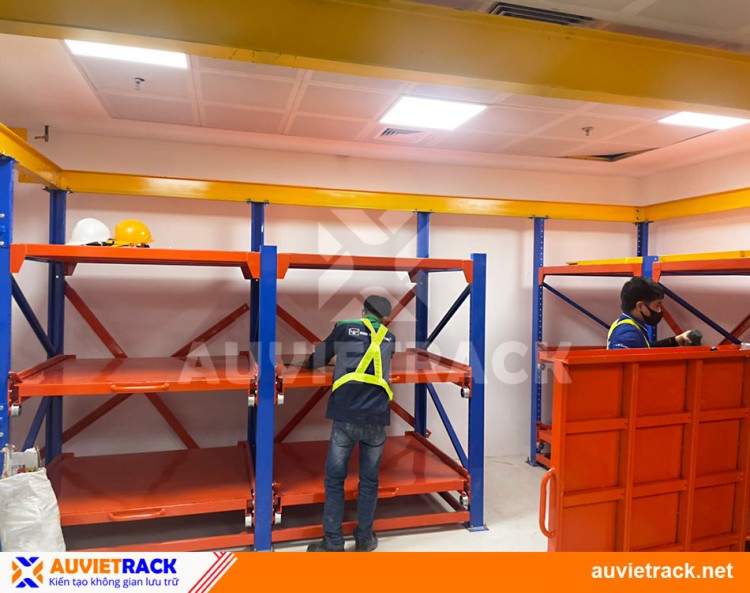 Mold storage racks are easily detachable and movable when necessary.


The quantity and width of the drawers can be easily customized to meet storage needs.



Simple assembly and adjustable height to accommodate specific usage requirements.
ADVANTAGES OF MOLD RACKS FOR SAFER MOLD STORAGE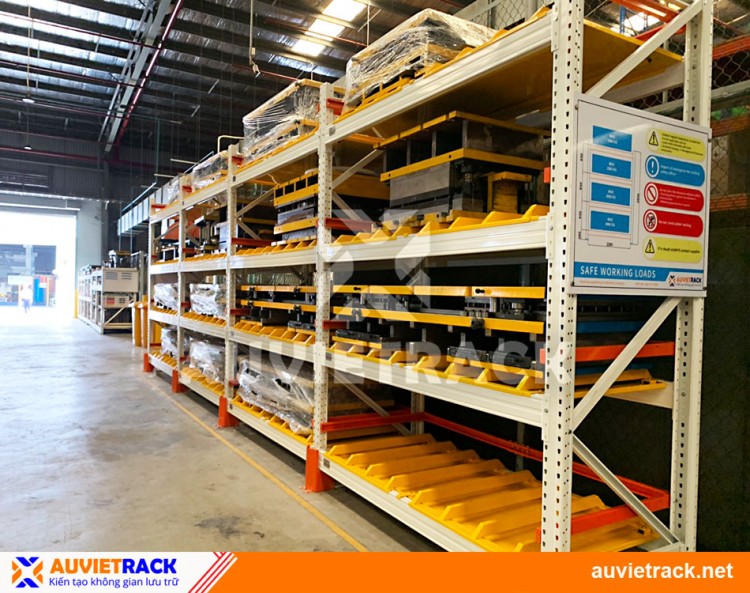 Each rack level is designed with handles for easy operation, combined with sliding rails for effortless pulling and pushing, regardless of the heavy load of the mold.


Molds can be lifted and transported using cranes, minimizing physical effort.



Using mold storage racks reduces the risk of collision during movement, ensuring the quality of the molds and the safety of workers during mold retrieval and storage.
SYSTEMATIC STORAGE GOODS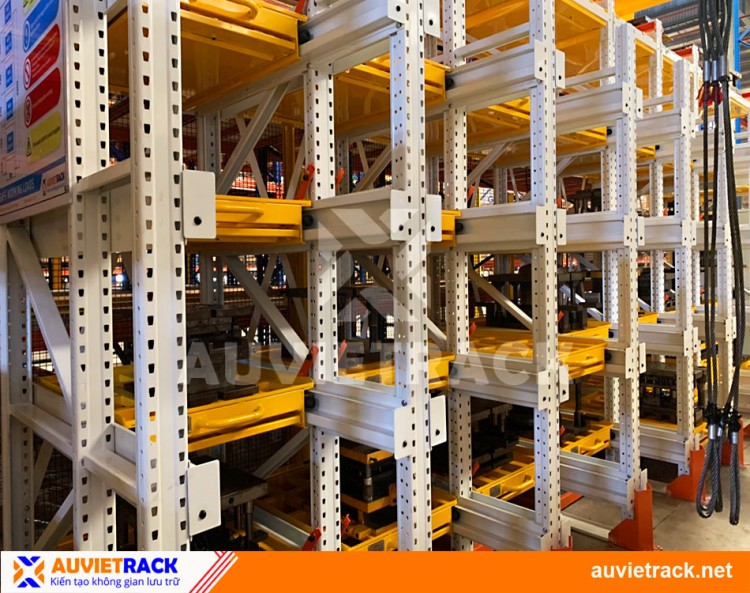 The mold racking system allows 100% access to the goods when pulling out the shelf drawers, making it easy to select and move molds.



Organizing molds systematically and neatly helps to optimize space, and at the same time, while easy to check and periodically maintain molds.
DISADVANTAGES OF MOLD RACK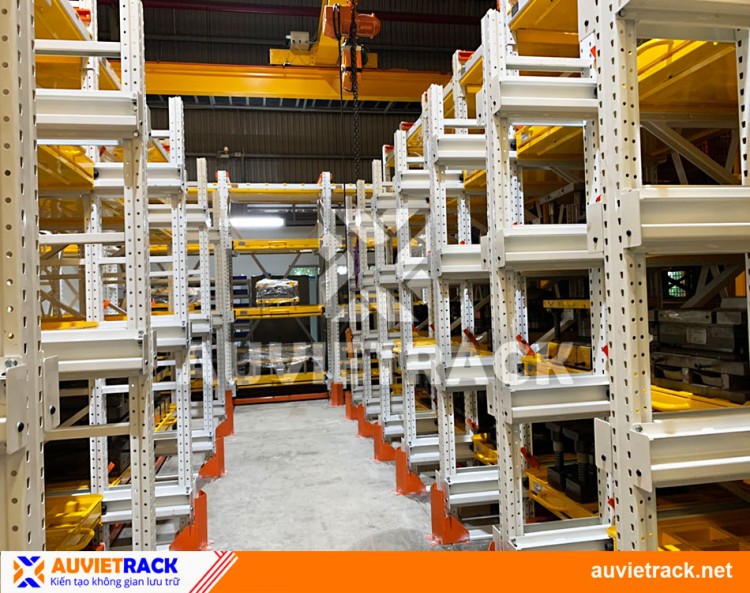 The initial investment cost for a mold racking system is quite high, so it is usually used in large enterprises and is not suitable for small and medium-sized ones.



The operation of forklifts requires a large space, while mold racks take up a considerable area. Therefore, many businesses need to invest in additional gantry cranes to move molds and frequently rearrange their warehouses.
APPLICATIONS OF MOLD RACK
Mold racks are a storage solution for heavy-duty goods such as molds, engine components, dyes, tools, or items that need to be stored safely and are applied in mechanical, marine, mold storage, automotive, footwear manufacturing industries, and more. Below are some applications of industrial mold rack in different types of warehouses: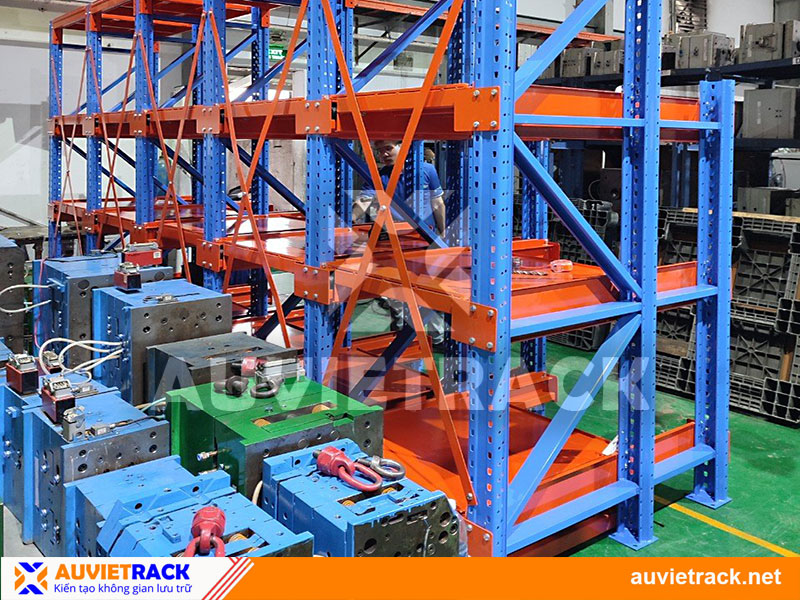 Mold rack for storing molds in warehouses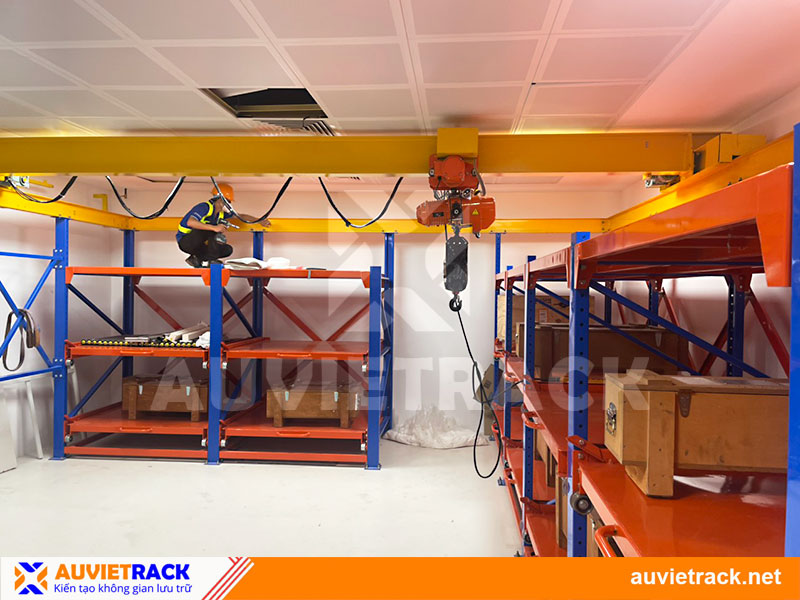 Au Viet Rack mold rack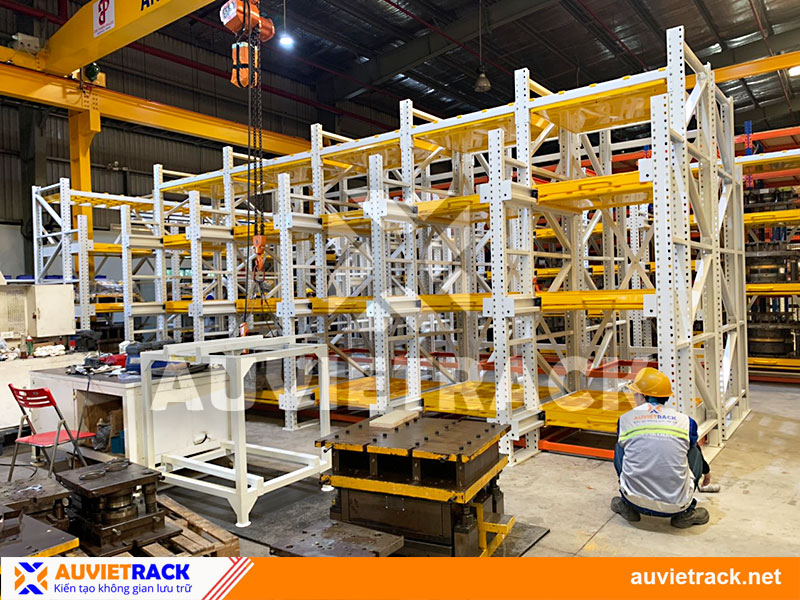 Au Viet Rack mold rack in customer's warehouse
The above are some basic information about the characteristics of mold rack used in warehouses. In the next section, let's explore the technical drawings, detailed specifications, and practical applications of mold rack in factories with Au Viet Rack.
Au Viet Rack sincerely thanks for the companionship of customers!