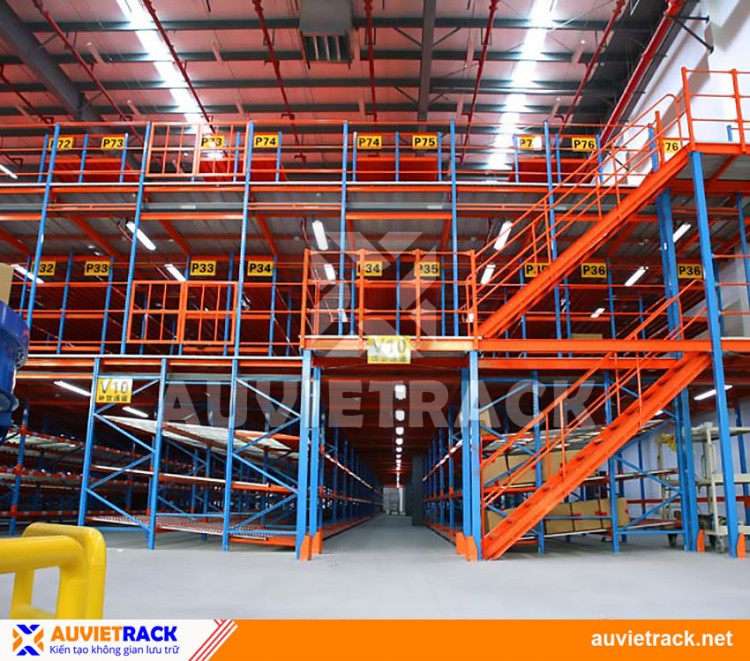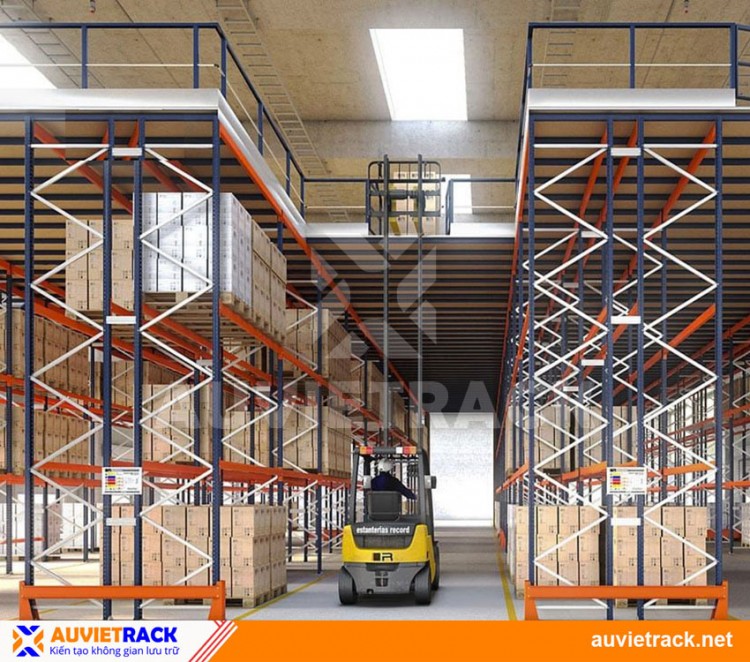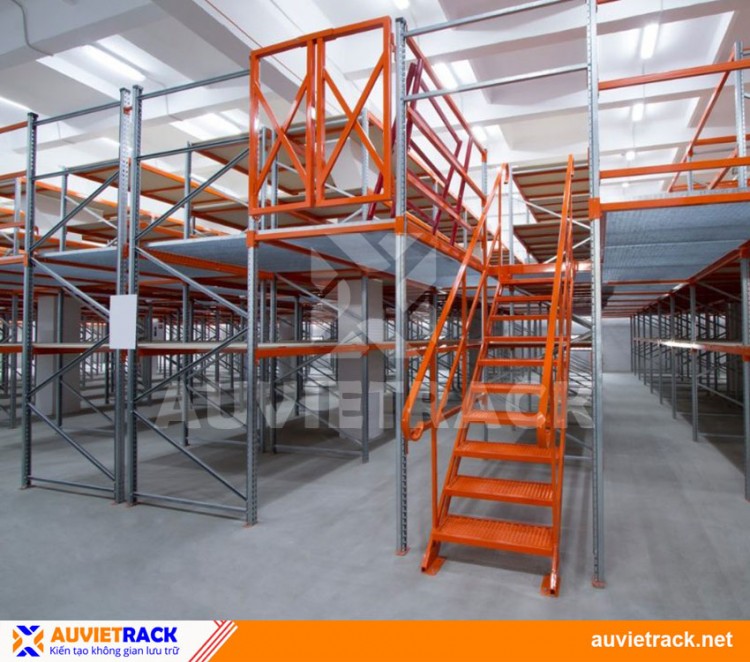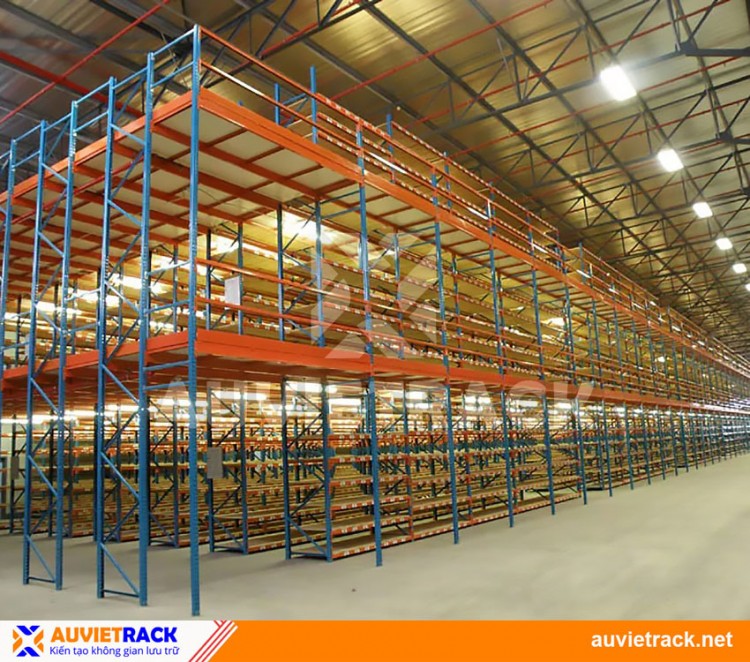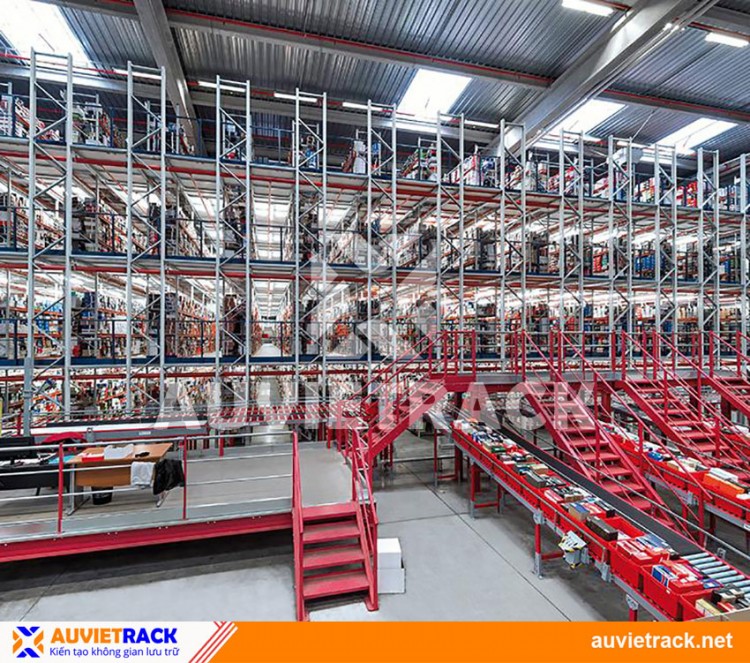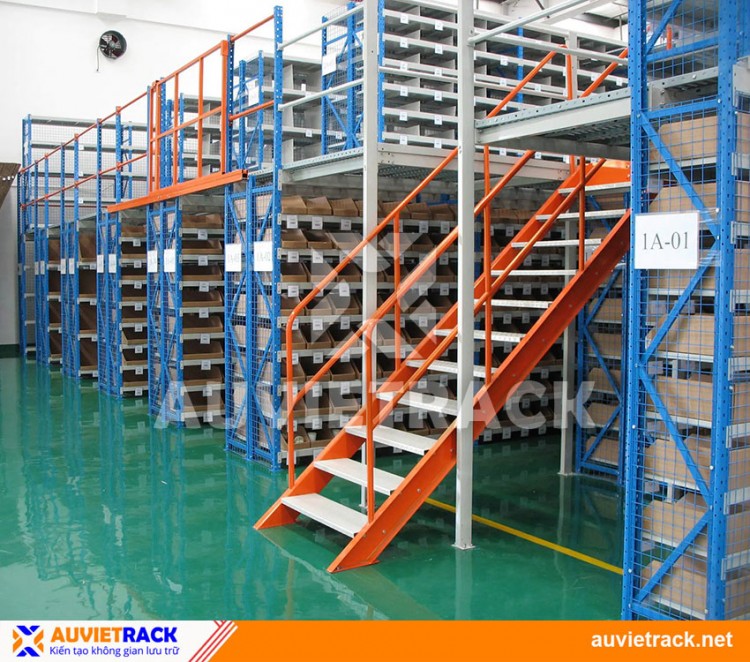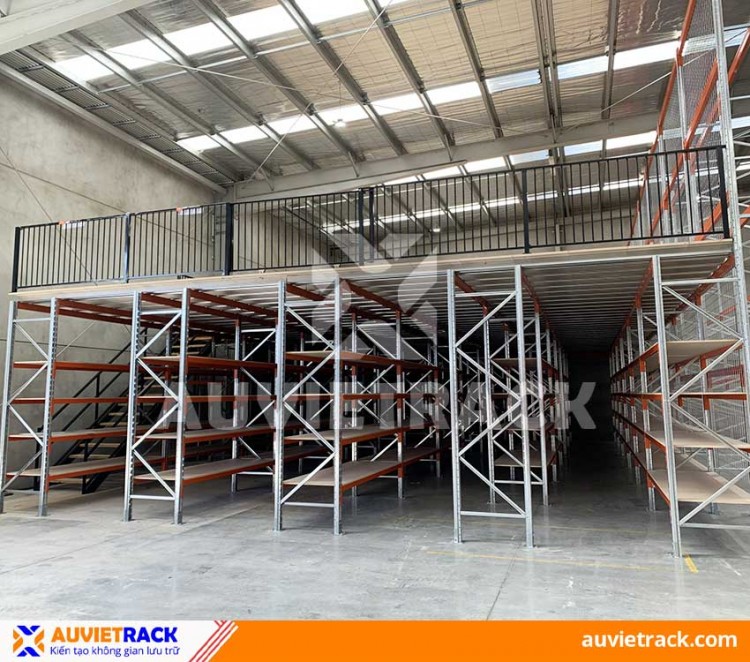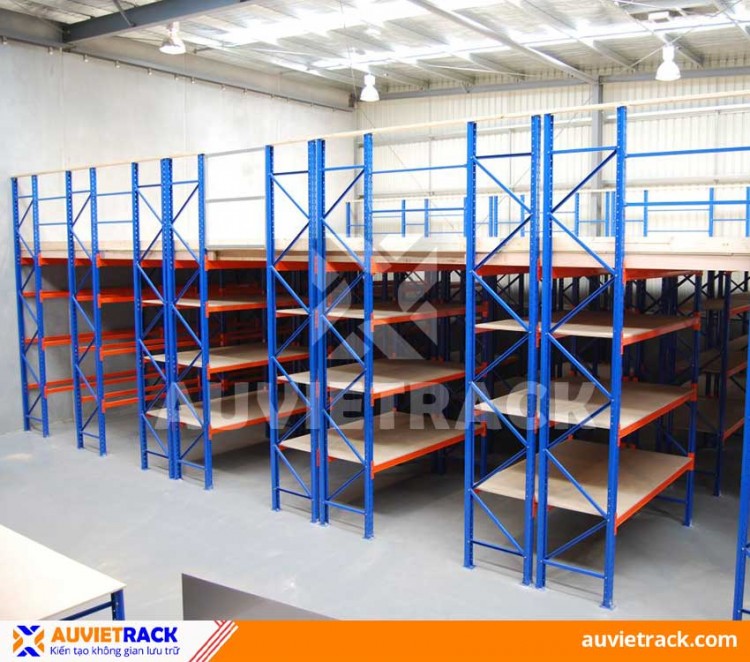 MEZZANINE RACK
Mezzanine rack is a type of industrial racking that expands storage space for warehouses according to height. Mezzanine rack combined with warehouse racking systems create a storage area that integrates many functions and increases storage density many times.
For businesses that are in need of increasing the floor space of the warehouse, mezzanine rack are the most cost-effective solution. Mezzanine rack help to stratify the warehouse and make the most of the storage space according to the height of the warehouse. Let's find out with Au Viet Rack what is a mezzanine rack and the characteristics of it.
Mezzanine racks with a solid structure create more space for the warehouse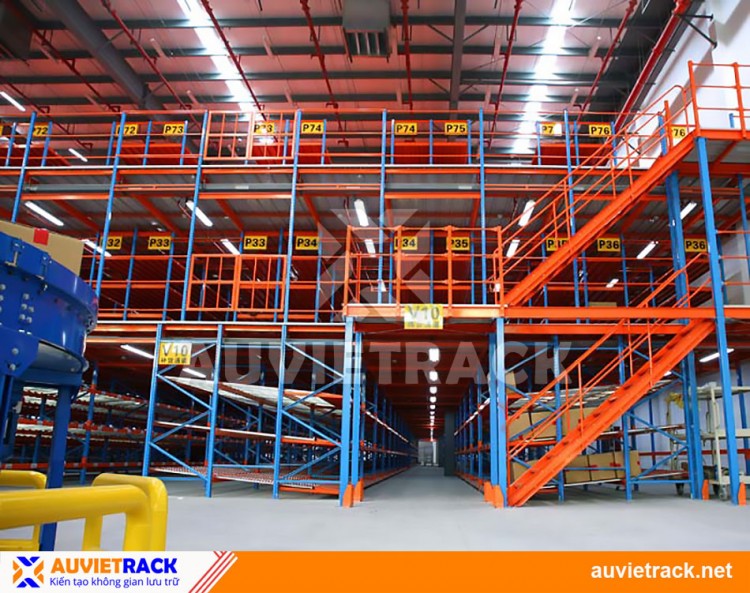 Mezzanine racks are often used in combination with heavy-duty pallet storage systems at the ground floor to optimal the storage space. The upper floor can put light shelves or put the goods directly on the floor.


The mezzanine rack system is designed with a large pillar base, floor and stairs.



Mezzanine racks have a very high strength thanks to being made from materials with good load capacity such as box steel, corrugated iron or thick iron. The base of the mezzanine rack is very strong, helping to support the upper floor firmly.
Simple structure, easy to install or to move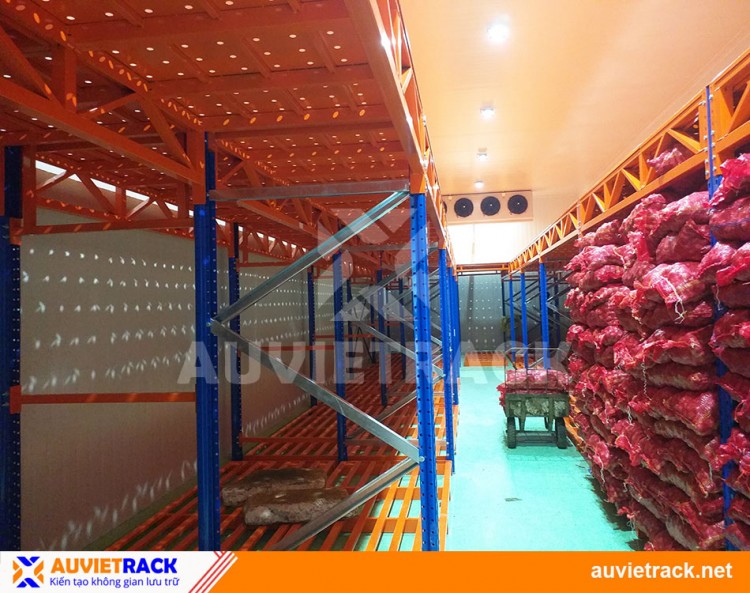 Although extremely sturdy, the structure of the

mezzanine rack

is extremely simple. M

ezzanine rack

s include separate parts and are fixed by screws, very convenient for installation or dismantling.


Fast installation speed, easy to disassemble, move and reuse for another space without welding or cutting.


The stages of installation, dismantling and relocation do not change the warehouse model, ensuring uninterrupted operations in the warehouse.



The surface material of the mezzanine rack is very diverse such as iron floor, corrugated iron floor, concrete floor, wooden floor, chipboard, metal laminate chipboard or grooved mesh, metal mesh, ... You can replace the different surface material when there is a change in storage needs.
Fully integrated facilities, convenient for load/unload and storage of goods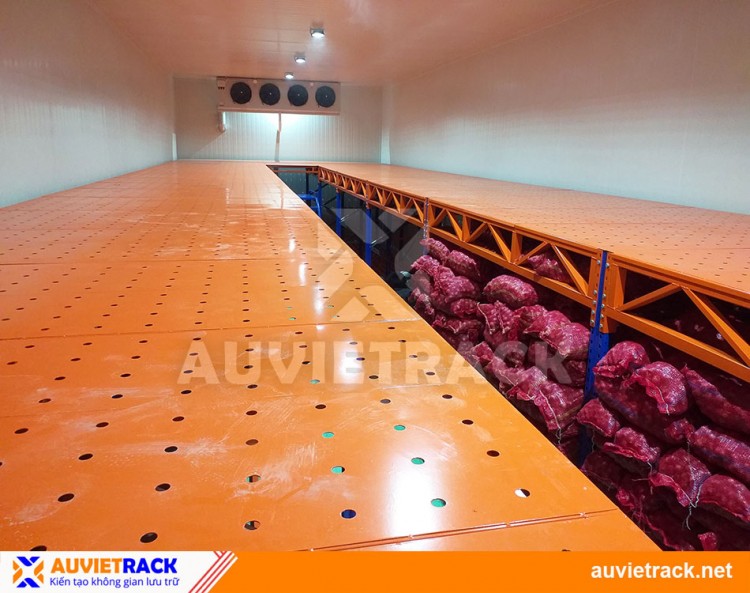 Mezzanine rack not only helps increase storage space but also bring full convenience when using. The

mezzanine racking

system is integrated with stairs, handrails, safety gates, even elevators, cranes and conveyors if the business needs it.


Easily load and unload heavy goods on the floor thanks to the integration of separate pallet load and unload gates. There are 3 popular types of pallet load/unload gates: sliding gates, swing gates and pivot gates.


Goods are stored on the floor in 2 forms: placing pallets of goods directly on the floor or placing them on a racking system integrated with the mezzanine racking system (if any).



Load and unload of goods can be flexibly changed between many different methods according to the needs and types of goods. Mezzanine racks can be combined with forklifts, cranes, elevators or hoists to move heavy goods pallets from the upper floors down.
Saving warehouse expansion costs, extremely long life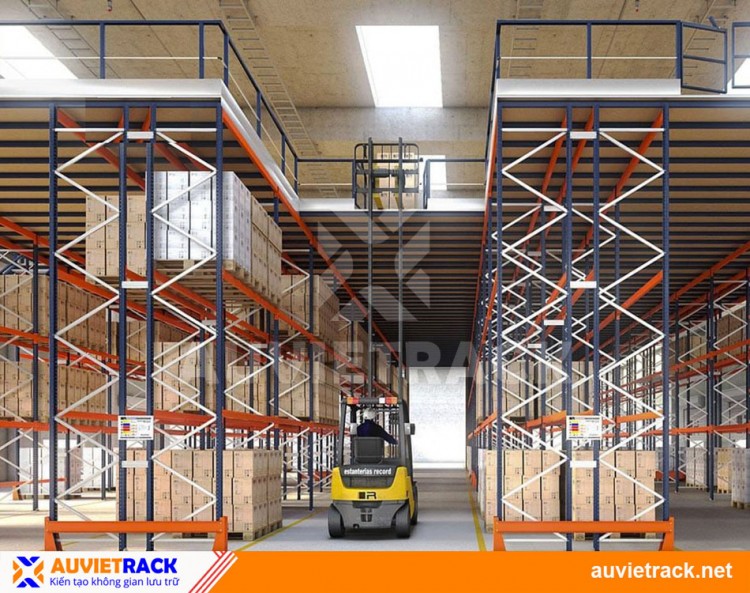 M

ezzanine rack

is the most cost-effective solution for businesses that want to expand their warehouse space.


Take advantage of the available overhead space to install more floors for storage or as an office.


The

mezzanine rack

is very sturdy and has a long life, so it will not cost a lot of maintenance, repair or replacement.
Mezzanine rack is suitable for all storage needs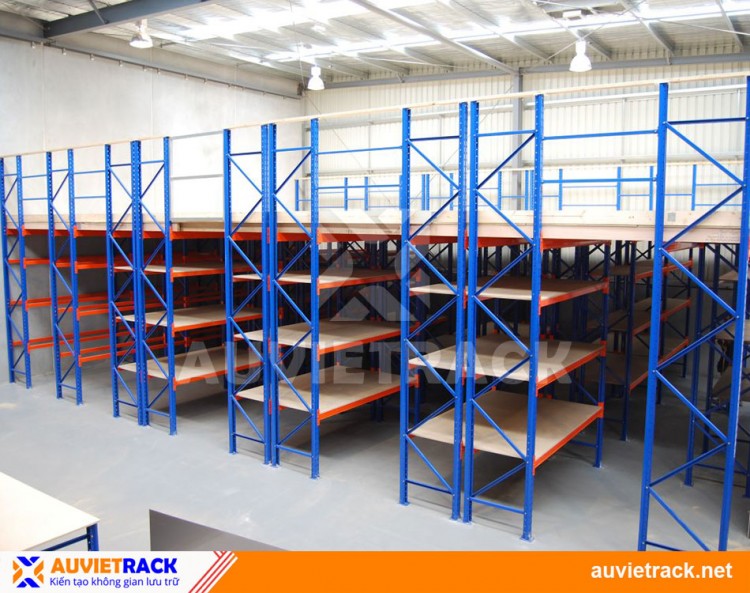 M

ezzanine rack

are suitable for most industrial storage systems because they do not affect the warehouse model.


Suitable for warehouses that need to store many different types of goods on the same floor, goods packed in pallets (placed on the floor) and goods of unstable and discrete sizes (placed on racks).


The lower floor can be combined with all kinds of rack with heavy to light loads such as Selective racking, Double Deep racking, VNA racking, Drive in racking, Radio Shuttle racking, medium-duty rack,...


Because businesses can arrange goods according to their needs and choose the type of racks to combine, one of two or both principles of FIFO and LIFO can be applied in inventory management.


Ideal for light cargo storage, manual loading and unloading.


Create a cooler space, applicable to specialized warehouses or warehouses with offices, meeting rooms, etc.



It is possible to install many types of surface material on a floor or each floor has a different type of surface material. This will create a difference in load for each area, each floor, from which businesses can divide into separate storage areas with different loads.
DISADVANTAGES of MEZZANINE RACK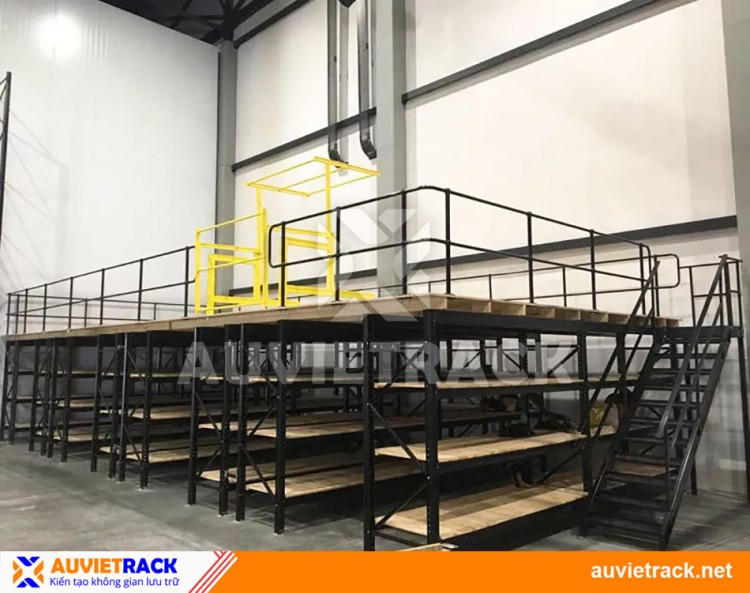 The initial investment cost for the mezzanine racking system is high.


The more floors, the more investment in the surface materials, the fence system and other utilities.



The height of the mezzanine rack is limited (under 8m), so the space for warehouses with the advantage of height has not been fully utilized.
APPLICATION of MEZZANINE RACK
Thanks to the advantage of flexibly changing according to storage needs, mezzanine rack can be applied to all types of warehouses, not limited to the field of industry. In addition to the usual feature of storing packages, Au Viet Rack will offer some other application cases of the following mezzanine rack:
Mezzanine racking system can be used as office space, warehouse management area.

Used as a place to display goods, introduce products.

Widely used in the fields of electronics, agricultural products, packaging, components, ...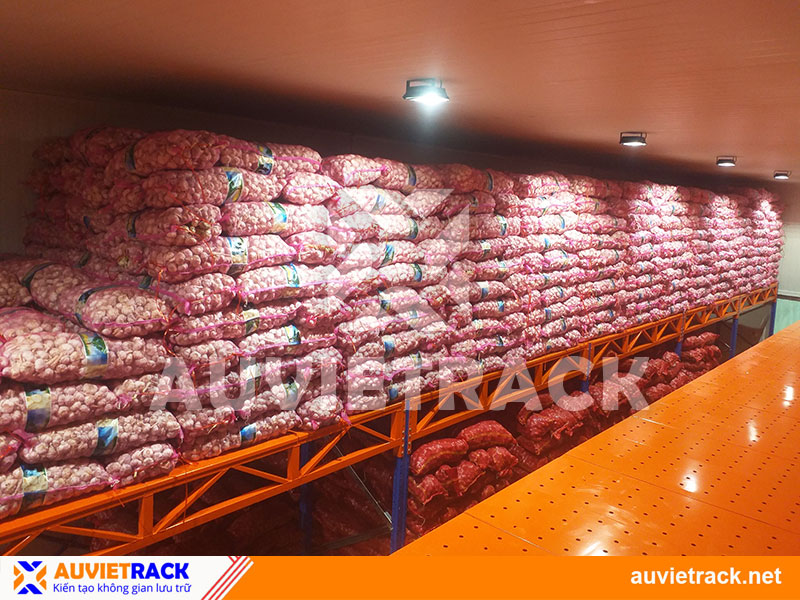 Mezzanine rack for agricultural products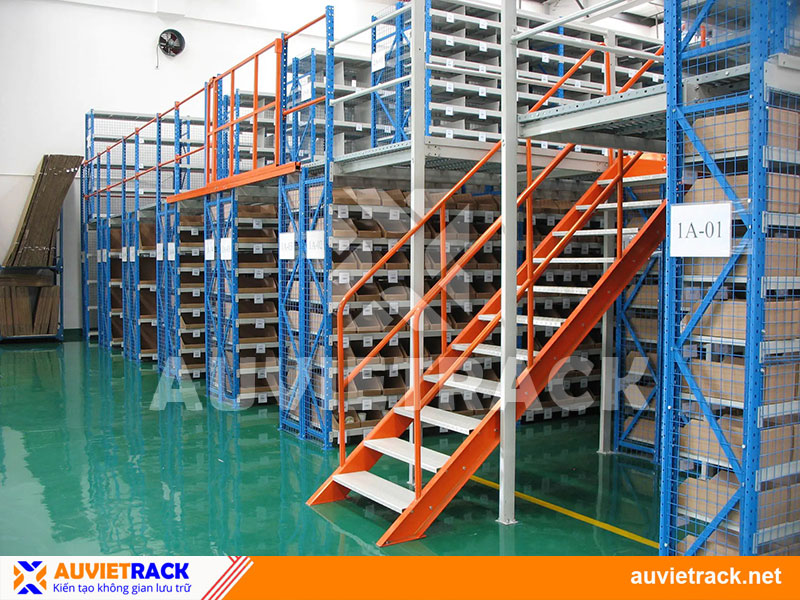 Mezzanine rack for product display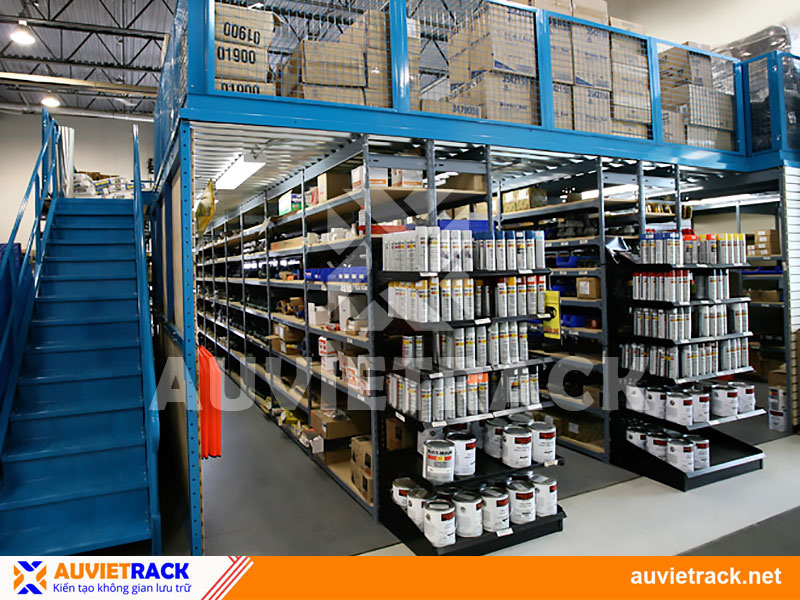 Mezzanine rack contains materials for mechanical industry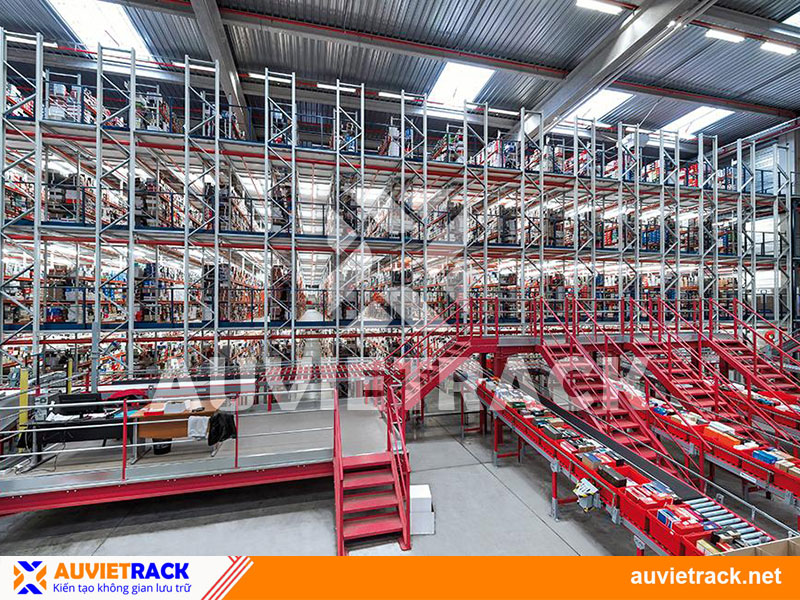 Mezzanine rack for storing goods with conveyor belt
Bên trên là những ứng dụng điển hình của kệ sàn trong kho hàng hóa. Trên thực tế vẫn còn nhiều loại nhà kho khác mà quý khách có thể áp dụng loại kệ này. Nếu có thắc mắc về sự phù hợp của kệ sàn trong kho hàng của quý khách, xin vui lòng liên hệ với Au Viet Rack hoặc để lại phiếu yêu cầu tư vấn, Au Viet Rack luôn sẵn lòng tư vấn nhanh nhất, cụ thể nhất cho quý khách. Above are typical applications of mezzanine rack in warehouses. In fact, there are still many other types of warehouses that you can apply this type of rack. If you have any questions about the suitability of mezzanine rack in your warehouse, please contact Au Viet Rack or leave a request for consultation, Au Viet Rack is always pleased to serve you!
Above are features of mezzanine rack in warehouse. In addition, you can find out more details about the product such as specifications, design drawings, warranty,... in the following sections.
You can contact us directly for a free consultation or immediately refer to the mezzanine rack's quotation.
Au Viet Rack sincerely thanks for the companionship of customers!
RELATED PRODUCTS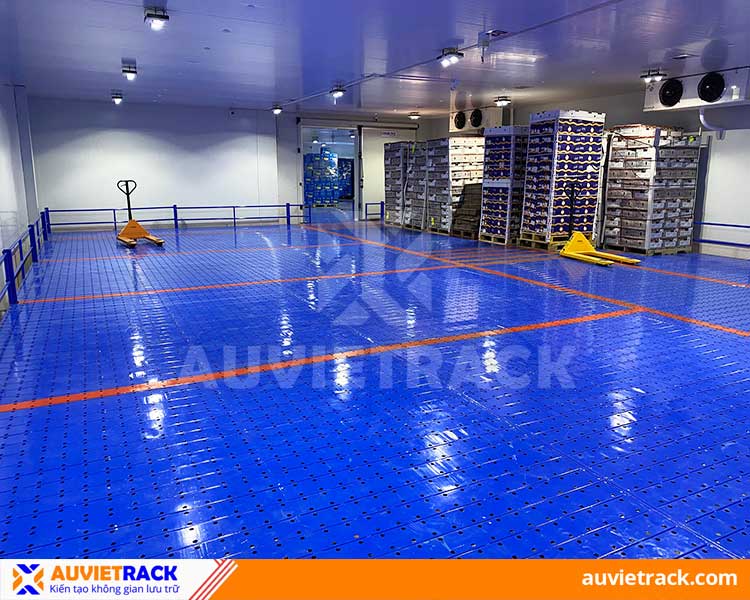 MEZZANINE FLOOR
The mezzanine floor is designed as an intermediate level between the ground and ceiling of a warehouse. It helps maximize the available vertical space while ensuring flexibility and easy adjustment according to usage needs, making it more versatile compared to solid concrete floors.