DRIVE IN RACKING
Drive-in racking is formed by a series of pallet racks, creating a large storage system specifically designed for warehouses with a large quantity of homogeneous goods. Parallel aisles are created within the rack structure, allowing forklifts to move deep into each rack row to directly retrieve items.
Drive-in racking has superior storage capacity compared to other conventional rack types, making it a popular choice for many businesses to optimize space in their warehouses. However, this type of racking system has certain characteristics that may not be applicable to every warehouse. To understand what Drive-in racking is, its suitability for different types of warehouses, and its distinctive features, let's explore further in the following section together with Au Viet Rack.
Drive-in racking is suitable for warehouses with a large quantity of homogeneous goods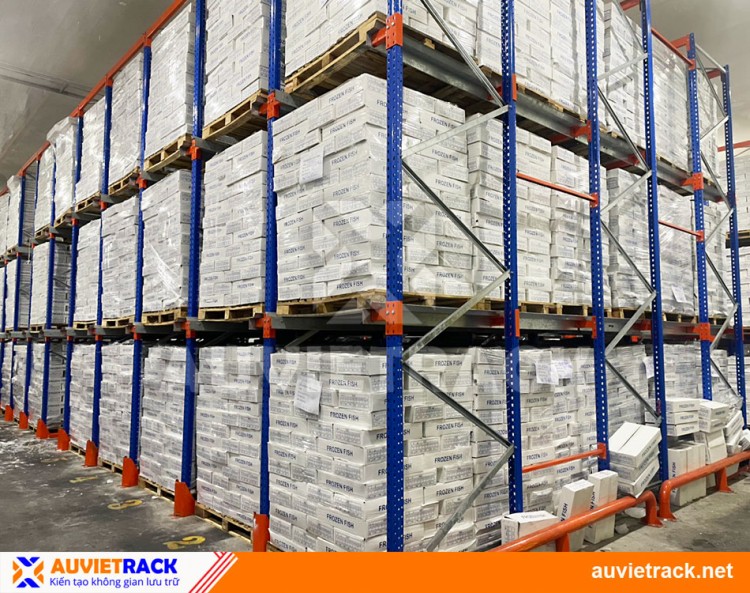 This is the most optimized and commonly used pallet storage system when storing pallets of the same size. It is suitable for warehouses with a large quantity of homogeneous goods in terms of variety. It is also suitable for storing multiple items with the same SKU.


The Drive-in racking system is suitable for businesses that prioritize space utilization over selective picking of stored goods.



It follows the Last In, First Out (LIFO) principle, where the latest items stored are the first to be retrieved. It is only suitable for storing goods that can be stored for a long period without quality degradation over time.
OPTIMIZING INSTALLATION AND OPERATION COSTS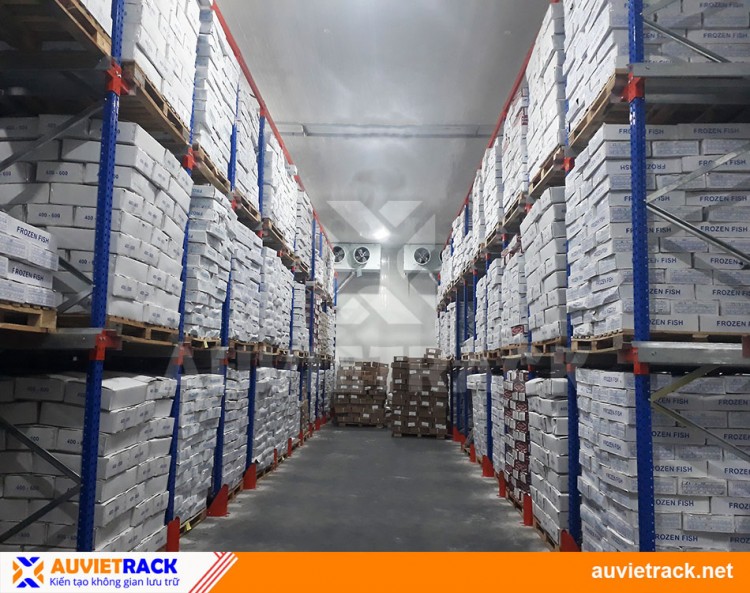 Drive-in racking is assembled using bolts, allowing for easy structural modifications or upgrades when necessary. The installation process is simple, and it is easy to repair, resulting in maximum cost savings.



In cold storage warehouses where space compression and temperature distribution optimization are essential, using Drive-in racking helps increase storage density and, consequently, reduces operating costs.
DRIVE-IN RACKING MAXIMIZE WAREHOUSE CAPACITY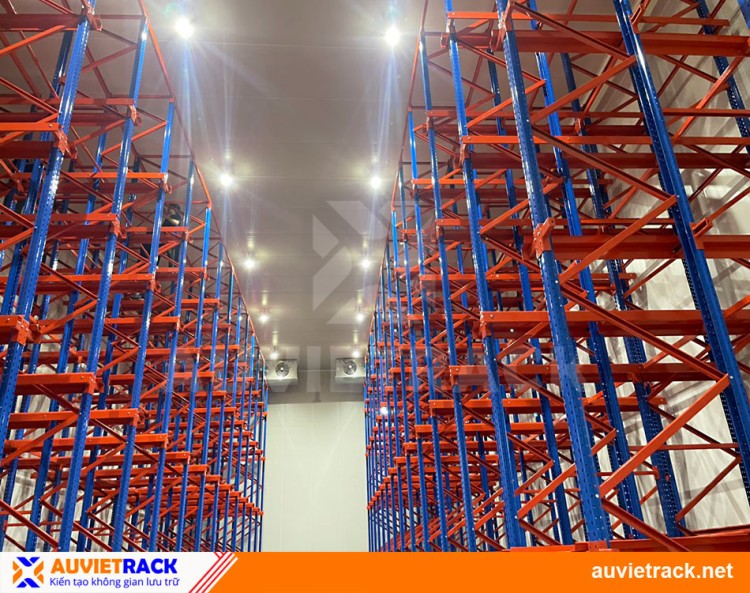 Utilizing Drive-in racking for storage allows for 70% floor space utilization by minimizing the forklift aisles, thereby maximizing storage space within the warehouse.


Effectively utilizing the warehouse's height, the system's maximum height can reach up to 12 meters.



Drive-in racking consist of multiple levels with long depths, capable of storing 2 to 15 pallets per rack level, thereby increasing storage capacity and density.
DISADVANTAGES OF DRIVE-IN RACKING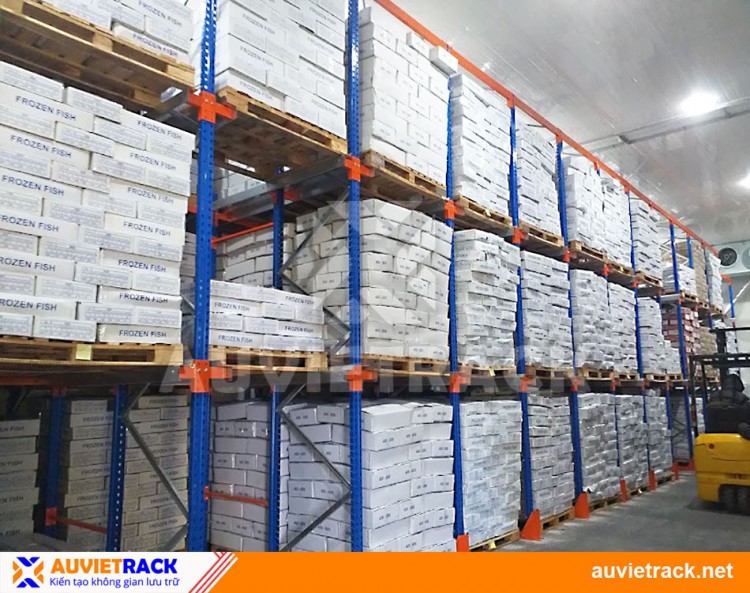 Slow transportation and goods loading/unloading speed.


Low accessibility to pallets stored deep inside, making it impossible to choose a specific pallet if it is located in the inner positions.


Increased risk of collisions when forklifts move deep inside the racking system, posing dangers to the operators and potentially impacting the rack structure.



Drive-in racking is not suitable for storing products with short shelf life or warehouses storing a wide variety of products.
APPLICATIONS OF DRIVE-IN RACKING
Drive-in pallet racking are an ideal choice for cold storage warehouses. Additionally, they are commonly used in warehouses for food, beverages, distribution, and manufacturing. Here are some applications of Drive-in racks in different types of warehouses: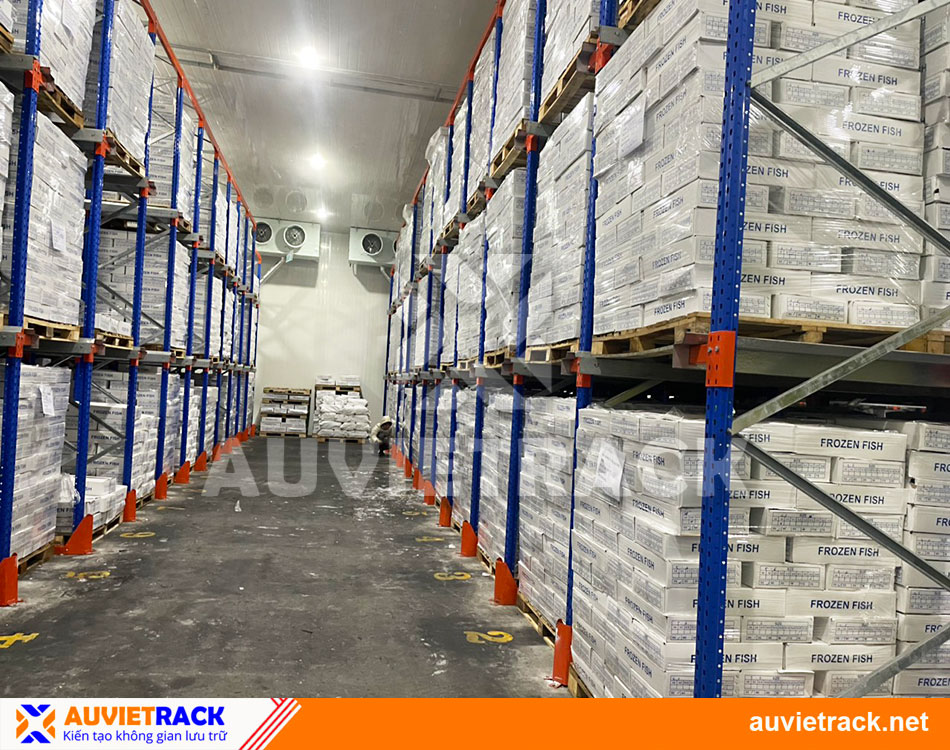 Drive-in racking by Au Viet Rack in frozen food warehouses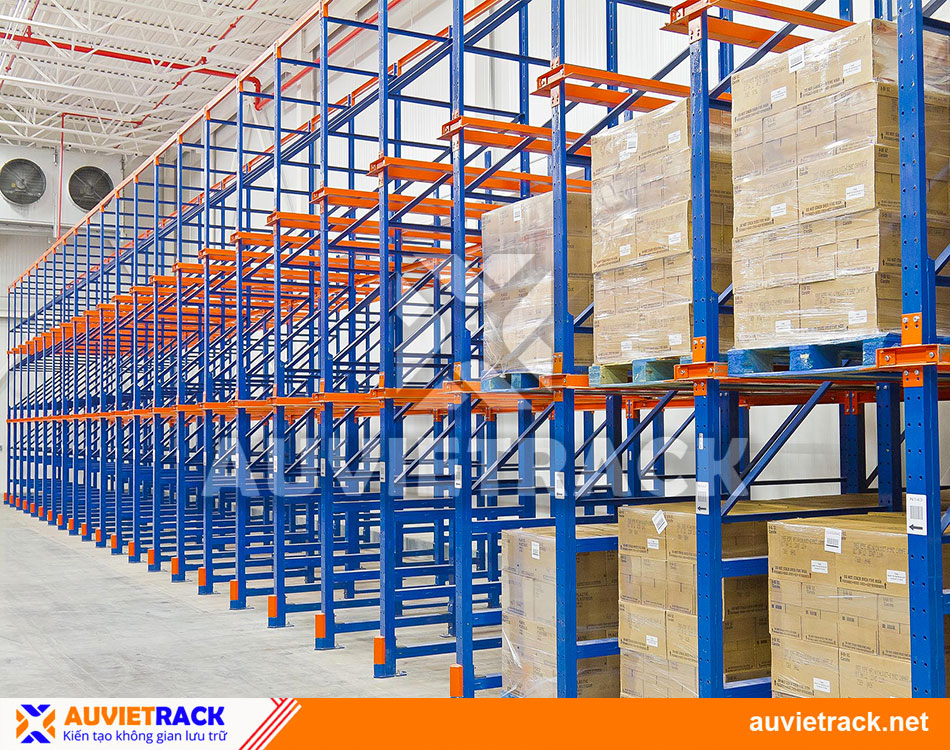 Drive-in racking in warehouses for storing finished goods in a cold environment
Drive-in racking are suitable for warehouses with high storage density and a large quantity of homogeneous items. In the following section, let's learn about the technical drawings, specifications, and practical applications of Drive-in racking systems.
Please contact us directly for free consultation or refer to our Drive-in racking pricing table.
Au Viet Rack sincerely thanks for the companionship of customers!