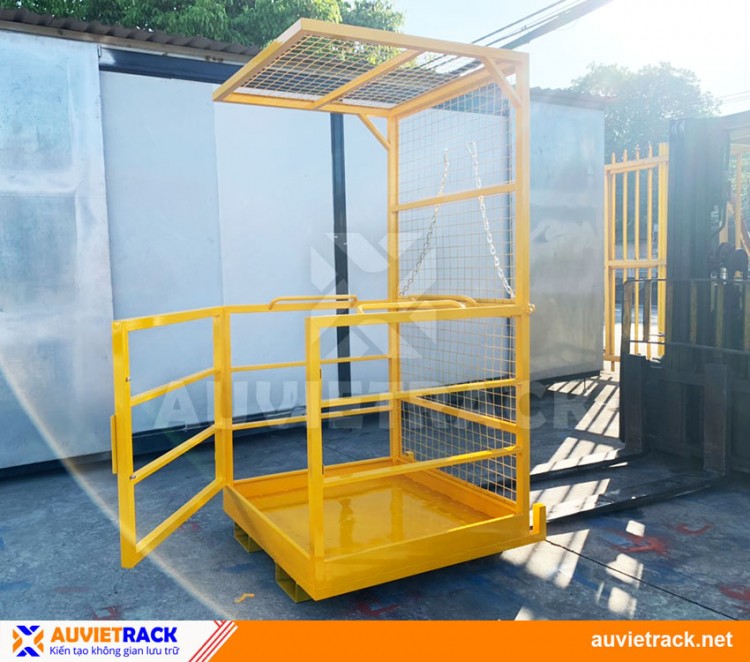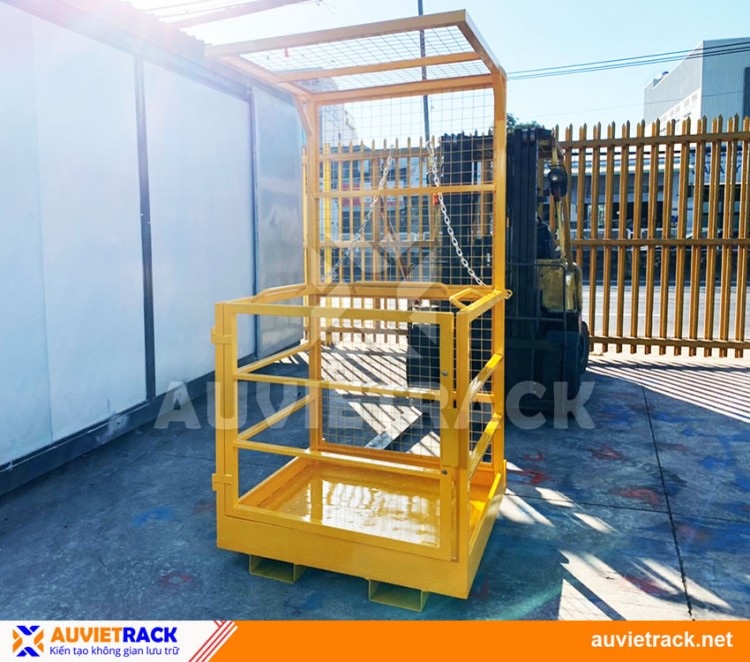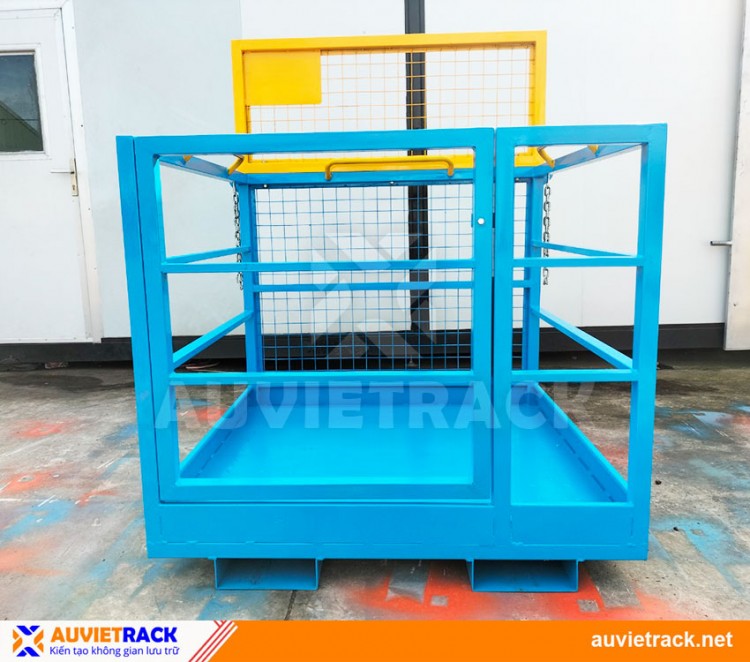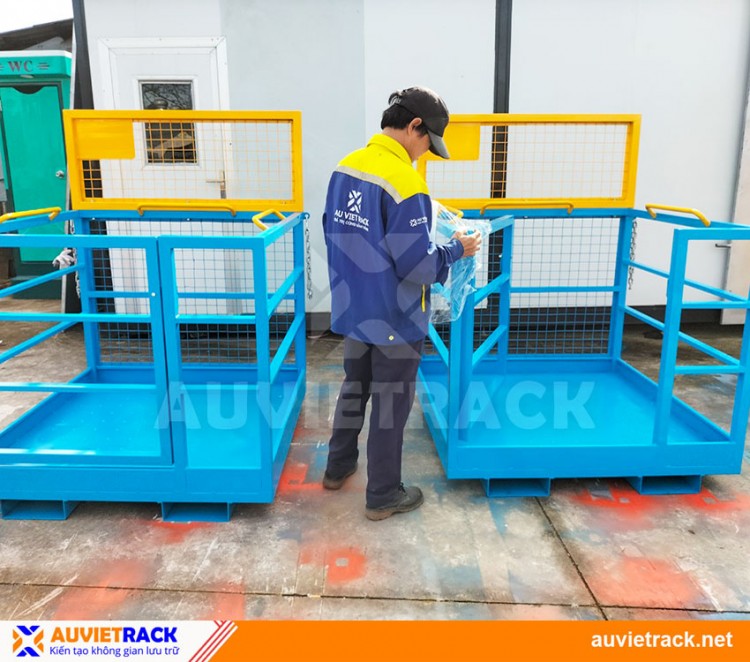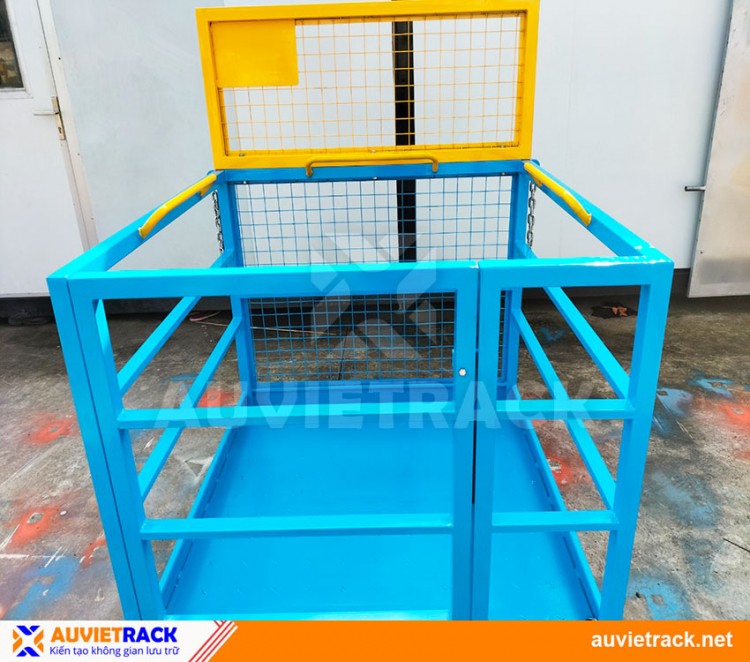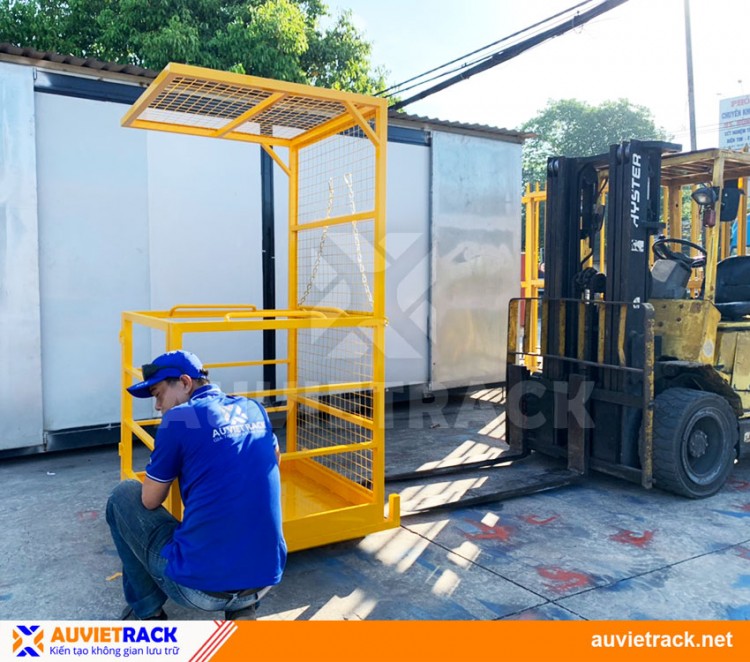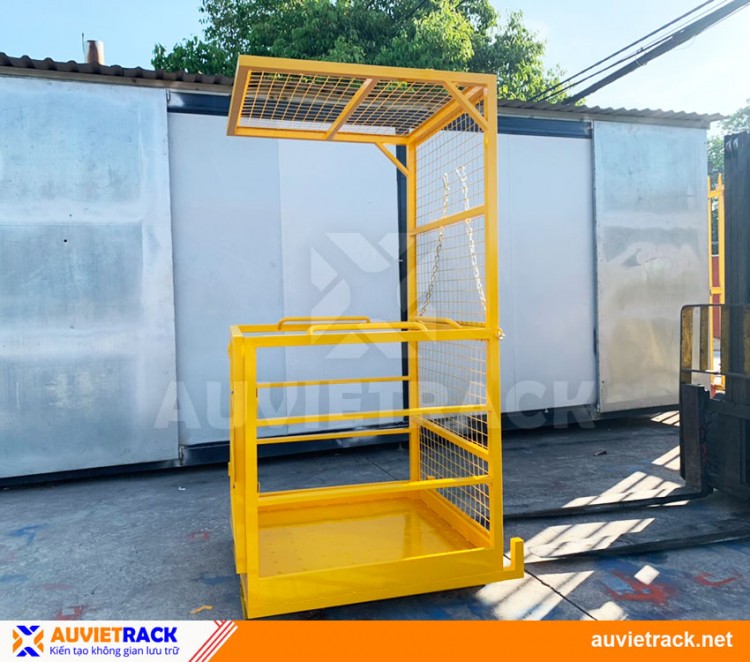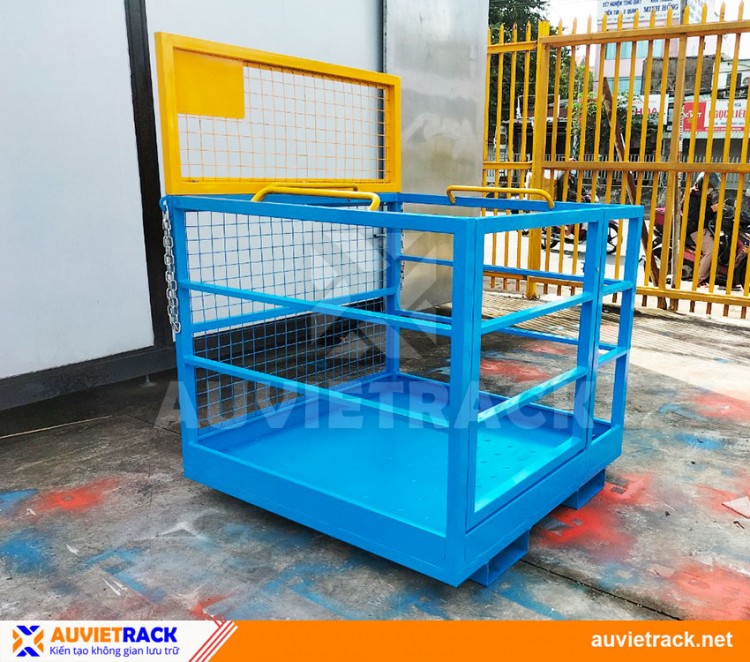 FORKLIFT SAFETY CAGE
Forklift safety cage is a support device so that forklifts can safely perform the function of lifting people to elevated positions. This device is considered to be safer than industrial mobile ladder, minimizing risks when operating at height.
In order to reach high positions and still maintain occupational safety, many businesses have chosen to use a forklift safety cage in combination with a forklift to solve that problem. So what exactly is a forklift safety cage and is it safe enough to use? Let's find out with Au Viet Rack right below!
Types of forlift safety cage - advantages and disadvantages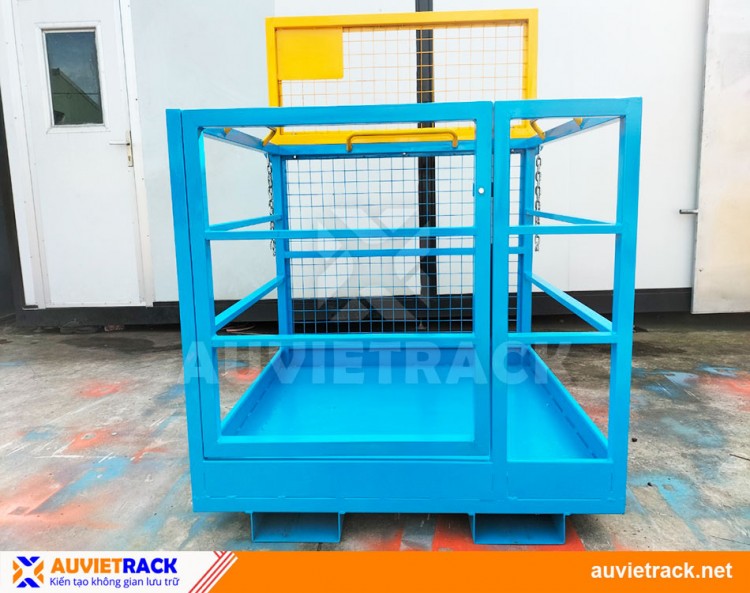 On the market today, forlift safety cages are divided into 2 types: fixed lifting cages and collapsible lifting cages.


The most commonly used fixed forlift safety cages today. When using, we do not need to assemble, just use a forklift to excavate and fix it with a chain or dowel bar.



Collapsible forlift safety cages are not common used. The advantage of this type is that it saves storage space, but it takes a lot of time to assemble when using as well as to disassemble when storing.
Ensure labor safety, high load
Ensure the safety for workers when using higher than when using industrial mobile ladder.


Reduce occupational accidents thanks to the closed 4-sided design, roof and non-slip floor.



Lifting cage load is up to 300kg, so it can lift from 1 to 3 people at the same time.
Optimum safety and convenient design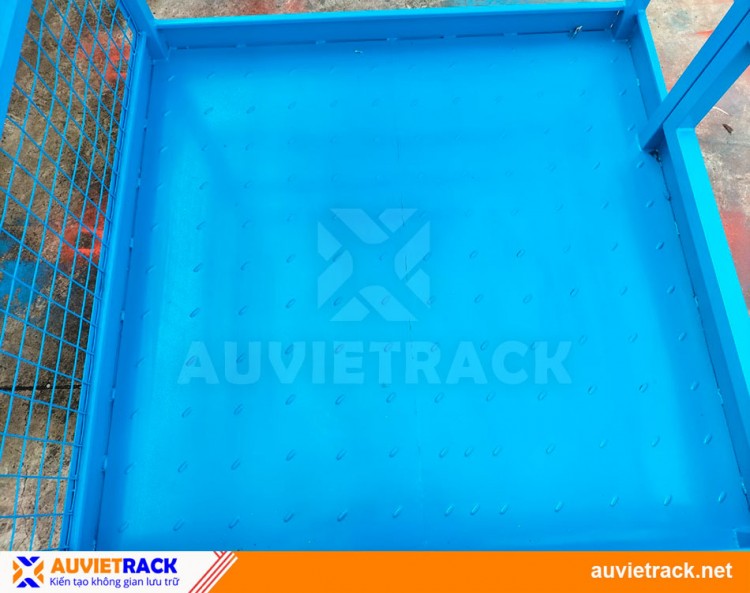 The forklift safety cage is carefully calculated to match the type of forklift available in the warehouse.


The standing floor is made of anti-slip ribbed tole steel.


The four sides of the wall are made in the form of a frame or a closed mesh, the front side is fitted with a gate for people to step in and out of the lifting cage.


An additional roof may be required to prevent items from falling on people while in use at height.



This man cage can be fitted with wheels for more convenient movement.
Low investment cost, high durability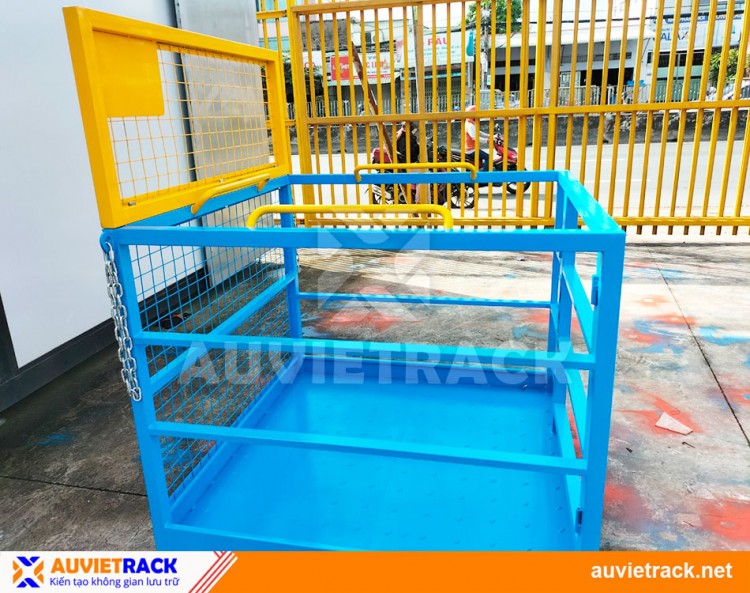 The cost of forklift safety cages is much cheaper than aerial work platform and elevating work platform.


This type of man cage can replace scaffolding.


Dimensions are designed to fit existing forklifts in warehouse, so there is no need to invest in a dedicated forklift.



Long durability, use more than 10 years.
Disadvantages of forklift safety cages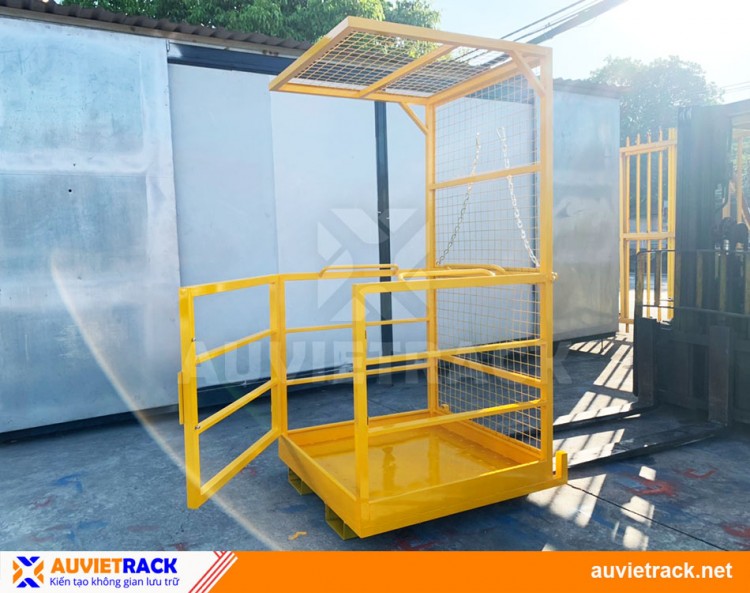 Since this is just a solution to help ordinary forklifts lift people, compared to safety and efficiency, it will not be as good as aerial work platform and elevating work platform..



Forklift operators need to have a high level of expertise to avoid causing problems for people standing on the lift cage. The driver and the people standing on the lift cage need to have communication equipment and good coordination.
Application of the forklift safety cage
The forklift safety cage is a simple device to further support the lifting function of a forklift. Therefore, this product is not picky about forklifts or requires any warehouse or workshop conditions. Here, Au Viet Rack will list some cases where you need to use a lifting cage in practice for your reference:
Forklift safety cages are often used to check the status of goods on the racks, put the goods on the racks, arrange and can take a small part of the goods to use without having to unload the whole pallet.

Maintain and repair overhead equipment when there is an unexpected breakdown.


Lift people to install cameras, disassemble, paint and repair factory ceilings, trim tall trees, ...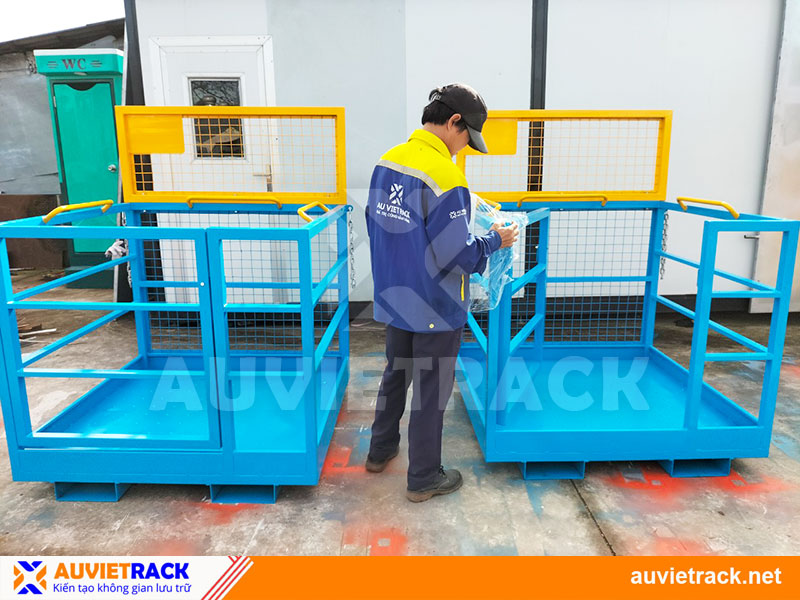 Fixed forklift safety cage without a roof - Au Viet Rack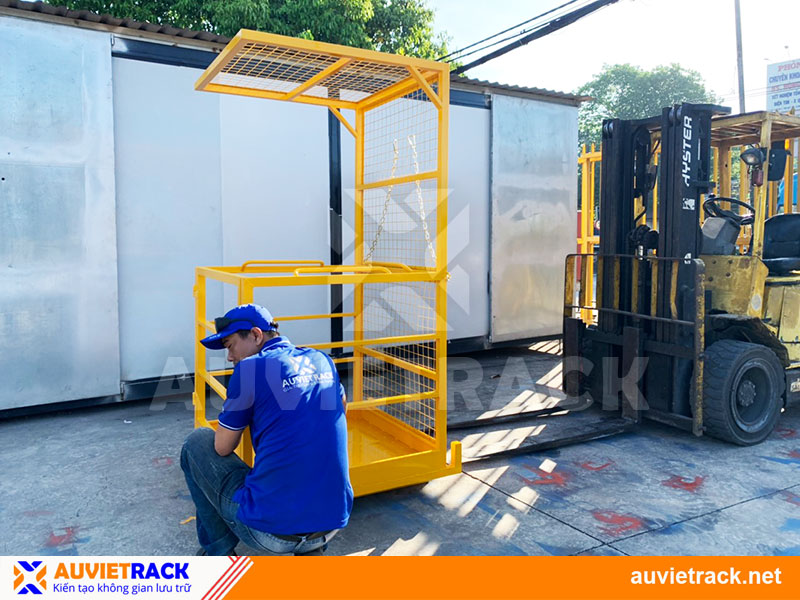 Fixed forklift safety cage with roof - Au Viet Rack
Above are the most outstanding features of the forklift safety cage that Au Viet Rack has sent to customers. In addition, you can find out more details about the product such as specifications, design drawings, warranty,... in the following sections.
You can contact us directly for a free consultation or refer to the price list of the forklift safety cage.
Au Viet Rack sincerely thanks for the companionship of customers!