What is Pallet Shuttle? Learn About Picking Robot in Radio Shuttle Racking
What is Pallet Shuttle? Learn About Picking Robot in Radio Shuttle Racking
Radio Shuttle semi-automatic racking system is considered to be one of the smartest goods storage systems nowaday. Most of the racking operations take place inside the racking lanes performed by the Pallet Shuttle picking robot. Robot Pallet Shuttle plays a very important role in the storage system, deciding whether the storage is really efficient, smart and fast or not. To understand more about this issue, let's analyze the Pallet Shuttle with Au Viet Rack in this article!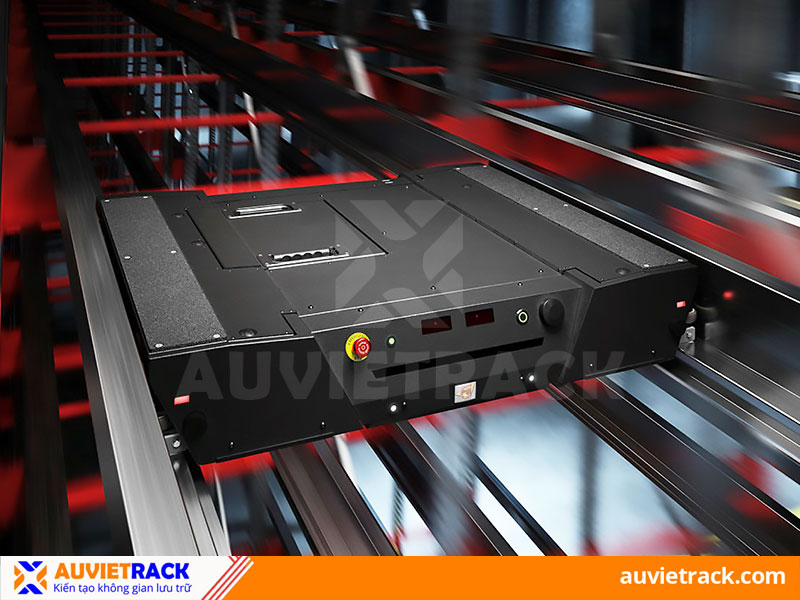 What is a Pallet Shuttle?
Pallet Shuttle is a smart device specialized in Radio Shuttle racking systems or AS/RS storage systems, which plays the role of moving pallets of goods in the racks. This type of robot works by an electric motor controlled by a tablet with Wifi connection or by remote control.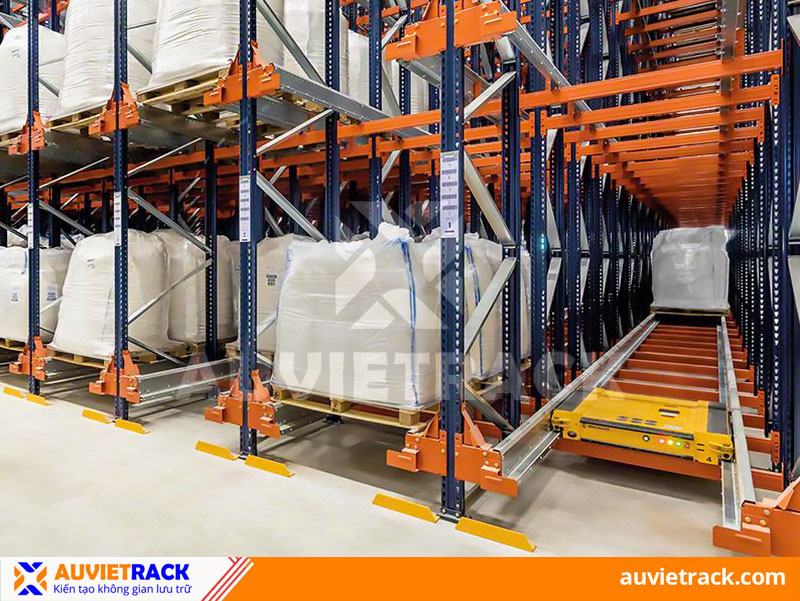 Pallet Shuttle is a smart picking robot for Radio Shuttle Racking
Thanks to the intelligence of the Pallet Shuttle robot, the loading and unloading of goods is significantly accelerated, the risk of collision is minimized, management and operation costs are greatly reduced. The rapid development of technology promises that Pallet Shuttle will be increasingly improved in function, information processing speed, speed of goods movement, more energy saving and more durable.
Great Features of Pallet Shuttle
The speed of the Pallet Shuttle depends on the type of robot and the brand you choose.

Normally, the speed of a Pallet Shuttle is 35 meters per minute when lifting goods and 70 meters per minute when not lifting goods. Currently, on the market, there are also Radio Shuttle racking robots with very high speeds, about 70 meters per minute when lifting goods and 110 meters per minute when not lifting goods.

The speed of the robot when used in cold storage will be reduced to nearly half compared to conventional warehouses.

The number of picking cycles per hour of Pallet Shuttle is much higher than when using conventional racking systems.


Pallet Shuttle moves at high speed
Usable in even harsh warehouse conditions: normal environments from 5°C to 45°C, cryogenic environments from -30°C to 5°C

Depending on the condition of the volume of goods and the temperature of the warehouse, the Radio Shuttle racking robot can operate continuously for 8 to 10 hours.

The pallet shuttle robot is powered by a Lithium Battery that is automatically charged by a supercapacitor and is capable of regenerating energy during deceleration.

Pallet Shuttle can lift pallets up to 1500 kg in weight.

Sensors on the Pallet Shuttle help detect and handle different types of pallets.

The advanced function of Pallet Shuttle pushes discrete pallets to one side to help clear the racking lanes, making it more convenient to take goods off the racks or load them on the racks.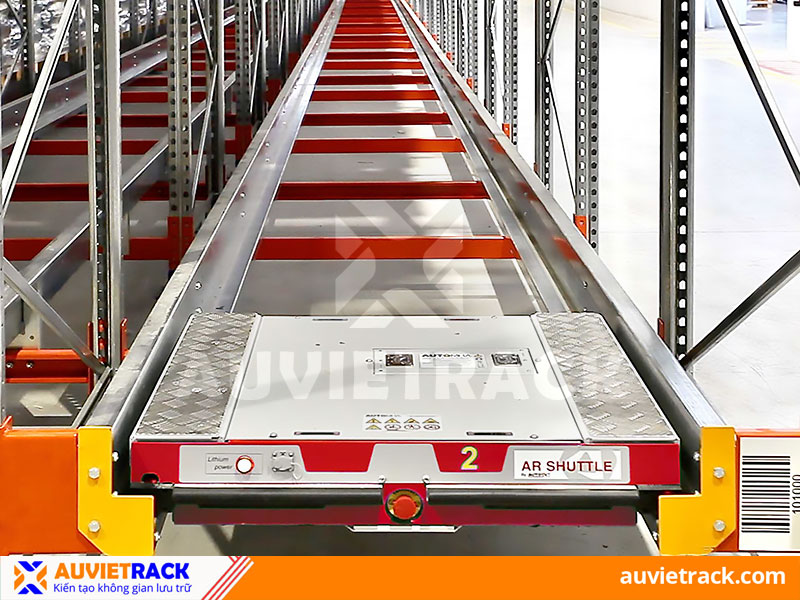 Sensors on Pallet Shuttle help identify and manipulate pallets
>>> Reference: Latest updated factory price Radio Shuttle rack
The benefits that Pallet Shuttle brings
For warehouse space, labor safety and operating costs
The Radio Shuttle and Pallet Shuttle racking systems help optimize warehouse floor space by completely eliminating aisles between racks.

A large warehouse is not required as the Radio Shuttle racking system makes efficient use of space at any warehouse size.

The risk of work accidents, rack damage and cargo damage is almost zero as most of the operating procedures are handled by the Pallet Shuttle robot.

Save labor costs for goods loading/unloading and inventory, save management costs, fuel, racking maintenance costs and shuttle robots.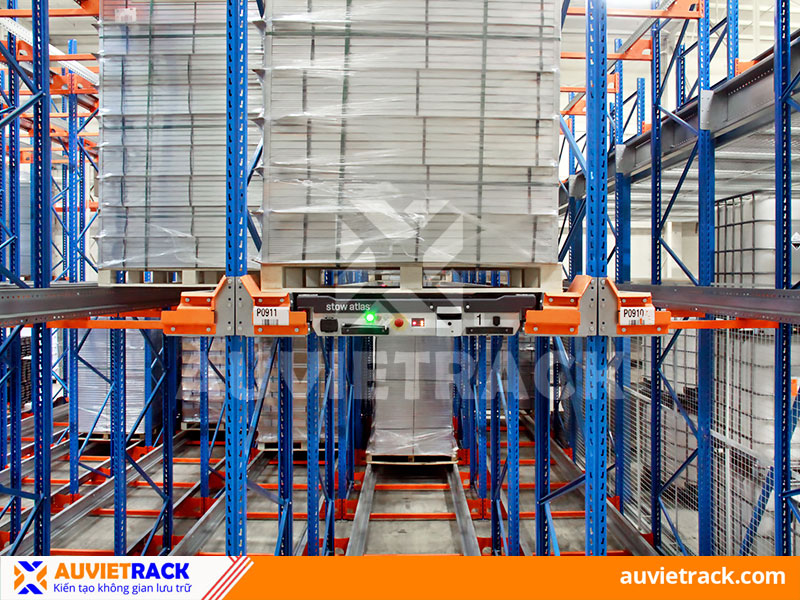 Pallet Shuttle helps reduce warehouse management costs and labor costs
For goods management activities
Pallet Shuttle helps to control the goods on the racks. The Shuttle robot uses sensors to count the number of pallets being stored.

Allows flexible FIFO and LIFO commodity management strategies. As a result, businesses can choose to store perishable or non-perishable goods depending on the chosen management strategy.

Pallet Shuttle can fill or empty an entire rack with a single command. In addition, the operator can also set the Pallet Shuttle to work only in a certain range.

One tablet can control up to 18 Pallet Shuttles at the same time.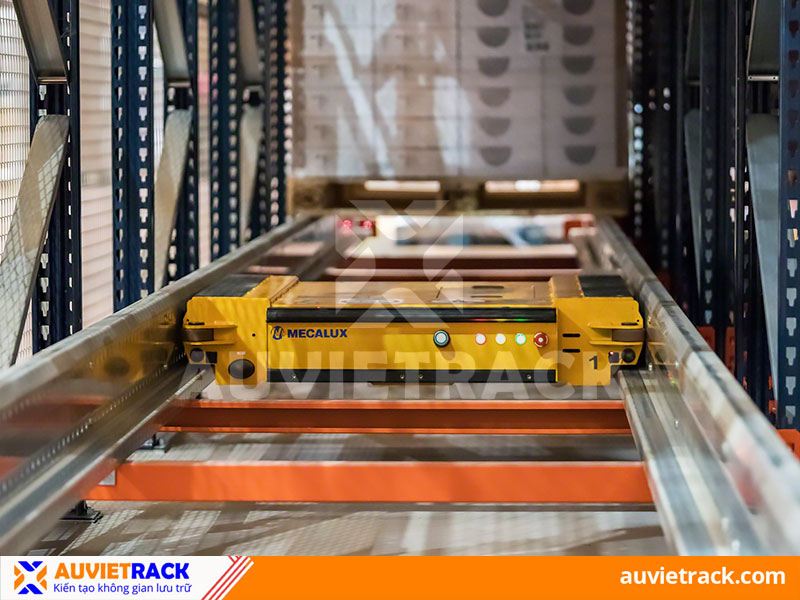 Manage multiple picking robots with just one tablet
High security: Pallet Shuttle control is assigned to specific employees. This helps prevent other employees or strangers from operating the Pallet Shuttle without permission.

The accuracy that Pallet Shuttle brings is very high, minimizing the risk of mistaking or losing goods.

Control the position of the Pallet Shuttle in the rack lane by activating sound and light signals.

The Radio Shuttle robot control system displays the number of robots on the racks and their status.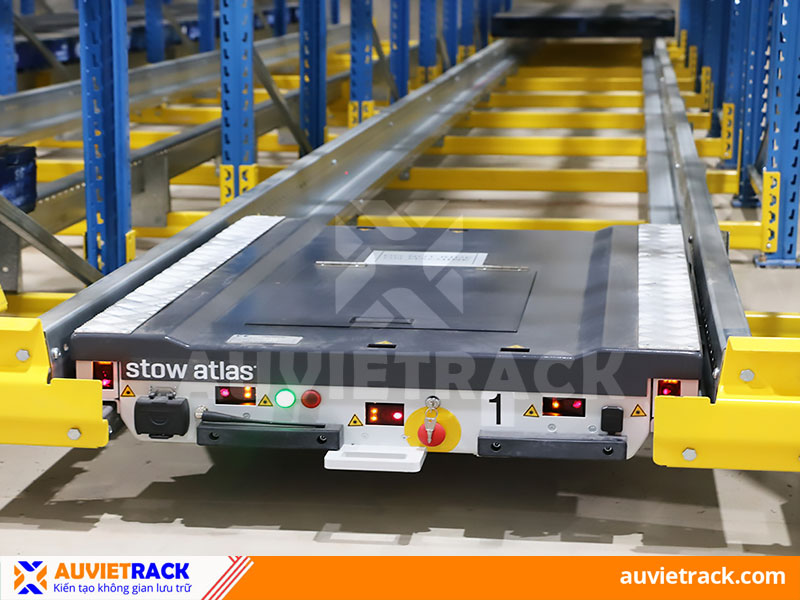 Management system to prevent robot control without permission
Above are the great features of the Pallet Shuttle in the cargo storage system. Hope the above information is useful to you. If you have any questions about the suitability of Radio Shuttle racking in your warehouse, you can contact Au Viet Rack or leave information for consultation here. We are always happy to assist you with a free consultation as quickly as possible.