What Is Mezzanine Rack Used For? Applications Of Mezzanine Racks
What Is Mezzanine Rack Used For? Applications Of Mezzanine Racks
Mezzanine rack is a common name for pallet racking systems that are installed with a floor surface to increase the storage area as well as diversify the storage function of the warehouse. So what is the use of the mezzanine rack specifically, which warehouse is the mezzanine rack used for? Let's find out with Au Viet Rack right in the following article!
Things to consider when choosing mezzanine racks
How many types of mezzanine racks are there?
Types of storage racks used to make mezzanine racks
Mezzanine racks can be combined with most of today's heavy-duty racks such as: Selective racks, Double Deep racks, VNA racks, Flow racks,... Mezzanine racks are designed as a mezzanine, have high stability to withstand the weight of overhead goods or people. Therefore, light-weight racks are rarely used as mezzanine racks, unless the investor has a need, the production should be reinforced to be suitable for mezzanine racks.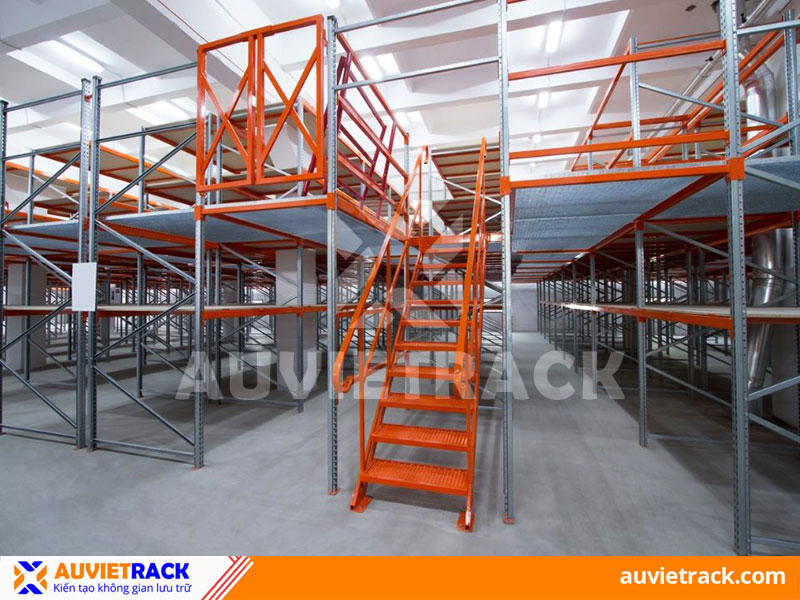 Using Selective racks to make mezzanine racking systems
Type of lining material for mezzanine racks
The floor of the mezzanine rack has many types, businesses can actively choose the type of rack lining material to suit their needs. The most common types of floor surface can be mentioned such as: iron floor, corrugated iron floor, concrete floor, wooden floor, particle board, metal-covered board or grooved mesh, metal mesh.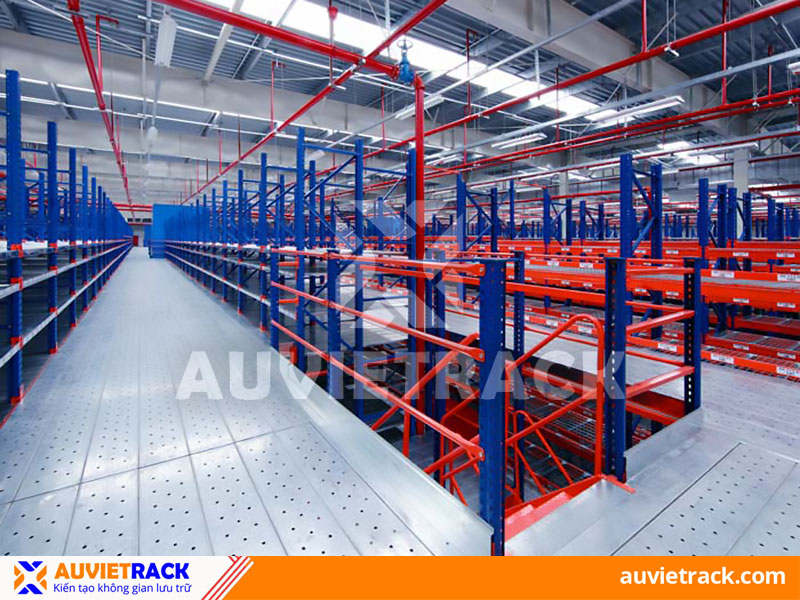 Corrugated iron floor is the most commonly used type of floor
What is the difference between a mezzanine rack and a mezzanine floor?
The mezzanine floor is erected from solid pillars, separate or completely with the warehouse structure as well as the storage system below (if any). Therefore, the mezzanine floor can be installed at any time that the business wants.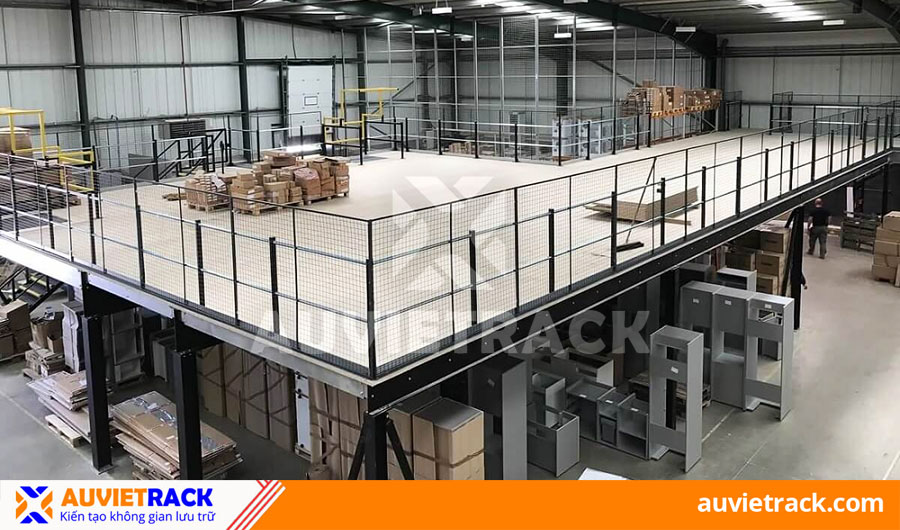 The mezzanine floor has a floor and a pillar separate from the rack
Mezzanine rack is fixed to the pallet racking system and must be installed at the same time as the storage racking system. Compared to the mezzanine floor, the installation of mezzanine racks is somewhat simpler because only the floor surface and other details need to be installed, there is no need to install additional pillars.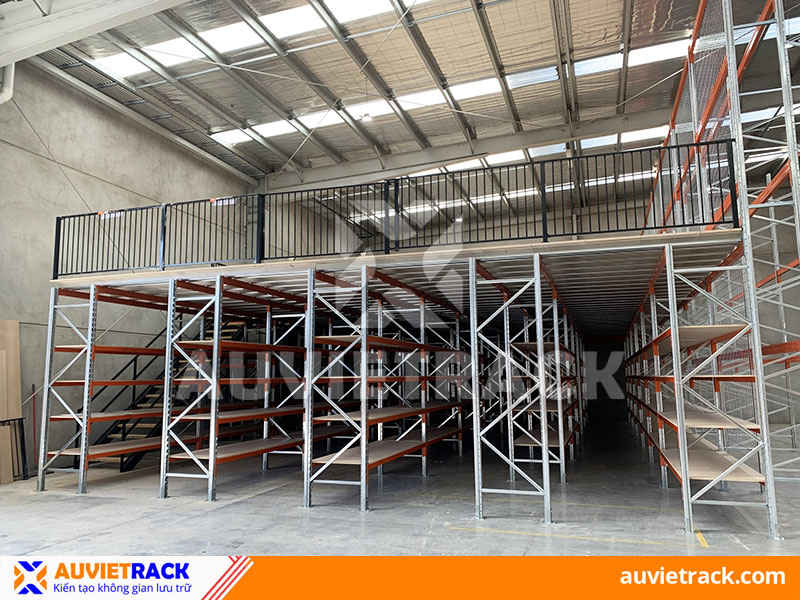 Mezzanine rack with floor and pillars attached to the racking system
Types of goods that can be used with mezzanine racks
Mezzanine racks are often used in two forms: the upper floor is the empty floor and the upper floor is the rack system.
For mezzanine racks with an empty floor above, it can hold light goods placed directly on the floor, heavy goods placed on pallets, can store many product types, there are no requirements on the size and type of goods.
For mezzanine racks with the upper floor being a racking system, the type of goods must be suitable for the type of rack being used, the size is uniform, and the number of item types to be stored should be considered.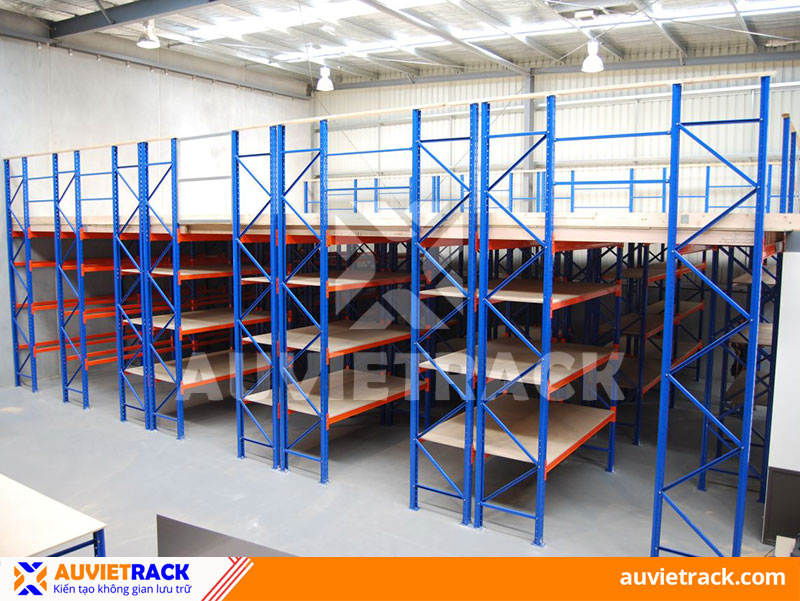 The type of goods to be stored depends on the requirements of the racking system
Additional utilities of mezzanine racks
Today's mezzanine racks are integrated with many facilities to serve the warehouse. Stairs, handrails, railings surrounding the floor are indispensable details of mezzanine racks.
When businesses have a need to store heavy goods, pallet import and export gates will be installed to easily move pallets up and down floors. There are 3 popular types of pallet import and export gates: sliding gates, swing gates and 2-side opening gates.
The mezzanine rack system can be combined with conveyor belts, cranes, elevators or hoists to move pallets from the upper floors down for heavy goods.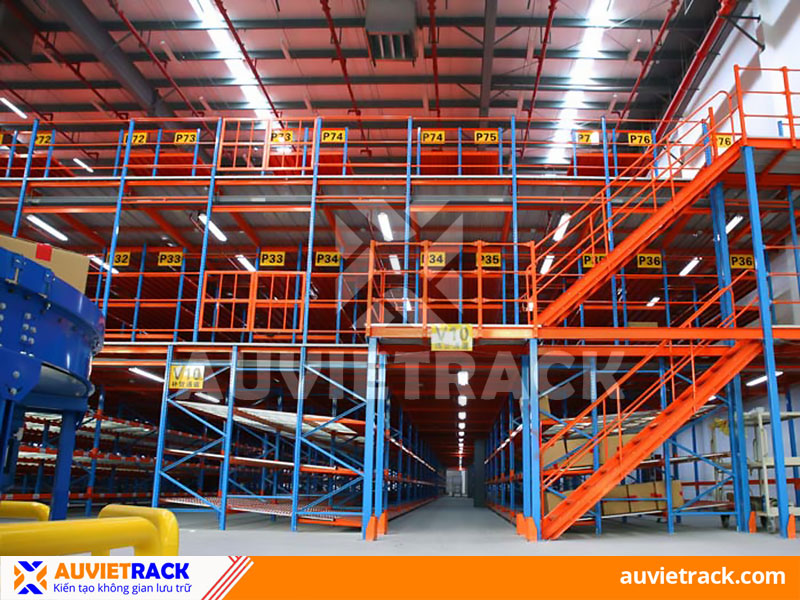 You can integrate many utilities on the mezzanine rack system
>>> See details of structural features, drawings and specifications of mezzanine racks
Advantages of mezzanine racks
If your warehouse has the advantage of height, mezzanine racks are an ideal choice to expand the warehouse use space. Investment cost per square meter of mezzanine rack will be cheaper than the cost of space expansion and warehouse expansion.

Create a multifunctional storage space that can change storage needs from time to time.

Installation is quick, flexible, and can be disassembled when needed to move the warehouse or no longer used.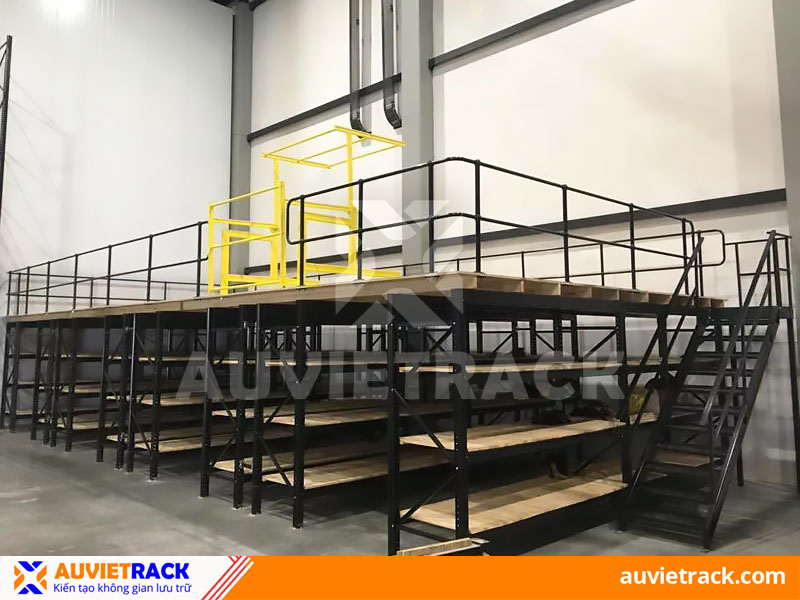 Mezzanine racks can be flexibly disassembled
Disadvantages of mezzanine racks
Although the use of mezzanine rack is cheaper than expanding the warehouse, installing a mezzanine rack system also requires a high investment cost.

The cost of built-in utilities will also increase following the number of floors installed.

Not applicable to warehouses with limited height (under 8 meters).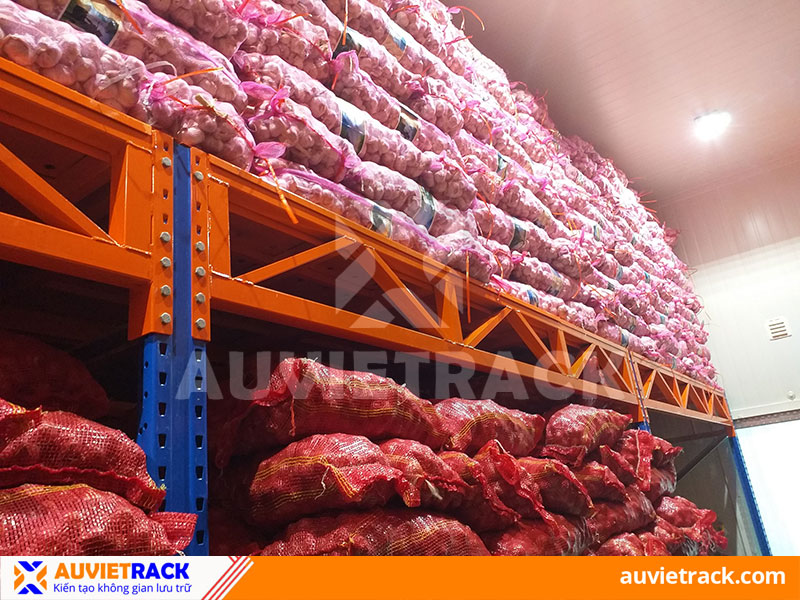 Mezzanine racks have a high initial investment cost
Application of mezzanine rack in warehouse
The most basic application of mezzanine racks is to store inventory in a business. In addition, mezzanine racks are also used as office space, warehouse management area, as a place to display goods and introduce products.
The industries that regularly use mezzanine racks are electronics, agricultural products, packaging, components,... In fact, mezzanine racks only need the warehouse to have the advantage of height, there are no requirements on warehouse size or product type, so that it can be applied in all fields.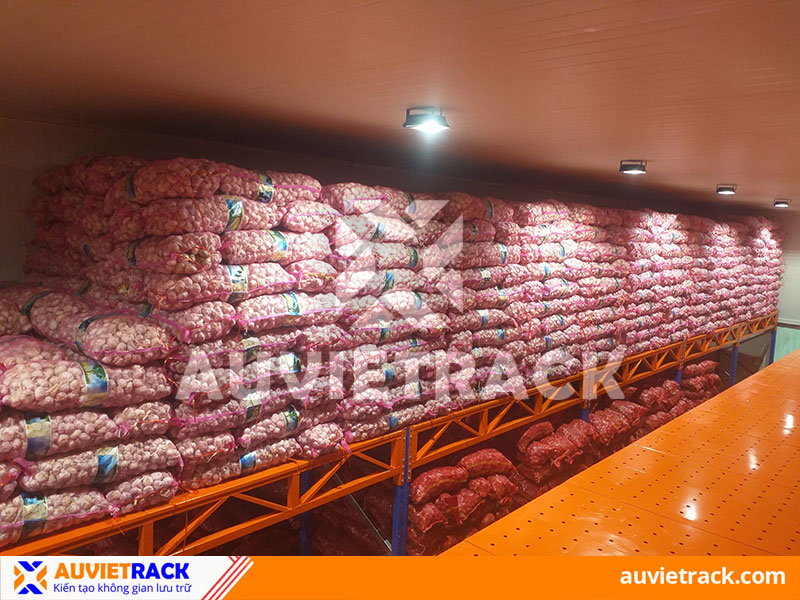 Mezzanine rack for fresh garlic storage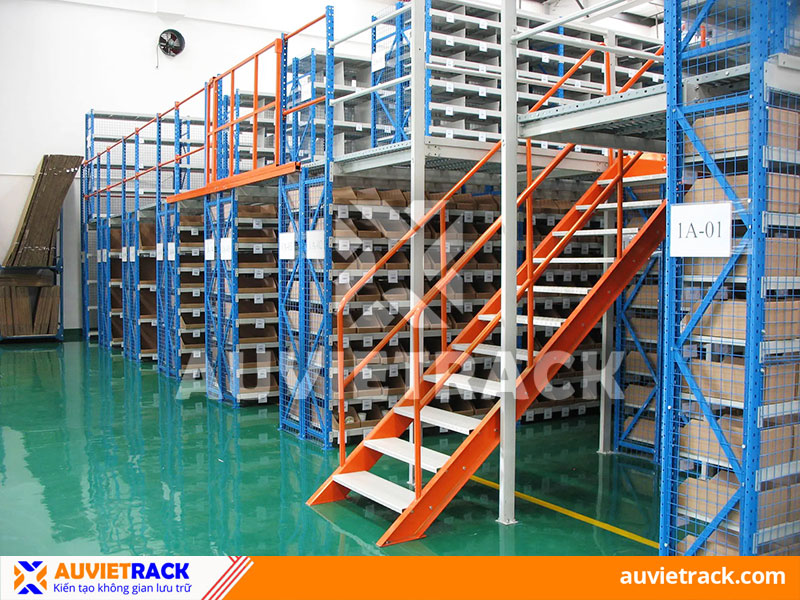 Mezzanine rack for component storage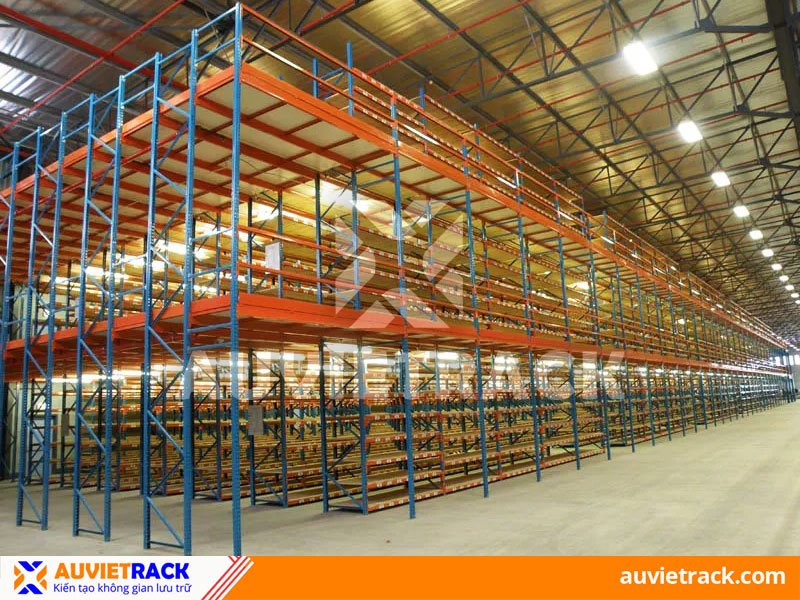 Mezzanine racks combined with Carton flow racks for finished goods warehouse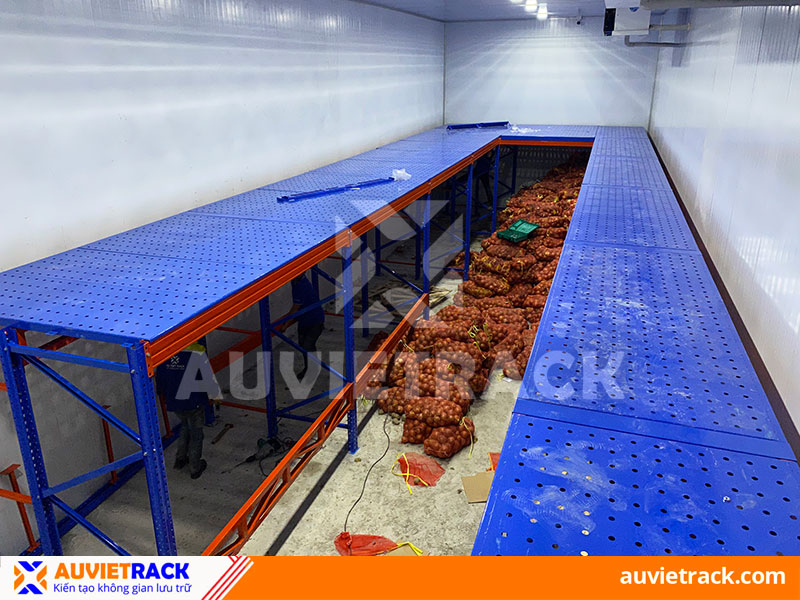 Mezzanine rack for storage of agricultural products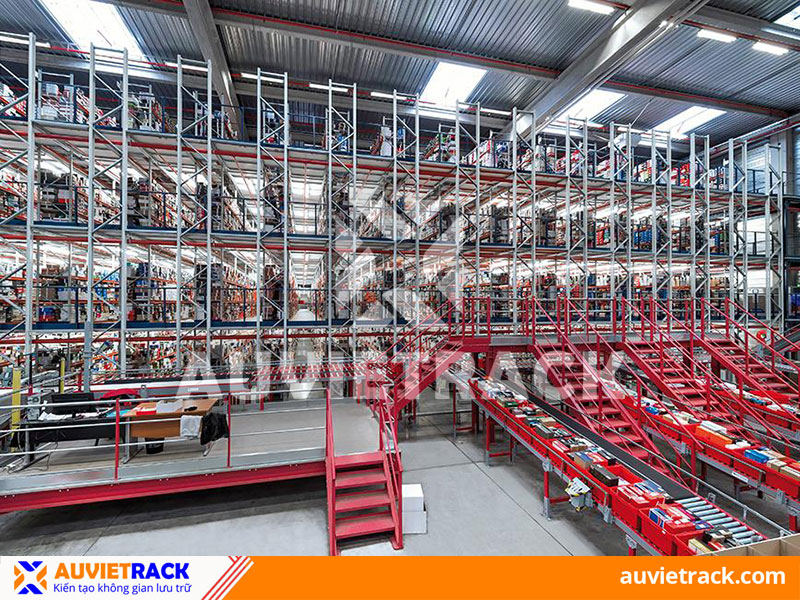 Large-scale mezzanine rack system combined with conveyor belts in production plants
Reasons to choose mezzanine racks for your warehouse
The mezzanine rack details are tightly connected with each other by bolts, no need to be welded, so they can be disassembled, repaired and relocated easily without causing damage to the mezzanine rack system. as well as warehouse structure.
Mezzanine racks are made from high-quality steel and are carefully calculated, so the service life is very long (over 10 years).
When the mezzanine rack is no longer usable, 30% of the material fee can be recovered.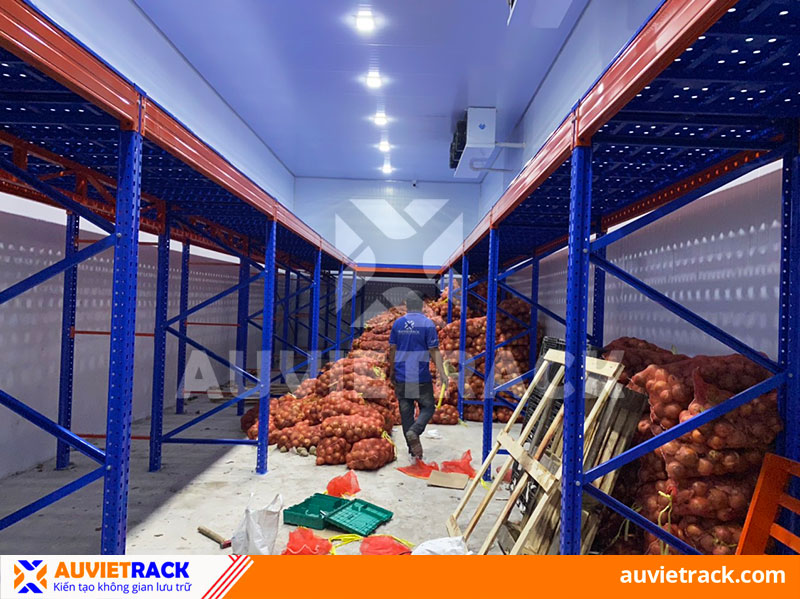 Above are some features of the application of mezzanine racks in the warehouse. If you still have questions about the suitability of mezzanine racks in the warehouse, please contact us immediately for the most dedicated advice or you can view the price list of mezzanine racks. Au Viet Rack is always ready to serve you.