How Much Does It Cost To Install Mezzanine Rack?
How Much Does It Cost To Install Mezzanine Rack?
The increasing demand for storage of goods has posed challenges for businesses in finding efficient yet cost-effective storage solutions. In the context of expensive warehouse space, investing in a mezzanine rack system is the optimal choice.
Mezzanine racks are designed to maximize space utilization, allowing for the utilization of the existing height of the warehouse and increasing storage area by two to three times. The following article will provide essential information about the characteristics and pricing of mezzanine racks to help you have a more detailed understanding and choose a suitable solution for storing goods.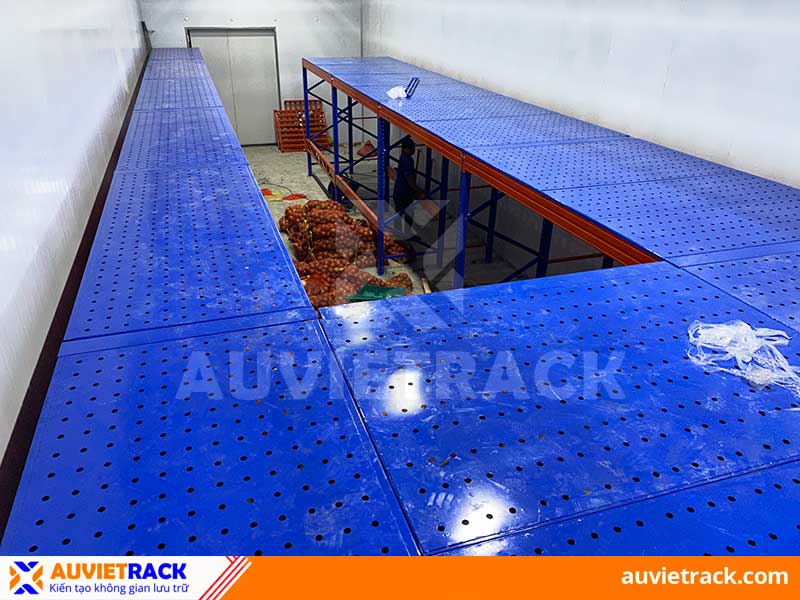 Industrial mezzanine rack quotation
Characteristics of mezzanine racks? Advantages of mezzanine racks in warehouses
Mezzanine racks are a combination of a mezzanine floor and a warehouse racking system, utilizing the space below and above the floor surface for storage. Mezzanine rack systems help expand the storage area up to three times.
Mezzanine racks are highly suitable for warehouses with limited space, as they maximize the utilization of vertical space.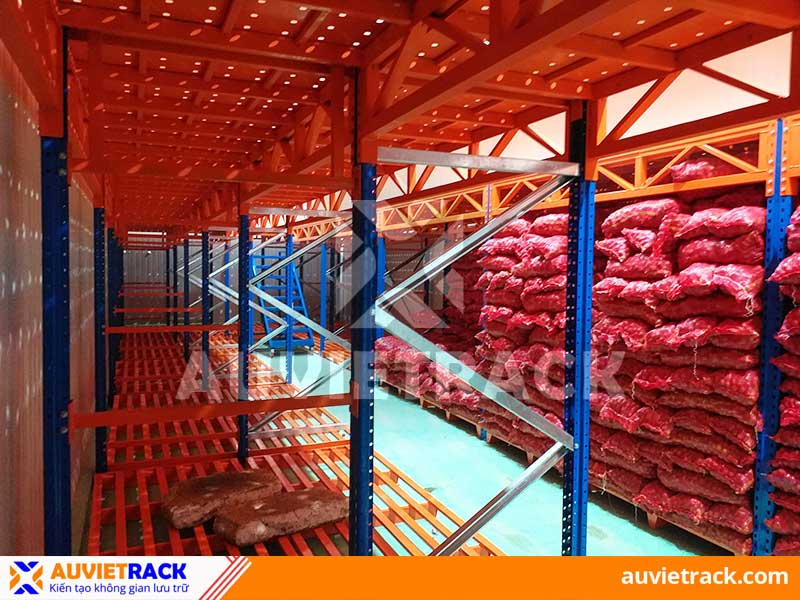 Mezzanine rack system in food warehouses in Ho Chi Minh City
Advantages of mezzanine racks:
Increase storage space by 2-3 times without the need for expanding the warehouse area.

Flexible arrangement and storage options, allowing for direct placement of goods on the floor or combination with various types of rack.

Wide floor surface suitable for storing bulky and oversized goods.

Maximize the utilization of vertical warehouse space, where mezzanine racks can also be used as offices or meeting areas.

The floor surface can be customized with different lining materials according to the characteristics and requirements of the goods, such as perforated steel plates, mesh, or plywood.


Structure of industrial mezzanine racks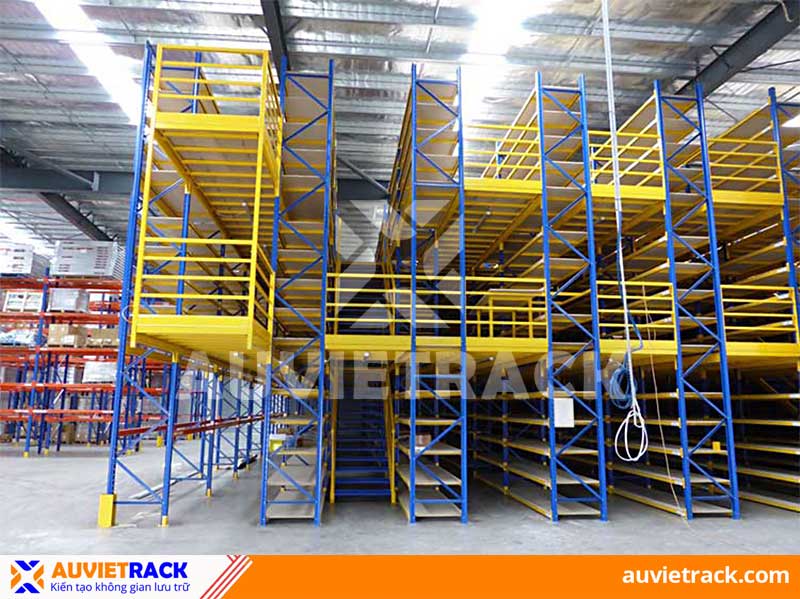 Structure of mezzanine racks
Upright post: made of perforated steel, it bears the main load for the entire mezzanine rack system.

Bracing bar: enhances the stability of the rack frame.

Beam: connects the columns and supports the load of the goods.

Floor surface: can be made of various materials such as steel plates or boards, serving as the primary storage area of the mezzanine rack system.

Connecting bar: provides additional stability to the frame system.

Pat: increases stability for the columns and distributes the load to the ground.


>>> See more: Design drawings of mezzanine racks in warehouses
Types of industrial mezzanine racks
Mezzanine racks with tole flooring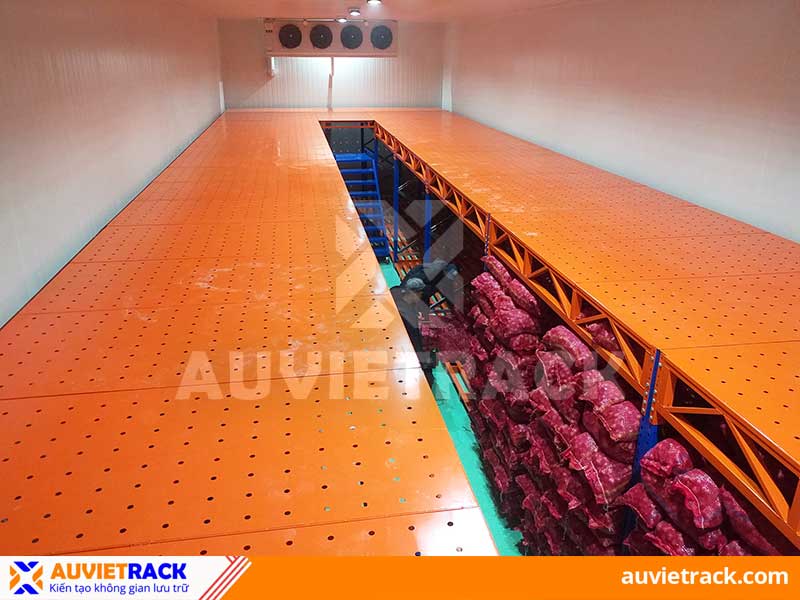 Mezzanine racks with tole flooring
Steel plate mezzanine rack is the most commonly used type of industrial mezzanine rack, which can be constructed with perforated steel plates, slotted steel plates, or chequered steel plates.
This type of mezzanine rack has a sturdy floor structure that can withstand heavy loads. It is the top choice for cold storage warehouses due to its open floor design, allowing for proper airflow and efficient storage of temperature-sensitive goods.
Mesh mezzanine racks
Similarly to mezzanine racks with tole flooring, mesh mezzanine racks are suitable for storing goods that require a breathable environment. However, the mesh floor structure is not as sturdy as the steel plate floor, so it may deform under heavy loads.
Plywood mezzanine racks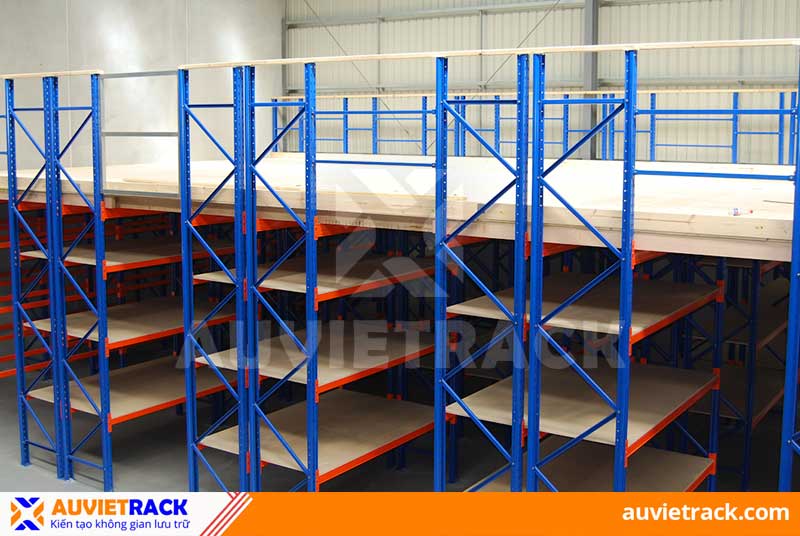 Plywood mezzanine racks
The floor surface of mezzanine racks can be made of various materials such as MDF boards, cemboard, or plywood with different thicknesses depending on the predetermined load capacity. However, the material used for the board floor surface is not resistant to wet environments, so this type of mezzanine rack is typically used in dry warehouses.
Industrial mezzanine rack quotation
Updating...
Au Viet Rack - Where quality industrial mezzanine racks are manufactured
Finding a reputable company to install a mezzanine rack system will ensure the quality of the product and guarantee its performance during usage.
With experience in implementing hundreds of small and large mezzanine rack projects nationwide, Au Viet Rack is a reliable choice for you.
At Au Viet Rack, we commit to providing high-quality warehouse racks made from premium materials along with modern manufacturing processes to ensure quality standards and product safety.
As a direct manufacturer, Au Viet Rack always offers the most best and competitive prices. Additionally, our consulting team will conduct surveys and propose suitable storage solutions for your warehouse to optimize investment costs.
These are some information for you to consider before installing a mezzanine rack system. Au Viet Rack has provided a price list for you to refer to and make appropriate choices. If you need detailed consultation and quotation, please contact us for the support.